Assam student bodies harass bona fide citizens who 'look like Bangladeshis' in a spree to catch illegal immigrants
A new trend of apprehending people of the erstwhile East Bengal origin allegedly by student bodies in Assam suspecting to be 'illegal Bangladeshi immigrants' is on the rise.
In Assam, where a National Registration of Citizenship (NRC) has been already under process for the past three years to separate the genuine citizens and the illegal immigrants, a new trend of apprehending people of the erstwhile East Bengal origin by the student bodies in the state suspecting them to be 'illegal Bangladeshi immigrants' is on the rise.
These students bodies allegedly beat up the hapless labourers more often before handing them over to the police.
In the past one month, over hundreds of Bengali-speaking people mostly workers at construction sites and brick kilns have reportedly been caught by various student organisations in the state. They catch the labourers who travel frequently within the state for work on the basis of their similarity in attire and language accent with the Bangladeshis.
The students' body members interrogate these 'suspected people' for hours, check their identity cards and later hand over to the police. In some cases, the workers are allegedly beaten up.
The latest case was reported on 13 November, when the All Assam Students' Union (AASU), a prominent student body of Assam, had caught seven people suspecting to be illegal immigrants. They were caught on their way to Numaligarh of Golaghat district in eastern Assam. The labourers were coming from Dhubri district.
They were asked to get down at Bokakhat bus stop, interrogated, their identity proofs 'scrutinised' and later handed over to the Bokakhat Police Station, 63 kilometres from Golaghat town.
Rupeswar Bora, officer-in-charge of Bokakhat police station, said, "They were construction workers who have come in search of job in Numaligarh area. Just because they do not speak the standard Assamese language, AASU had brought them here. But after preliminary investigation, we let all of them go."
Gitartha Saikia, a leader of the student body of Bokakhat sub division, who played an active role in the incident, said they suspected the labourers to be Bangladeshi nationals as they were not being able to speak Assamese and they "looked like Bangladeshis".
Another student leader Deep Thakuria, president of the Bokakhat Regional Students' Union, has declared that apart from the seven people, they had also nabbed three suspected Bangladeshi nationals from the area but later police let them go. According to him, they were wearing some suspicious "attires".
"We are taking a pledge that we will prevent these Bengali speaking labourers from working at the construction sites if they are not possessing valid documents. If police do not stop, we will do it," he said.
According to Thakuria, the time is "sensitive" and they have become "more active" in nabbing people "from Bangladesh"
"We will go to the sub-divisional officer and ask him to stop such suspected people from working here," he added.
Manabendra Deb Roy, superintendent of police of Golaghat in Assam, while referring to another such incident said, "The people who are apprehended by the student bodies here are mostly poor people from western Assam. The local youths hand them over to the police and the police during investigation finds that they are from those districts where there is significant Bengali population."
On 13 October, when there was a state wide protest going on in Assam against the proposed Citizenship (Amendment) Bill 2016, as many as 64 people were caught by members of All Assam Chutia Students' Union, an organisation of the Chutia community.
The students, who were protesting on the road, stopped two buses coming from Nagaon to Golaghat district. They asked the passengers to alight, checked their identity cards and collected details of their whereabouts for about two hours. They later handed these people to the Kamargaon police.
"The first bus contained Hindu construction labourers from Bihar and they had all the valid documents to prove their identity including Aadhaar cards. Rest of them were brick kiln workers from Kalgachia of Barpeta. After preliminary investigation, we allowed them to go," said the Golaghat SP.
Surajit Moran, a leader from Assam Jatiyatabadi Yuva Chatra Parishad, said they were searching to identify "suspected" nationals when they cannot speak and talk "confidently". The student body handed over "25 suspected Bangladeshi nationals" to the Bordumsa police in Tinsukia district on few days ago.
"These people were on their way to Arunachal Pradesh. But they were stopped at the entry point of Arunachal Pradesh as they had not possessed the necessary permit. Then they were caught by our Kakapathar unit and we handed them over to the Bordumsa police. They claimed that they were from Silchar and Dhubri districts. We didn't follow the incident after that," he said.
The police released all of them the next day.
All Assam Tai Ahom Students' Union, another organisation of the Tai community of Assam on 5 November, had caught 25 people in Jorhat district and handed them over to the Dewarapara police.
Nimbalkar Vaibhav Chandrakant, the Jorhat superintendent of police, said, "They had documents with them. We are verifying the documents and the investigation is on. But we dint detain them. We let them go."
Faridul Islam, 24, was one of the seven persons who were caught by the All Assam Students' Union in Bokakhat of Golaghat district on 13 November.
"All of a sudden, the bus in which we were travelling was stopped by a group of 20-25 men and they asked us to get down. Fortunately, I had carried my voter identity card. But they said we need to go to the police station. Many of my colleagues did not carry all the identity proof for fear of losing it as we work at different construction sites. We had photo copies of other documents in our mobile. They interrogated us for over an hour and threatened us to put behind the bar if we were lying. Later they took us to the police station," said Islam.
"The police recorded our names and later gave us three days to submit all our documents. We have submitted our documents to the police," he added.
Hiranya Kumar Dohutia, deputy superintendent of police, border, Golaghat, seconds the statement of Islam. Dohutia says, as per the process they are asked to produce original documents left at home. Investigation says they are Indian citizens of east Bengal origin hailing from Bilashipara of Dhubri.
A few months ago, Moinul Ali, another construction worker from South Salmara district of Western Assam, was made to kneel down and allegedly beaten up with iron road along with 30 other workers in Sivasagar town by an organisation namely Lachit Sena. The organisation claims to safeguard the Assamese society by ousting the illegal migrants.
"A group of 50 people first came to the construction site in the town and ordered us to stop the work. Then they made us to kneel down and started beating us up with rods used in the construction. They also snatched our mobile phones," alleged Moinul Ali.
Human rights activists in Assam feel that maintaining silence on the atrocities of people of East Bengal origin on the sidelines of the NRC is highly condemnable and such acts bring disrespect to the democratic principles of India.
Illias Rahman Sarkar, a social activist based in Dhubri district of Assam says that once a Bengali speaking person is caught by any organisation, he comes into the radar of suspicion of the Foreigners Tribunal (FT) courts.
"The police make a general diary entry of the people who are nabbed by such student bodies. Though after the preliminary investigation they are freed, there are ample instances when later they get notice from the FT courts to prove the citizenship."
He says that the pressure on the border police of Assam is also immense to nab illegal Bangladeshis.
"For the border police to make a case of illegal Bangladeshi, the first step is to go through the general diary entries and inform the FT courts. The FT court later sends notice to those people to prove their citizenship. Thus, though genuine citizens, they become entangled in the process of proving citizenship. It takes 5-6 years for the courts to give a judgement on identity and till then they are looked at with suspicion as an illegal immigrant."
In Assam, about 4 million people have been left out of the final draft the NRC. To get their names enlisted, every person in Assam had to provide documents as evidence, to show that they or their ancestors have been living in India before 24 March, 1971.
Abdul Kalam Azad, a social scientist and a human rights activist of Assam says, "What bothers me most is the silence among the self-proclaimed Left liberal Assamese intellectuals. They never bother to condemn such brutal violence of human rights — that too on the most marginalised people of the state who are often the victims of ecological distresses like flood and forceful displacement due to recurrent violence."
also read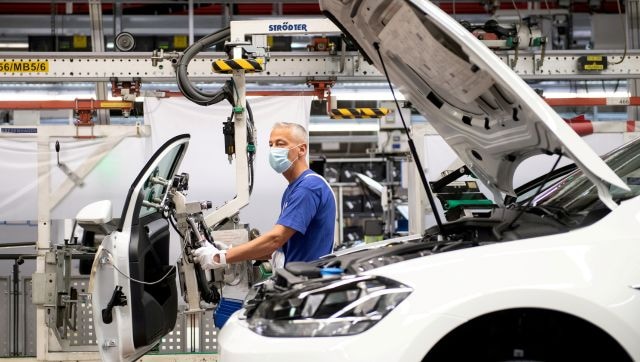 Explainers
Germany's GDP fell .3 per cent in the first quarter of 2023 following a .5 per cent decline in the last quarter of 2022. Though Chancellor Olaf Scholz described the outlook for the economy as 'very good' experts say this is a rude awakening for the country and the entire continent
Explainers
Elon Musk's brain-computer interface company Neuralink has received approval from the FDA to conduct its first in-human clinical study. The firm wants to put coin-sized implants into human beings, which will allow people with paralysis regain motor function, restore vision, and treat brain diseases
Explainers
Tipu Sultan, the 18th Century Mysore ruler, slept in a hammock suspended from the ceiling of his locked bedchamber with this sword by his side. Found in his private apartments after his defeat at the battle of Seringapatam in May 1799, it was previously owned by Vijay Mallya