Asaram Bapu rape and murder case: 'We do not want to die,' witnesses petition SC
Witnesses whose deposition could have a serious bearing on a number of cases against self-styled Godman Asaram Bapu and his son, Narayan Sai, have petitioned the Supreme Court with a strange request: They do not want to die.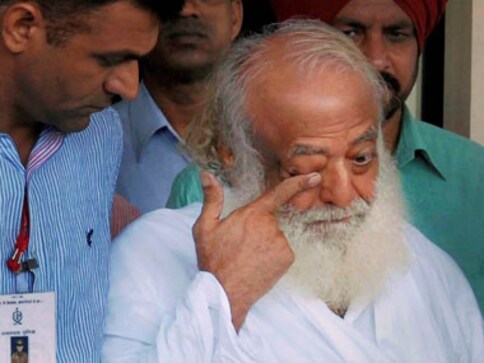 Witnesses whose deposition could have a serious bearing on a number of cases against self-styled Godman Asaram 'Bapu' and his son, Narayan Sai, have petitioned the Supreme Court with a strange request: They do not want to die.
The four witnesses, the list includes a journalist from the Dainik Jagaran newspaper, claim they need protection because they survived murderous attacks by alleged followers of Asaram. As many as three witnesses who deposed in the cases — there are many spread across four states — involving Asaram and his son, have been murdered by unidentified killers.
Their fears appear genuine.
Asaram, who has over 400 centres across 12 nations and over two million followers, is currently in Jodhpur jail while his son is lodged in a jail in Surat. Both are facing charges of rape and killing children for occult practices.
Among those who were killed was Asaram's personal (ayurvedic) physician, Amrut Prajapati, gunned down by motorcycle-borne assailants in Rajkot in June 2014, and Akhil Gupta, Asaram's personal cook, shot dead in Muzaffarnagar on 12 January, 2015. The third witness to be killed was Kirpal Singh — he was to testify in the 2013 Protection of Children from Sexual Offences (POCSO) - on 10 July, 2015 in Shahjahanpur. Another person, Rahul Sachan, a key witness, went missing in the afternoon of 21 November, 2015. He is also feared dead.
Sachan - a former personal assistant to Asaram from 2009 to 2013 — had been calling cops every week from his home in Balagunj in UP for almost a year to make one, strange request: "Save me till I depose in the courts, if they find me, they will surely kill me."
Soon after a deposition at a Jodhpur court in February, 2015, he was attacked by one Satyanarayan Yadav, an alleged follower of Asaram. Sachan escaped with stab wounds on his chest and even managed police protection from UP Police. Sachan also demanded that the assault and murder of key witnesses be probed by the Central Bureau of Investigation (CBI) because he felt followers of Asaram and his son, Narayan Sai, were "trying their best to tamper with witnesses in the case".
The Allahabad High Court, pushed by the Supreme Court, got him an armed constable but once the deputed constable went on leave in early November, 2015, no replacements were offered. The killers, probably lurking nearby, picked him up and - in the records of the police — Sachan was "a missing person".
Afzal Mehendi, a senior officer in charge of the Balagunj police station — entrusted to ensure security for Sachan — said efforts are still on to trace him. "The case is not closed, and Sachan's guard was replaced within a few days. We were in constant touch with him."
But those petitioning the country's apex court argue it was police laxity that helped Sachan's kidnappers complete their job with consummate ease.
"Sachan complained about the cops, it was ignored, he got twitter threats (see attachment), it was ignored. I doubt he is alive," says one of the four petitioners, Mahendra Chawla, once personal assistant (PA) to Narayan Sai, and now a prime witness in the cases.
The country's premier investigating agency moved in only this August to probe Sachan's disappearance after a public interest litigation was filed before the Allahabad High Court by an Indian origin lawyer based in faraway New Zealand, Bennet Castellino. In the PIL, Castellino — who had already earned a name for himself for taking on dubious Godmen and pastors across the world - argued that the CBI's investigation was necessary because the Uttar Pradesh police had messed up the investigation.
Besides Chawla, other petitioners include Naresh Gupta, father of late Akhil Gupta, the murdered witness. Also in the list is the father of an alleged minor rape victim of Asaram and whose son was assaulted despite police protection, and a journalist, Narendra Yadav.
The petition mentions how one Narayan Pandey, alleged attacker of the brother of the rape victim, was arrested but, later managed to procure bail and allegedly murdered Kirpal Singh. The journalist, Yadav, has claimed he was also attacked by unidentified assailants. Yadav has also mentioned in the petition about how Pandey - though back in Shahjahanpur jail - has been writing threatening letters.
Chawla, who lives in an undisclosed location in Haryana, said the 2015 attack on Sachan in court was "actually meant for me, but the killers attacked Sachan".
A former sub-broker and insurance agent, Chawla said he had once found solace in the ashram but later grew disillusioned after seeing the father-son duo committing a "series of illegal activities". Eventually, he deposed against both last year. The threats, claims Chawla, started immediately after his deposition.
Now, Chawla lives in a one room home, and has a armed constable round the clock for protection. But the fear of death hangs menacingly on his head like the proverbial Sword of Damocles, he even made a chilling deposition in his affidavit to the Allahabad High Court: "I want to live at least till I complete my testimony in the Surat and Ahmedabad cases."
"I know I am on the radar of the killers. A single constable is not enough to stave off the murderers. I genuinely live in fear," he said in a telephonic interview from his hideout in Haryana.
Chawla says there are times when he covers his face with a dupatta to go out and buy essentials like milk and vegetables from the neighbouring market.
On paper, the seems to be going from bad to worse for Asaram and his son, against whom allegations of occult practices surfaced in 2008 following the mysterious death of Abhishek and Deepesh Vaghela (cousins) in Asaram's Motera Ashram. The post mortem report said Deepesh's small and large intestines, stomach, spleen, kidneys and bladder were missing. Yet, Asaram and his son got the shaft from both the Gujarat High Court and the Supreme Court which held there was enough scientific reason to proceed with a charge of death caused by negligence and not murder.
Eventually, Gujarat police submitted a chargesheet in 2012 against seven of Asaram's followers. The Gujarat government appointed the DK Trivedi commission, tasking it to probe charges occult practices and also of rape - a school girl in Jodhpur and two sisters in Surat - against the father-son duo. Asaram is lodged in Jodhpur jail since August 2013 while his son has been behind bars at Surat's Lajpore central prison since December 2013.
And then, in what appeared to be a strange series of incidents, a gang of unidentified killers started silencing the witnesses.
The Supreme Court, throughout last year, heard how the attacks had continued on those deposing against Asaram and his son, both lodged in a jail in Jodhpur. Asaram - known for openly flouting rules because of his Godman status - grabbed headlines early this year when he used a handset from within the premises of Jodhpur prison to threaten Kirpal Singh, the witness in Shajahanpur. Singh, in turn, recorded his voice and handed over the clip to the Shaharanpur police. But soon, Singh was killed.
The charges, however, have been denied by Asaram's counsel, Saurav Ajay Gupta, who called them "baseless and unproven". There are nearly ten cases pending against Asaram and his son in courts in Delhi, Haryana, Rajasthan, Uttar Pradesh and Gujarat.
The next hearing in the Supreme Court is slated for January, 2017. The petitioners are hoping against hope, they know if they get killed, the cases could take a peculiar, U-turn.
World
While they have established strong economic ties, efforts at political reconciliation have stumbled in recent years as Taiwan asserts its own identity and China ups its demands that the island accept its terms for unification between the sides
World
Like the two Nordic countries, other nations joined the European Union for its promise economic and political unity without taking sides in the East-West divide that has endured beyond the end of the Cold War
World
The Russian defence ministry said Tuesday that its forces in eastern Ukraine had advanced to the border between Donetsk and Luhansk, the two Russian-speaking provinces where Moscow-backed separatists have been fighting Ukraine's army for eight years