Asaduddin Owaisi says Narendra Modi's participation in Ram Temple bhoomi pujan is defeat of secularism
The AIMIM chief also said that the Ayodhya event marks the 'victory of majoritarianism over liberty and equality' and by attending it, Modi has 'laid the foundation of a Hindu Rashtra'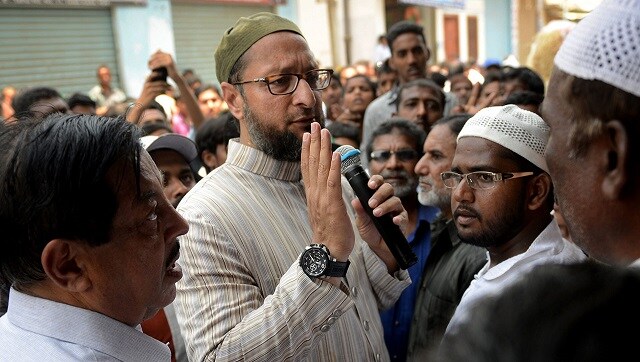 Hyderabad: Maintaining that Prime Minister Narendra Modi, by taking part in the 'bhoomi pujan' at Ayodhya, had failed to uphold the structure of the Constitution, AIMIM chief Asaduddin Owaisi on Wednesday said his attendance at the event was a "victory of Hindutva over secularism".
"The Prime Minister of India going over there and attending this bhoomi pujan... today is a victory of Hindutva over secularism. Today is a victory of majoritarianism over liberty and equality. By attending, the prime minister has not only laid the foundation of a mandir, but also the foundation of a Hindu Rashtra," Owaisi told reporters.
Modi attended the Bhoomi Pujan for the construction of a Ram Temple at Ram Janmabhoomi site in Ayodhya on Wednesday.
The AIMIM leader accused Modi of making India "a theological country", which goes against the basic structure of the Constitution.
Owaisi said he and crores of Muslims, Hindus, Buddhists, and Sikhs were all emotional because they believed in the coexistence, equality of citizenship.
"I am emotional Mr Prime Minister because you have completely discarded your constitutional duty of upholding the basic structure of the Constitution. I am emotional Mr Prime Minister because you have violated your oath," Owaisi said.
Find latest and upcoming tech gadgets online on Tech2 Gadgets. Get technology news, gadgets reviews & ratings. Popular gadgets including laptop, tablet and mobile specifications, features, prices, comparison.
India
Wishes have poured in for Prime Minister Narendra Modi on his birthday as he turned 70 on Thursday. Several prominent world leaders greeted the prime minister on his special day. Russian President Vladimir Putin, German Chancellor Angela Merkel, Nepal Prime Minister KP Oli, the Dalai Lama, among others were some of the prominent names who wished Modi.
India
The prime minister's last trip abroad was to Brazil, in November last year, to attend the BRICS Summit
India
India seems to have belatedly understood and now appear more accepting of the reality that peaceful resolution of the dispute is a long shot and the focus should instead be more on prevention of an armed conflict that looms large.