'As you pursue your goals, obstacles become irrelevant': Magsaysay awardee Anshu Gupta on running 'Goonj'
Anshu Gupta, who has been given the Magsaysay Award, has been recognized for 'his creative vision in transforming the culture of giving in India. Excerpts from an interview
Anshu Gupta of Goonj – one of the two Magsaysay Award winners for 2015, attributes his die-hard attitude to work for the cause of providing 'clothing for the poor, homeless and destitute' to a "keeda" (worm) inside him that compelled him to give up his cushy corporate job and get into social service. Armed with a Masters in Economics and in Journalism & Mass Communication, Gupta has been recognized for 'his creative vision in transforming the culture of giving in India, his enterprising leadership in treating cloth as a sustainable development resource for the poor, and in reminding the world that true giving always respects and preserves human dignity'. Gupta spoke with Firstpost in an exclusive interview.
Excerpts:
How does the Magsaysay Award make a difference to your work?
I think we'll keep on operating as usual. Nothing will change. We stand by our goal – to grow as an idea, rather than as an organization. A major challenge before us is to ensure that more and more people replicate the work we're doing, and to understand the ethos of distribution by bridging the massive gap of social and economic inequities between urban and rural India – urban prosperity and rural poverty.
What inspired you to give up your well-paid corporate job and venture into an unknown territory of voluntary service, and set up Goonj?
My professional journey began as a copywriter in an ad agency, followed by a stint in a public sector enterprise and finally, as a corporate communication manager. But in 1998, I left and formed Goonj--a voluntary organization, with a mission to address the most basic, but ignored need of clothing and the multifaceted role it plays in villages across India. We felt that a large number of poor persons in the country lack clothes to wear, and many die in winter due to it. Goonj is a movement working in 21 states. Through its staff, thousands of volunteers and grass root partner organizations, it redistributes contributed items, and processes cloth into essential articles for the poor and the victims of natural disasters like flood and earthquake. .
Didn't you face obstacles?
Initially, it was a difficult task. When you do something in public or enter into public life, several people start doubting your integrity and start questioning you. I too, faced these kinds of problems in the initial phase. I still remember an incident from the early phase of my voluntary work. I had set up a stall in a fair and was wearing a pair of jeans and a T-shirt. A person saw me and sarcastically remarked "See that NGO-wala in jeans". I was taken aback for a moment. It happened because people have a perception that an NGO worker will wear a Khadi kurta and pyjama! Obstacles are a part of life in every field.
What motivated you to keep going on for years?
It's the 'keeda' (worm) inside me to do something different, to do something good and big for the society – for those who are victims of social and economic inequities, and the determination to reach that goal, which keeps me motivated. Once you see the impact of your work, you feel good; you enjoy. As you choose your goal and pursue it doggedly, obstacles become irrelevant.
What led you to initiate your concept of 'Work for Cloth'?
There are two incidents behind the initiative. The first one was on a December night, when I accompanied a 'body collector' – one who collects dead bodies of homeless and unidentified people to Khooni Darwaza in Delhi. We found a man, who had died due to cold as he was wearing nothing but a thin cotton shirt. Another incident that still haunts me, is about a six-year old daughter of a man, who wandered cremation grounds, collecting clothes from corpses. That little girl had told me whenever she used to feel cold, she hugged the dead body and slept. I was shaken and realized that clothing as a basic human right was often overlooked. Besides, from disastrous flooding, the winter cold kills many, who are under-clothed. This led to the initiative 'Work for Cloth', and chose cloth as an entry point for giving – both for a person's dignity and survival. It began with 67 pieces of clothing that my wife and I had collected for the first time.
And the 'Not Just a Piece of Cloth' (NJPC) movement?
A majority of poor Indian women can't afford commercially sold sanitary napkins and instead, have to depend on dirty cloth during their menstruation periods. This leads to severe diseases. In 2005, Goonj started the NJPC movement. We collect reusable cloth from urban households and prepare clean cloth sanitary napkins (MY Pads) and distribute it among poor women. It's an innovative yet simple product, which also helps in spreading awareness on health and hygiene issues among rural women. The napkins we prepare are handmade and we employ women from nearby slums for the purpose. Through this movement, we try to spread the idea of living with dignity.
Recently, a perception has emerged among a large number of NGOs in the country that the government has been trying to gag their voices and activities by hounding them. How true is it?
It's too premature to say anything; only time will tell what the truth is all about. But, I would say that because of any individual's wrongdoing, the entire fraternity should not be branded as 'bad or corrupt'. In every sector, be it the corporates, the bureaucracy, a private enterprise or any institution – we find corrupt people. But, it should not be generalized. In the social sector, the voluntary organizations and the NGOs are doing a lot of development work, and it will be unfortunate to call all of them corrupt.
Finally, what's your advice for the young lot joining voluntary organizations?
One should have the passion to serve the society, without looking for gains. Reasons for not doing something are always there. But someone who wants to do something constructive will do it despite all odds. And, one should not think about security in voluntary work, because even in a well-remunerated, high-profile job, insecurity is always there. The work should be taken up as a duty. One can't change the nation by merely changing infrastructure. Change will come, if people change.
also read
World
The Magsaysay Award has been conferred upon Sonam Wangchuk for his work in education and science in Ladakh, while Bharat Vatwani has been recognised for his contributions to mental health
Life
A Dalit born into a family of manual scavengers in in Karnataka, Wilson had seen his parents clean toilets as a boy.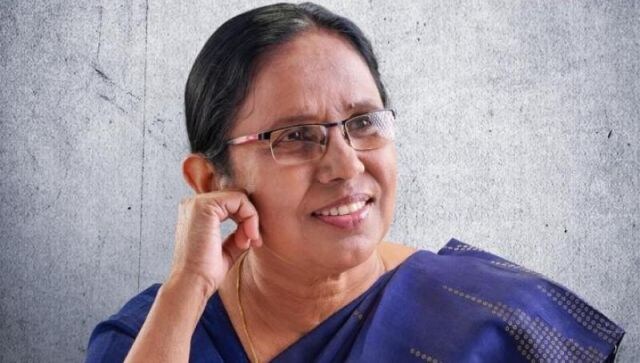 Explainers
The Ramon Magsaysay Award named after the former Philippine president is said to be Asia's equivalent of the Nobel Prize. Former Kerala health minister KK Shailaja rejected her nomination for the award because of the late leader's alleged brutality against communists