Mumbai: At 8.30 pm Sunday night, I felt strong winds billowing in from the Arabian sea as Pooja Sawant and almost 50 dancers were on stage dancing to a blockbuster 'Lavani' folk number at the Make In India cultural extravaganza on Girgaum Chowpatty beach. I was standing further back with the media huddle watching both the stage and the giant screens when orange flames burst out from under the stage. We could see it but the dancers could not. Within moments the blaze gobbled up our view of the stage in black fumes, fanned by high winds, licking the sides of a scaffolding rig and lighting up the night sky. Those in the front rows waved frantically for the dancers to leave but the music was so loud and the dancers so involved in the moment that their escape was just in the nick of time. Many of the dancers thought the smoke was part of special effects to pump up the gig.
WATCH: Moment when fire erupted on stage at #MakeInIndia event in Mumbai.https://t.co/zJ9IaLnvVC

— ANI (@ANI_news) February 14, 2016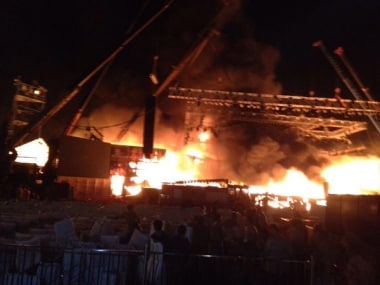 Luckily, no casualties but what an embarrassment considering the theme — Make In India, and the audience: Mumbai's top industrialists, practically half of Bollywood and Marathi filmdom and top officials of Maharashtra government. Add to this some dark humor of the Marathi lyrics blaring from the boom boxes and it made the image bashing complete.
Pooja Sawant and gang were dancing to this number from the movie Natarang: "..hila jau dyana ghari ata vajale ki bara..mala jau dyana ghari ata vajale ki bara.." As the audience scrambled to safety, we heard strains of soundbites like these: "Maharashtra ki barah baj gayi" which, loosely translated, means the State's image has taken a good beating.
Prime Minister Narendra Modi inaugurated the 'Make in India' week in India's financial capital Mumbai on Saturday.
The week-long event, the boldest since Modi launched the initiative to emulate China's export miracle back in 2014, seeks to "spark a renewed sense of pride in India's manufacturing" says the marketing blurb.
"Maharashtra welcomes you" read half burnt posters and banners at the venue as cranes pick up the remains of the night and smoke continues to billow many hours after the fire.
"Disarray is the word. I can imagine the headlines tomorrow in Beijing and Islamabad. There is no tape to cordon off people, anyone is just walking in and picking up scraps...," I'm very disappointed at these optics...what kind of message does this send out to the world about India's financial capital?" a witness at the scene around midnight told Firstpost. Bollywood stars flee Make in India event, reports BBC.
The week-long string of events is meant to showcase India's "manufacturing prowess" and attract billions of dollars in investments from domestic and global majors.
Over 2,500 international and 8,000 domestic companies will be participating in the week-long multi-sectoral industrial event, which will be attended by foreign government delegations from 68 countries and business teams from 72 nations. Clearly, high stakes here. Though the official line is that a short circuit could have done it, the "sabotage?" angle is raging on social. Although the Mumbai fire chief says investigation is on and the cause of the fire will be known, here's the thing: Many hours after the fire, smoke was still swirling at the venue, people still walking around fiddling with burnt remains, examining debris lying around, police had not blocked off entry, how would any official be able to stop folks who may want to tamper with evidence?
Chowpatty is a banned area for such events and Bombay High Court had refused permission for the event. Yet, the Maharashtra government pushed ahead and went to the Supreme Court seeking permission for the event which it got barely two weeks ago. Did the government lose time in legalities and do a rush job on safety considerations is another question everyone's asking. DIPP Secretary Amitabh Kant tweeted soon after the fire : "Kudos 2 d people of Mumbai,fire & police 4 handling d fire crisis in such s professional manner.Speedy, prompt action led by @Dev_Fadnavis".
The massive blaze on Sunday evening engulfed the 200 ft by 120 feet plaster of paris stage in minutes. Luckily there were no casualties. Four teams of the fire brigade which were already at the spot rushed in and reinforcements were swift. Mumbai Police and the fire brigade did a tremendous job in evacuation and rescue, Chief Minister Devendra Fadnavis stayed on to personally monitor the unfolding situation and left the spot only after ensuring everyone was safe and there was some closure to the evening.
BMC Disaster Control brought the fire under control within an hour by which time there wasn't much left of the stage which hosted Amitabh Bachchan and Vivek Oberoi and chief minister Fadnavis barely an hour before the blaze.
At least 14 fire tenders and 10 water tankers were rushed to the site.
Maharashtra Governor C.V. Rao, Chief Minister Devendra Fadnavis and his wife Amruta Fadnavis, Shiv Sena chief Uddhav Thackeray and his wife Rashmi Thackeray, actors Amitabh Bachchan, Aamir Khan, Hema Malini, Katrina Kaif, Vivek Oberoi, Isha Koppikar and Shreyas Talpade, ministers, parliamentarians and legislators witnessing the performance were shifted to safer places.
For those of us who were at the venue, the first visual of the fire was an angry orange spark just below where Puja Sawant was dancing and it seemed to have caught the top of a decorative foliage and erupted out control in seconds. BMC said the fire could have been caused by an electric short-circuit.
Fadnavis termed the incident sad and said a comprehensive probe will be ordered and those responsible for it would face action.
Fadnavis confirmed that there were no injuries or casualties and all artistes and guests were evacuated safely.
T 2145 - Production was wanting me to stay & go back on to meet the CM .. had I gone back would have been caught in fire .. providential

— Amitabh Bachchan (@SrBachchan) February 14, 2016
T 2145 - But its God's grace that immediate action was taken and the fire brought under control .. and no casualties !! But frightening !!

— Amitabh Bachchan (@SrBachchan) February 14, 2016
CM @Dev_Fadnavis at the Disaster Management ControlRoom in Mumbai,monitoring the fire incident and overall situation pic.twitter.com/P7sxHnYUME

— CMO Maharashtra (@CMOMaharashtra) February 14, 2016
Mumbai can count on its Fire Brigade -- always ready to serve & protect. GoI & GoM's #MakeInIndia event managers have a lot to answer for

— Milind Deora (@milinddeora) February 14, 2016
Fire at Maharashtra Rajani has been completely doused. Don't believe in any further rumours about the incident #AlertMumbaiSafeMumbai

— Mumbai Police (@MumbaiPolice) February 14, 2016
We'll investigate to know cause of fire, will submit report in a day or two- Chief Fire Officer on #MakeInIndia Fire pic.twitter.com/kyhywE5gGe

— ANI (@ANI_news) February 14, 2016
Firstpost is now on WhatsApp. For the latest analysis, commentary and news updates, sign up for our WhatsApp services. Just go to Firstpost.com/Whatsapp and hit the Subscribe button.
Updated Date: Feb 15, 2016 12:33:36 IST