As mercury hovers around freezing point in Jammu and Kashmir, winter chills set to grip northern India
Several parts of northern India are expected to remain on the lower side leading to cold day condition as mercury plummets in Punjab, Uttar Pradesh, Rajasthan, Himachal Pradesh and Delhi,
As mercury hovers around freezing point in Jammu and Kashmir, several other northern states including Punjab, Uttar Pradesh, Rajasthan, Himachal Pradesh and Delhi are expected to record cold day conditions, according to Skymet Weather's latest report.
According to the report, a western disturbance in north Pakistan and adjoining Jammu and Kashmir will lead to light rain and snowfall in higher regions of the Valley on Saturday. A western disturbance is an extra-tropical storm originating in the Mediterranean region that brings sudden winter rain.
As a result, Punjab, Haryana and few parts of north Rajasthan, west Uttar Pradesh and Delhi are also expected to have extremely chilly weather as dry and cold northwesterly winds will keep the maximums on the lower end. The sky over Himachal Pradesh will remain partly cloudy on Saturday, the report added.
On Friday,  Punjab, Uttar Pradesh, Rajasthan, Himachal Pradesh and Delhi were covered by dense fog.
The National Capital which has been recording poor air quality due to pollution was settled at a minimum temperature of 7.3 degrees Celsius, a notch below the season's average making it the coldest day of the season so far.
The maximum temperature was recorded at 19.5 degrees Celsius, four notches below the normal, a Meteorological (MeT) Department official told PTI. Shallow fog at several places lead to low visibility during the morning hours. The humidity was recorded between 95 and 53 percent.
Uttar Pradesh
Light rains at isolated places in western parts of Uttar Pradesh and fog in certain parts of the state pushed down minimum temperatures in Gorakhpur, Faizabad and Moradabad divisions. The weather was dry over eastern Uttar Pradesh. Aligarh and Muzaffarnagar were the coldest places in the state with a low of 7.4 degrees Celsius on Friday.
Punjab and Haryana
The mercury plummeted to 13 degrees Celsius in Chandigarh, the joint capital of Haryana and Punjab, during the day making it colder than Shimla and many other places in the neighbouring Himachal Pradesh.
An unidentified person, whom police believe was a beggar, was suspected to have died due to severe cold in Ambala City. His body was found opposite Rambagh Shiv temple this evening.
Severe cold conditions also gripped Punjab, with Amritsar (15.8 C), Ludhiana (15.1 C) and Patiala (15.1 C) recording below normal maximum temperature.
Foggy weather also disrupted flight operations at the Chandigarh International Airport, forcing delay and cancellation of some flights for three days now. Poor visibility due to fog also caused a delay of some trains passing through Punjab and Haryana.
Bathinda on Friday was the coldest place in Punjab recording a minimum temperature of 3.8 degrees Celsius while in Haryana, Hisar was the coldest with a low of 4.9 degrees.
Rajasthan
In Rajasthan, the minimum temperature dropped by 1 to 4 degrees Celsius at most places in the state due to a change in the pattern of cold winds from Jammu and Kashmir, a MeT official said. Sriganganagar was the coldest place in the state at 3.3 degrees Celsius.
Himachal Pradesh:
In Himachal Pradesh, the hills and valleys faced freezing cold conditions as night temperature dropped further in spite of dry weather. A partially overcast sky was witnessed with high-velocity winds sweeping the region.
The Rohtang Pass, Dhundi, Patseo, Mari, Koksar, and Keylong were cut off from rest of the state due to heavy snow.
Mercury hovered around freezing point at many places and Dalhousie, Solan, Palampur, and Shimla which recorded a low of 1.4 degrees Celsius, 2.5, 4.2 and 4.4 degrees Celsius.
The cold spell has hit all natural sources of water like lakes, springs, rivulets, and tributaries of snow-fed rivers which have frozen, reducing the discharge of water in major rivers on which hydro-power projects had been installed.
With inputs from PTI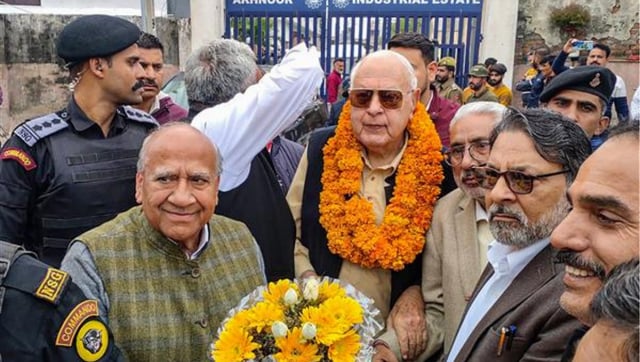 Politics
Former National Conference (NC) President Farooq Abdullah made the statement about Lord Ram while targeting the BJP during the inauguration program of a factory in the Akhnoor district of Jammu and Kashmir
India
TRF had issued an online threat to a few media houses in the Valley for their 'traitorous' acts and 'nexus with the fascist Indian regime'. Following the threat, several journalists resigned from local publications
First Cricket News
Kaverappa (3/20) and More (3/31) started it all with a perfect bowling display inside the Powerplay overs before Venaktesh (3/51) seized control in the middle overs to wrap up Jharkhand innings for 187 in 47.1 overs.