As Jammu and Kashmir forces intensify counter-insurgency operations, civilians pay heavy price
The intensification in counter-insurgency operations has also widened the gulf for 'winning hearts and minds' strategy in Kashmir.
Bijbehara: When a team of Indian Army soldiers started frisking pedestrians and checking vehicles plying on the road on Monday in Bijbehara town of south Kashmir, an altercation erupted between a biker and the trigger-happy soldiers. Before people could intervene, nearly half a dozen soldiers pounced on the biker and beat him up. When the shopkeepers came to the biker's rescue, they were allegedly manhandled by the soldiers which triggered protests and a spontaneous shutdown.
Without any major provocation, the army fired on the protesters.
"Everyone was taken aback and started running towards different directions. No one could have thought this minor scuffle could even result in the firing and wounding of a 60-year-old man," Tariq Jameel, a shopkeeper in Bijbehara town, told Firstpost on Wednesday.
Mohammad Abdullah Ganai, 60, a shopkeeper and resident of Hussainpora village in south Kashmir, was hit by a bullet. He was shifted to a hospital in Srinagar where he succumbed to injuries on Tuesday.
This was one of more than two dozen incidents of security forces' high-handedness reported in just the last two months. As the forces intensify their counter-insurgency operations against the militants, civilians in Kashmir Valley — who are caught between militants on one side and forces on the other — are paying a heavy price.
Following the killing of Hizb commander Burhan Wani, forces had halted counter-insurgency operations in order to deal with the law and order problems in the form of street protests that shook Kashmir for six months. Today, it doesn't matter which part of Kashmir Valley you visit. The checking of identity cards and frisking by soldiers whose faces are covered by black bandanas, and the subsequent humiliation, are haunting Kashmiris.
The over-militarisation of Kashmiri society and the brutal presence of it symbolises the failure of the state apparatus which has lost its moorings. By any yardstick, this over-zealous dependence on military is not good for any civilian government. That this is happening under the PDP regime, whose electoral politics is centred on the demilitarisation of the Valley, is the mother of all ironies.
In absence of any political outreach, the militarisation has only catapulted any chances of normalisation coming back to the beleaguered Valley into oblivion. In the first six months of this year, forces have neutralised more then 105 militants, the highest in a number of years.
Major General BS Raju, the GoC of Awantipora-based Victor Forces, said in an interaction on Wednesday that 110 militants are active in south Kashmir and efforts are underway to ensure that youth, who have picked up guns, "return to the mainstream."
But the intensification in counter-insurgency operations has also widened the gulf for "winning hearts and minds" strategy in Kashmir. On 14 June, protests erupted in Frisal-Yaripora in Kulgam when residents said that the army arrived in the area at around 11.30 pm while they were sleeping in their homes and ransacked their houses and vehicles.
The villagers accused the army of venting out their anger at them for celebrating Pakistan cricket team's victory against Sri Lanka. But this is not all.
On 24 June, the army soldiers from a newly-established camp in Nagisharan allegedly attacked Kundalan village, beating up villagers, allegedly looting shops and damaging property. The forces then returned again in the night to damage more vehicles and windows of residential houses.
According to Jammu and Kashmir Police, there was no stone-pelting or any provocation in the area on that day. "It is sheer frustration of forces. They are using their military might to coerce us into submission. But this will only aggravate the situation," Ghulam Rasool, a resident of Shopian district, said.
When soldiers recently beat up young boys in a cricket stadium in north Kashmir's Handwara district, the firebrand MLA of Langate, Engineer Rashid, sat on a dharna against the army and urged the police to file an FIR against the army.
"If they are saying we are your protectors, why are they beating children and ransacking houses? If someone's son is a militant, they have the right to check the house but why beat innocent parents and ransack the house?" Rasheed, the MLA, told Firstpost.
"The presence of Indian army and its forces on the streets only hurts the cause of India in Kashmir. If they truly want to win the hearts and minds of Kashmir, New Delhi should engage in political outreach instead of relying on military machinery. Even after war, the two warring sides sit on a table and start discussion. We have lost two generations to this senseless violence but there seems to be no end to it," he added.
When questioned, Raju, the Victor Forces GoC, said that the army only deals strictly with those people who disrupt anti-militancy operations. "Army is a disciplined force and does not indulge in beating of people and vandalising property," he said.
India
The police have recovered incriminating materials, arms and ammunition from the site of the encounter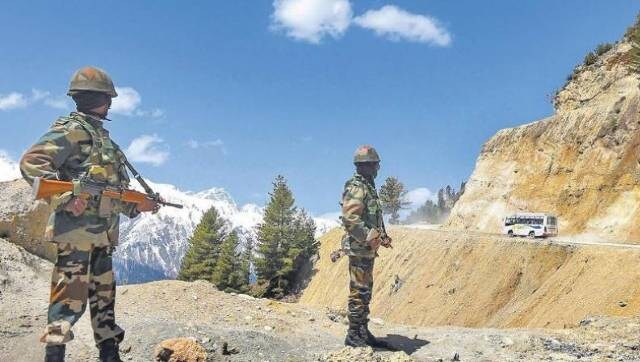 India
The ceremony was a solemn occasion to appreciate and recognise the professionalism in operational roles performed by the units during their tenure in northern Command, a defence spokesman said
India
19 January 2022 marks the beginning of the 32nd year of exile of the Pandits. This day in 1990 brought misery to the community and subsequently led to their ethnic cleansing from Kashmir