As India-China relations deteriorate over Doka La standoff, Centre looks to ramp up ties with Nepal
Sending Sushma Swaraj to receive Sher Bahadur Deuba reflects the importance of his visit, especially when India-China ties are strained over Doka La.
On Thursday, Nepal prime minister Sher Bahadur Deuba, who is on a five-day state visit to India, was accorded a ceremonial welcome. President Ram Nath Kovind and Prime Minister Narendra Modi received Deuba before the guard of honour at the forecourt of the Rashtrapati Bhavan.
Deuba is slated to hold wide-ranging talks with Modi to ramp up bilateral ties.
He was received at the airport by external affairs minister Sushma Swaraj, a move which gains prominence and seems to reflect the importance India is attaching to the visit, especially when relations between with China are strained over Doka La.
According to a report in Hindustan Times, Deuba's visit comes just days after Chinese vice-premier Wang Yang visited Nepal and the two sides signed several major agreements to boost energy and economic times. Deuba and Swaraj met in Kathmandu earlier this month and discussed the Doka La issue, the report said.
According to a report in The Times of India, even as China is attempting to gain influence in Nepal, which is steadfastly staying neutral on Doka La, New Delhi is looking to counter Beijing's footprint. Nepal, which has not taken a position on the Doka La stand-off, is expected to continue to remain so.
Yang visited Kathmandu around the same time as Swaraj and promised to complete a railway track from Shigatse to Kerung near Nepal-China border by 2020 and also promised 1 billion RMB and technical expertise to Nepal for rebuilding the Kodari Highway, Times of India reported.
India and Nepal are set to sign four memorandums of understanding worth $250 million which will finally make use of the $1 billion reconstruction assistance India had pledged after the 2015 Nepal earthquake, Times of India reported.
The Nepalese prime minister is expected to apprise Modi of the political situation in his country, particularly on the steps being taken by his government to fulfil aspirations of the Indian-origin Madheshi community.
Nepal has been facing a political crisis since the adoption of a new Constitution in September 2015. Madhesis, mostly of Indian origin, have been opposing the new statute as they fear it would marginalise them by dividing the country into seven provinces.
Madhesi protests from October 2015 to February 2016 had resulted in the closure of key trading points with India, triggering a shortage of essential supplies in the land-locked country. The blockade of trade points with India ended in February after more than 50 people were killed in clashes with the police.
According to an editorial in The Indian Express, China flooded Nepal with money for several infrastructure projects during the blockade and managed to wrangle several trade and transit deals. However, the Doka La standoff is forcing New Delhi to rethink its stance.
"By that same token, Nepal cannot be faulted for pressing home the advantage it has at this delicate time in India-China relations to see who can offer it the best deal," The Indian Express editorial said.
Kani Mani Dixit, founding editor of Himan Southasian magazine wrote in The Hindu that India's policy of interventionism has backfired and it is in India's interest to secure its neighbourhood. Dixit argues that this objective can only be achieved by New Delhi letting its smaller neighbours evolve and not exerting any undue influence.
"Such a rebooting requires a cold and hard look at how Nepal was handled over the past decade, exemplified by the impediments placed in the writing, adoption and implementation of the Constitution... From the Kathmandu perspective, politically micromanaging Nepal could not have but backfired. Take the Great Blockade, which forced the Kathmandu political leadership to reach out to Beijing and sign a slew of trade, transit and infrastructural agreements with it. Few know that Nepal is today better connected by air to Chinese cities than to India," Dixit wrote in The Hindu.
Rishika Chauhan, a visiting scholar at the Centre for India Studies in China West Normal University, China, wrote in the Hindu Business Line that Modi and Deuba have a monumental task ahead of them: Of maintaining the India-Nepal relationship that was ably revived by former Nepal prime minister Pushpa Kamal Dahal and washing away the bitter taste left by Dahal's predecessor Khadga Prasad Sharma Oli.
"Oli blamed India for blocking crucial border points, maintaining that it was unimaginable Nepal could face a "blockade in the 21st century". While many believed that a Nepali ethnic group called the Madhesis had initiated the blockade, there were others who implied that New Delhi had a role to play. Though New Delhi denied its involvement, the accusation itself was not surprising; Modi had been sympathetic to the Madhesi concerns, persistently asking the Nepali government to redress their grievances," Chauhan wrote in the Hindu Business Line.
While New Delhi is drawing comfort from the fact that Deuba's first foreign visit since taking office is to India's capital, the challenge remains to convince both Deuba and Nepal that India will stay out of its internal affairs and that ties between the two countries are more than just transactional in nature, The Indian Express editorial argued.
Deuba is expected to travel to Hyderabad and Bodh Gaya during his trip and call on the president and the vice-president.
With inputs from agencies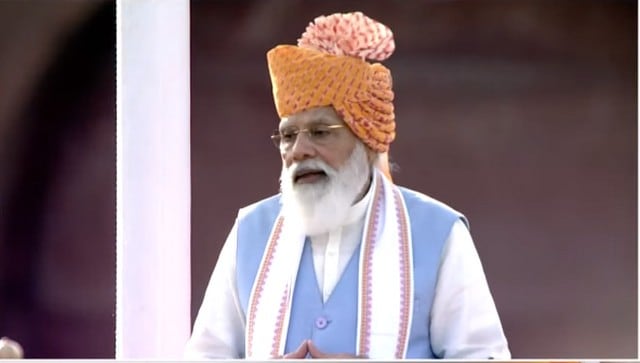 India
At the same time, Modi said, we should not forget the mantra of "Davai Bhi, Karai Bhi' (get vaccinated, strictly follow COVID protocols).'
India
The 20-day mega campaign titled 'Seva aur Samarpan Abhiyan' will begin tomorrow (17 September) and will conclude on 7 October
India
National security advisor Ajit Doval invited General Nikolay Patrushev after a Modi-Putin conversation on 24 August. The MEA said the two leaders had expressed the view that it was important for the two strategic partners to work together