As fire at Bhalswa landfill adds to Delhi's smog, experts push for segregating waste at source, formalising garbage collection
Delhi is all set to turn into a gas chamber once again and the methane from landfills like Bhalswa will only add to its woes. Experts suggest NCR needs a long-term solution, and segregating waste could be good place to start with
Half the solution lies in defining the problem. Unfortunately, when it comes to waste, problems take precedence, make much noise and are far more visible even though solutions reside with specialists who are hidden in the woodwork.
Since 20 October, fires caused by toxic gases have been raging inside a landfill in Bhalswa, an urban village in North Delhi where a 40-acre graveyard of waste waits for its own death. According to estimates of the Delhi Pollution Control Committee estimates, the Bhalswa landfill, one of the four in the national capital, gets 1,850 MT of solid waste per day (950 MT from North Delhi Municipal Corporation and 900 MT from South Delhi Municipal Corporation); the height of the solid waste dumped reaches 45 metres over the ground level.
Pushpa, a resident of Bhalswa who often reaches out to Arvind Kejriwal and MCD authorities through hand written appeals, told Firstpost that the people in this urban village have accepted that toxic gases will bring them closer to their end.
"Yahaan logon ko jaldi TB hota hai, aur dengue hota hai, log marte rehte hai, aam baat hai (Cases of TB and dengue are common, as is death)," she says.
Commenting on the ongoing fire-fighting operations, a Delhi Fire Service official told the press earlier this week that 'due to continuous discharge of methane gas from the landfill, fire erupts randomly'. In an attempt to trace the silhouette of the solution in the thick of a deadly smog, Firstpost reached out to experts ready to work hand-in-hand with the central and state governments to develop realistic solutions.
Environmentalist C Srinivasan developed what's called the Vellore model, which can be executed through a decentralised disposal system in which the waste generated by different categories of service providers can be separately composted or safely disposed of by associations of the respective service providers. All that the local body has to do, in Srinivas's opinion, is to give them a site for safe disposal or composting of the waste along with facilitating them with the technology. This way, zero waste gets into dumps or landfills and the waste is segregated into broad categories of recyclable and organic waste at the source.
In this model, the garbage is brought by municipal workers to processing facilities where it's separated, cleaned, and sold for reuse. The animal edible organic waste is separated and fed to cattle and non-edible organic waste is thrown into a compost pit. All of Vellore district, which is 6,077 sq km, is covered under this scheme.
"There's no point spending crores on waste management if we can't acknowledge solid and liquid waste as separate resources that can be disposed and reused," he told Firstpost.
When Rajiv Gandhi was the prime minister, the first waste to energy plant was inaugurated in Timarpur, North Delhi in 1986. However, it was shut down soon after its commissioning, primarily due to the high cost of power it generated and the shortage of the limited kinds of waste it was designed to process.
Jai Prakash Choudhary, who runs Safai Sena, a registered association of waste-pickers, doorstep waste collectors, itinerant buyers and other small waste traders, said that he's seen the waste to energy plant in front of his eyes and that it's now a barren dump yard.
He works on educating rag pickers who pick up garbage from bins and dump it in the landfills, about segregation at source.
The Solid Waste Management Rules 2016 define waste picker as 'a person or groups of persons informally engaged in collection and recovery of reusable and recyclable solid waste from the source of waste generation… for sale to recyclers directly or through intermediaries to earn their livelihood'. The use of the word 'informally' points to the fact that this crucial sector is largely unorganised.
The municipal authorities don't recognise waste pickers as official buyers or sellers of waste and under the Indian Penal Code 1960, they stand the risk of being arrested if proven that what they are engaging in is essentially theft.
Dr K Vijaya Lakshmi is the vice president of Development Alternatives, a registered research and action organisation geared towards sustainability. She designs solutions for pollution and shared that 30 to 40 percent of solid waste comes from construction and demolition and that the 2016 rules also had a full segment on this category.
"Construction and demolition waste is neutral material and doesn't degrade and obstructs water ways. Since one year, the National Institute of Urban Affairs is conducting training programmes for municipal authorities across the country and it will take time to slowly spread awareness and facilitate the implementation of new solutions," she explained.
A Construction and Demolition (C&D) Waste plant was set up at Shastri Park, Delhi, on a public-partnership with IL&FS. It has a processing capacity of 500 MT per day. As stated in the second interim report on bulk waste generators submitted by four sub-committees that were constituted after the NGT order of 2016,  per plant owner, about 2.5 acre land is provided to the processing facility, whereas the minimum required land for operating 500 MT per day processing facility is 5 acres.
"If the adjoining additional land can be made available to the plant operator, it can run more efficiently. The capacity of C&D plant at Shastri Park is 500 MT per day whereas the plant in Burari can process 2,000 MT per day, so overall all daily capacity is 2,500 MT, whereas around 5,000 MT C&D is generated per day. As such, at present, 2,500 MT of C&D waste remains unprocessed on a daily basis," says Lakshmi.
Preeti Mahesh of Toxics Link, a Delhi-based NGO working for environmental justice and freedom from toxics, says that even after two years, the concept of waste segregation hasn't become common knowledge. "We need a decentralised system like the one adopted in Indore, the city that topped the Swachh Survekshan-2016' survey for the rating of 73 cities in January 2016 followed by 'Swachh Survekshan-2017' ranking 434 cities, conducted by the Ministry of Housing and Urban Affairs," she said.
The Indore Municipal Corporation not only started imposing spot fines on those who littered but brought in NGOs on board as stakeholders to help segregate waste at source.
Mahesh added that solutions to waste can no longer be sporadic. At Bhalswa, along with banana peels and egg shells and fish bones, CFL tubes, paint containers and wires and batteries lie dumped in piles. Recycling becomes harder and the gases from fires inside the landfill are highly toxic in nature.
When asked about the ongoing crisis at the Bhalswa landfill, Bharati Chaturvedi, founder of Chintan Environmental Research and Action Group, shared four simple solutions. First is the composting within the ward and offering subsidies to boost the practice of composting; second is the handling of household hazardous waste that includes the harmful 'nickel-cadmium' especially by municipalities asking companies to dispose products with the residue of these chemicals; third is a slow ban on plastics that cannot be recycled, for instance, thermocol contains polystyrene; fourth is hyper-segregation, or, giving up to 14 spaces to waste pickers in each ward.
An EDMC official told Firstpost that at the capital's Ghazipur landfill, CCTV and water sprinklers are set up to avoid the spread of methane. He informs that segregation has started in Delhi colonies in East Delhi like Preet Vihar, Trilokpuri, Anand Vihar and Patparganj. But this is just the beginning.
Environmentalist Almitra Patel, who filed the PIL that eventually led to the waste management rules of 2018 has elaborate suggestions that should be given a close read. She has stated on her website: "Rethinking has begun on the unviable and polluting waste to energy technologies that the West has been urging on developing countries, and SAARC has rejected burn technologies like RDF for the region. What remains to be done through the PIL is enactment of eco-friendly packaging and waste minimisation rules."
Some of the solutions Patel offers for better compliance with solid waste rules are biotreating wind-rows of fresh garbage, amending Contract Labor Act '70 to enable NGOs or private services in solid waste management and create take-back policies for domestic hazardous waste like tube lights, aerosol cans, insecticides, glass, batteries, tyres, and polystyrene cups.
The national capital is all set to turn into a gas chamber once again and the methane from landfills will only add to its woes.
PM 2.5 consists of toxic organic compounds and heavy metals and is the result of automobile exhaust, burning garbage, smelting and processing of metals. Before criticising farmers in other states for stubble burning, some cleaning up is much-needed within the capital's borders.
India
Rajan Bhatti and Cheena were arrested by Delhi Police's Special Cell
First Cricket News
Ricky Ponting said that he is a cultural leader and his attitude and smile are infectious, hence wants him to be around the team.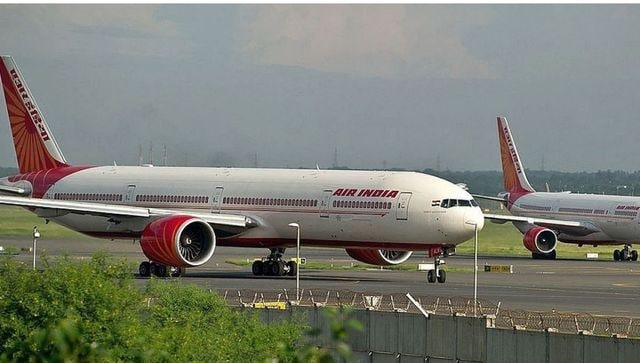 India
The pilot of the concerned AI flight has also had his licence suspended for the next three months for failing to discharge his duties as per Rule 141 of the Aircraft Rules, 1937 and applicable DGCA CAR