PM degree row: Kejriwal's #12thPassModi campaign is not dying anytime soon
BJP-led government and the Congress are locked in a battle over the VVIP chopper deal, Kejriwal and AAP leaders have trained their guns on PM Narendra Modi
The BJP-led government and the Congress are locked in a battle over the controversial Rs 3,600-crore AgustaWestland VVIP chopper deal, the AAP leaders on the other hand have trained their sights on Prime Minister Narendra Modi.
While the prime minister is particularly proud of his humble beginnings and stories of his chaiwallah days had managed to strike a chord with the voters in the 2014 Lok Sabha election, Delhi Chief Minister Arvind Kejriwal and his party members have claimed that Modi's college degrees are fake.
If their tweets are to be believed, then the Aam Aadmi Party have launched a full blown attack on Modi and they are not ready to let go of the issue anytime soon.
Modi ji must realize that he is indeed setting a dangerous trend by not furnishing his degree.#12PassModi pic.twitter.com/GsYTjhSozP

— Aam Aadmi Party- AAP (@AamAadmiParty) May 6, 2016
मोदी अगस्टा पर सोनिया के साथ, सोनिया फर्जी डिग्री पर मोदी के साथ। "कांग्रेस का हाथ भाजपा के साथ" pic.twitter.com/M1HBsu430E

— Sanjay Singh AAP (@SanjayAzadSln) May 6, 2016
It is not necessary to be highly educated to be a good administrator.But integrity is a quality that can't be compromised upon#12thPassModi

— Manish Sisodia (@msisodia) May 6, 2016
Kejriwal on Thursday asked the Delhi University (DU) to make Prime Minister Narendra Modi's BA degree public. AAP leader Ashutosh  has filed an RTI requesting Delhi University and Gujarat University to provide details of Modi's graduation and post graduation degree.
I have filed RTI yesterday requesting DU/GU to provide more details about MODI's BA/MA degree. I have asked 8 new queries.

— ashutosh (@ashutosh83B) May 6, 2016
Modi's election affidavit in the 2014 General Election claimed he had undergraduate and postgraduate degrees. According to the affidavit, he completed a distance education course from DU in 1978. His subject was Political Science. His election affidavits for the 2012 and 2007 Gujarat Assembly polls too made the same claim.
Referring to the election affidavits, Kejriwal in a letter to Vice-Chancellor Yogesh Tyagi, requested him to put up all the documents related to Modi's education on the university website.
"The people of this country have a right to know how educated their prime minister is," Kejriwal wrote.
On 4 May, three AAP leaders alleged that the DU refused to share details regarding Modi's BA degree and told them to approach the Prime Minister's Office (PMO) instead. The Central Information Commission (CIC) had on 29 April directed the universities of Delhi and Gujarat to respond to the RTI application regarding Modi's educational qualifications.
Earlier, the Delhi University declined to give information related to Modi's BA degree despite RTI requests.
According to Scroll, a video clip have been doing the rounds on social media with Modi claiming to have studied till 12 standard during an interview with Rajeev Shukla.
Modi himself accept that he didn't study beyond 10th. But these bhakts are adamant to prove that he has MA degree. pic.twitter.com/KsXG6MFfjX

— Hope of India (@myindianhope) May 1, 2016
However, if you watch the full interview, Modi says though he has never been to college, he got his degrees as an external student.
The row over college degree started when Neeraj Saxena, on behalf of NGO Maulik Bharat Trust, moved the Delhi High Court alleging that Kejriwal had submitted incorrect details in the election affidavit and had violated its provisions, according to the DNA. Saxena had claimed that Kejriwal had provided the wrong residential address, the Delhi CM had then furnished a document stating change of address.
In a letter to the CIC, Kejriwal wrote that while he is willing to share his records with the public, but the Prime Minister should do the same and make information of his college degrees public, the report said.
"There are allegations that Narendra Modi does not have any degree. The people of the country want to know the truth. Despite that, you have refused to make records regarding his degree public. Why did you do this? This is wrong," Kejriwal said in the letter.
Controversies around college degrees tend to remain in the news cycle though in most cases there is no actual outcome. Take for instance, the HRD minister Smriti Irani's 'five-day Yale degree.' If not staging dharnas, AAP government fight against Modi and the Centre has kept them in the news. Whether this has anything to with the education bills — the Fee Regulation Bill and amendment to the Delhi Education Bill — and what is touted as the "AAP's Education Revolution" is pure conjecture.
Find latest and upcoming tech gadgets online on Tech2 Gadgets. Get technology news, gadgets reviews & ratings. Popular gadgets including laptop, tablet and mobile specifications, features, prices, comparison.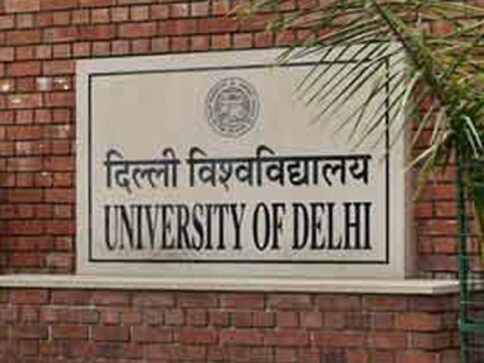 India
The court took the decision after the Delhi University's counsel provided several clarifications that were requested of them during a previous hearing.
World
The vaccine race comes at a time when Washington is already engaging in a new debate over how to recalibrate relations between the two powers after the election
World
India has joined a long list of countries in which concerns have been raised about whether such institutes are propaganda arms of the Chinese State