Arunachal Pradesh on aviation map: First commercial aircraft lands in North East state; CM Pema Khandu calls it 'historic moment'
In a big boost to air connectivity in North East, Air India flew its first aircraft from Guwahati to Pasighat with Arunachal Pradesh CM Pema Khandu.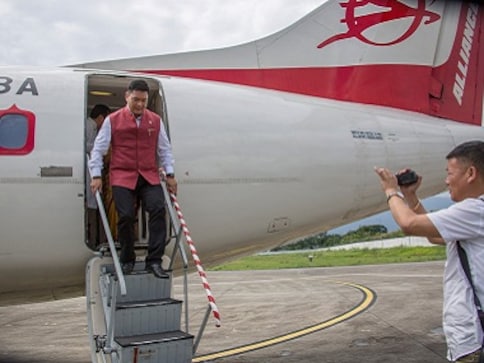 In a big boost to air connectivity in the North East, Air India flew its first 48-seater aircraft from Guwahati to Pasighat with Chief Minister of Arunachal Pradesh, Pema Khandu, as its first passenger.
The Alliance aircraft is a subsidiary of Air India and covers a distance of 650 kilometres from Guwahati to Pasighat.
"Today is a historic day and I congratulate the people of Arunachal in general and people of Pasighat in particular for this new milestone that would remain engraved in history as a huge step in the development of our state," Khandu said on Monday while addressing a ceremony to mark the occasion at the civilian terminal of the Pasighat airport.
Khandu also thanked Prime Minister Narendra Modi for providing air connectivity to the state. The Arunachal Pradesh chief minister also tweeted a picture of his boarding pass, saying, "It will be a historic moment for Arunachal and a remarkable step in the history of civil aviation."
He later uploaded a video of his safe landing, saying, "Landed safely at Pasighat airport a few minutes ago flying from Guwahati on Alliance Air. Proud to be part of this historic moment. I am extremely thankful to Narendra Modiji and the Ministry of Civil Aviation for connecting Arunachal with airways."
This came upon persuasion from the state government after Khandu came to power. Accordingly, Air India agreed to start ATR-42 services of Alliance Air to Pasighat from Guwahati's Gopinath Bordoloi airport, connecting the state with rest of the country.
In the second round of bidding, ie Regional Connectivity Scheme-UDAN 2, eight locations in Arunachal Pradesh were selected by bidders. Of the locations, Pasighat and Tezu have been selected for fixed wing while Ziro, Daporijo, Itanagar, Tuting, Wallong and Yingkiong have been selected for helicopter services.
Khandu said with air connectivity, the state's economy would also get a boost. The 42-seat Alliance Air ATR will fly between Guwahati and Pasighat three times a week. Besides Alliance Air, which is a subsidiary of Air India, Zoom Air and Turbo Jet are also set to commence their services soon.
There are about 120 helipads and 10 Advance Landing Ground (ALG): Ziro, Pasighat, Aalo, Tuting, Mechuka, Vijaynagar, Walong, Tezu, Daporijo and Alinye, in the state.
Khandu along with deputy chief minister Chowna Mein, Assembly Speaker TN Thongdok and other Cabinet ministers and legislators became the first passengers of the maiden flight from Guwahati airport. They landed at Pasighat two hours and 20 minutes after taking off from Guwahati at 12.44 pm.
Pasighat airport was originally an Advance Landing Ground (ALG) which was used both for the army or the air force and occasionally for civilian travel as well. It's situated inside the town which is 260 kilometres from Itanagar and about 350 kilometres from the India-China border.
With inputs from IANS
also read
World
The airline's spokesperson stated that the passenger not only verbally abused the crew members but also physically assaulted one of them during the flight
India
Prime Minister Narendra Modi will flag off Assam's first state-of-the-art Vande Bharat Express on Monday through video conferencing, a government official said on Sunday
India
The aircraft is undergoing the mandatory checks, the airline said, adding the passengers are being provided with all support on the ground.