Arun Jaitley: Congress extremely uncomfortable with demonetisation given its scandalous record
Launching a scathing attack on Congress, Finance Minister Arun Jaitley on Tuesday said the party's 'scandalous record' is making it extremely uncomfortable with the Modi government's anti-corruption campaign of which the demonetisation of high value currency is a cornerstone
New Delhi: Launching a scathing attack on Congress, Finance Minister Arun Jaitley on Tuesday said the party's "scandalous record" is making it extremely uncomfortable with the Modi government's anti-corruption campaign of which the demonetisation of high value currency is a cornerstone.
Junking of old Rs 500 and Rs 1,000 notes, he said, will help the world's fastest growing major economy to move towards less cash economy and digital payments that will help shore up tax revenues and check evasions.
Besides, restrictions on cash spending together with mandatory furnishing of PAN will help bring down the level of corruption, he said, adding that the transient problems arising from demonetisation are being addressed by rapidly replacing the junked currency with valid banknotes.
Amid daily barbs by Congress vice president Rahul Gandhi against Prime Minister Narendra Modi, Jaitley said the party during its 10 year continuous rule from 2004 to 2014 did not take a single step either against corruption or black money.
Corruption scandals — ranging from 2G spectrum scam to coal block allocation to Commonwealth Games to deal with AugustaWestland for procuring VVIP helicopters — peaked during the UPA regime, he alleged.
"Each of the scandals which is even today discussed in public space belongs to that period. Given this scandalous record, it is not surprising that Congress party is extremely uncomfortable with anti-corruption campaign that the NDA led by Narendra Modi has launched," Jaitley told reporters here.
High denomination notes, as percentage of total currency in circulation, increased from a mere 36 percent to over 80 percent during UPA regime, he said in oblique reference to ill-gotten money usually being hoarded in high denominations.
"There are economic costs of dealing in cash, there are social costs of dealing in cash. These are the costs which system has to bear," he said.
Demonetisation, he said, is part of the system overhaul by the NDA government.
"It is our strategy that from high cash dominated economy we should become a less cash economy where the amount of paper currency comes down," he said.
Cash will exist but there would be greater digital payments.
"Notwithstanding some transient problem which people have to face, we are now rapidly completing remonetisation exercise. Everyday RBI is injecting a large amount of currency into the banking system as part of its remonetisation exercise. Significant amounts are going to be injected in next three weeks which are gradually bringing the pressure down," he said.
As more and more of the new currency comes into circulation and re-circulated in the banking system, ATMs will make it increasingly available, Jaitley said.
On the advantages of the demonetisation move, he said a large volume of cash has come into the banking system and taxes will be recovered wherever they are not paid.
"Future transactions would be substantially digital and once they are substantially digital they get caught in the tax net. Therefore the future taxation level would be much higher than what is currently being collected," he said.
It would also enable the government at some stage to make taxes more reasonable which will apply to both direct and indirect taxes, he said.
Also, the banking system will have a lot more cash, which will boost its ability to support the economy with low-cost lending.
"Obviously with all these advantages the social cost also on the system will go down. Therefore, the cash used for bribery, for counterfeit currency, for terrorism, for evading taxes itself will go down," he said.
Taken together with other reforms particularly the proposed Goods and Services Tax (GST) and the restrictions on cash spending subjected to PAN declaration, it is going to "bring down the levels of corruption in society", he said.
"It is going to bring down cash transaction in society and it's going to bring down levels of evasion as far as taxation is concerned," he said.
Stating that the government is ready for a debate on the demonetisation issue in the Parliament, he urged the Congress and other opposition parties to "rise above slogans and look at the positive advantages that this change is going to bring to the economy as a whole".
"Therefore, from national perspective, I would appeal to the opposition to join this campaign rather than create obstruction and fail to understand what the real purpose and the import of this campaign really is," he said.
Subscribe to Moneycontrol Pro at ₹499 for the first year. Use code PRO499. Limited period offer. *T&C apply
Politics
During his Kerala visit on Tuesday, Rahul Gandhi had said he was used to a "different type of politics" in north India and coming to the southern state was a "refreshing" change for him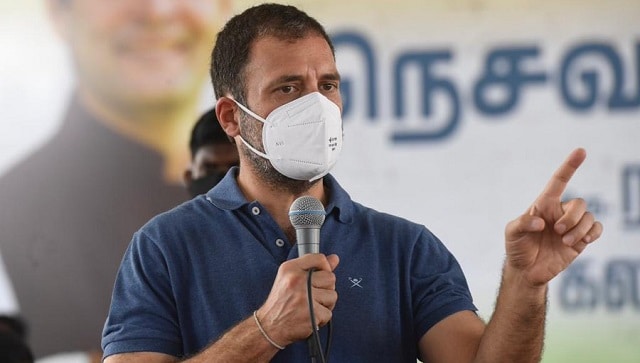 Politics
Speaking at a press conference, Randeep Singh Surjewala said, 'The North-South divide is a toolkit being adopted and sold by the BJP to the news channels and the public'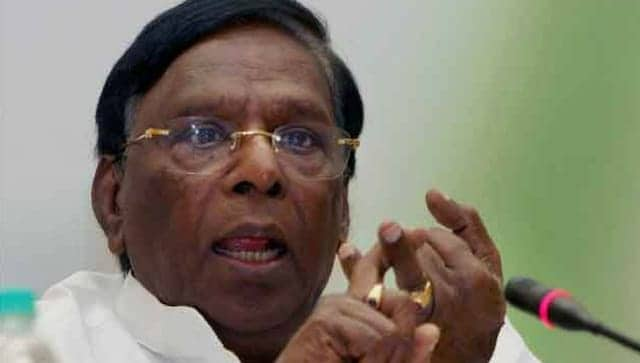 Politics
The collapse of the V Narayanasamy-led government in Puducherry led to a war of words over Rahul Gandhi's leadership of the Congress party and the BJP's 'corrupt politics'