Article 35A: Kashmir needs a larger debate over Article 370 for permanent solution to vexed issues
A greater integration of J&K is not possible unless it is considered just another Indian state. The debate on Article 35A must start from that assumption.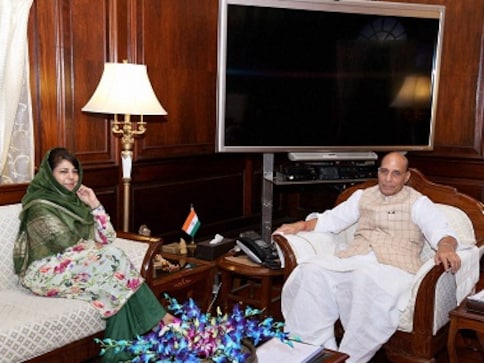 The NDA government's move to not file an affidavit and seek a "larger debate" and "larger bench" over Article 35A in response to two recent petitions in the Supreme Court challenging the Constitutional validity of the clause has expectedly given rise to shrill debates.
The Article refers to the special powers enjoyed by the Jammu and Kashmir legislature in defining "permanent residents" of the state. Those who are deemed "non-residents" under this provision are disallowed from buying property, settling down, seeking state government jobs, aids, college admissions or scholarships. Some of the clauses that flow from the Article are gender discriminatory and sit at odds with the Fundamental Rights guaranteed by the Indian Constitution.
The Article, which was added to the Constitution on 14 May, 1954, through a Presidential order bypassing the Parliament and appears in the Constitution as an "appendix" and not as an "amendment", preserves the tenets of the state's Constitution by virtue of being a "clarificatory provision" – as observed by a division bench of the Jammu and Kashmir High Court in July 2015.
Justice Muzaffar Attar and Justice AM Magrey had held that, "the power of Parliament to make laws in respect of J&K is circumscribed and it can make laws for it only where permitted by the state and not otherwise, and that too in accordance with the mechanism prescribed by Article 370 of the Constitution of India."
In other words, Article 35A reinforces the special status of Jammu and Kashmir which has framed its relationship with the rest of the country under a host of special provisions, such as Article 370, Delhi Agreement of 1952 and is the only Indian state to possess its own Constitution (drawn up in 1956) which defines permanent residents as:
"All persons born or settled within the state before 1911 or after having lawfully acquired immovable property resident in the state for not less than ten years prior to that date. All emigrants from Jammu and Kashmir, including those who migrated to Pakistan, are considered state subjects. The descendants of emigrants are considered state subjects for two generations."
This has given rise to peculiar possibilities whereby a Pakistani citizen can buy property and settle in Kashmir, a provision denied to many Indian citizens. The provision is also gender discriminatory, as Supreme Court lawyer and a native of Kashmir Charu Wali Khanna has submitted in her petition before the apex court.
"Despite being a Kashmiri Pandit by birth, the state does not recognise me as its citizen," Wali Khanna, who married out of her caste and settled outside the state told Mail Today. "I desired to build a home in Jammu and Kashmir in order to rediscover my roots but I was barred by the peculiar, discriminatory law in doing so… Unreasonable classification between males and females and between females and females is against the spirit of Article 14 of the Constitution."
According to the petitioner, the rules discriminate against Kashmiri women by restricting their choice of partners in marriage. If the husband doesn't hold a Permanent Resident Certificate, their children are denied subsequent rights.
In a column for Outlook in 2013, Arun Jaitley had pointed out the predicament of refugees who migrated to Jammu and Kashmir during partition. Jaitley, then leader of Opposition in Rajya Sabha, wrote about the "unfortunate" Indians not being conferred "state subjects" under Article 6 of the Jammu and Kashmir Constitution, which prevents them from voting or contesting Assembly, municipality or panchayat-level elections, holding state jobs, acquiring property. Their children were denied admission to colleges, scholarships or any other type of aid from the state.
"The effect of this", wrote Jaitley, is that "these citizens of India are not entitled to the protection of Article 14 (equality), Article 15 (prohibition of discrimination on basis of religion, caste, race or place of birth), Article 16 (Equality of opportunity in matters of public employment and reservations), the fundamental rights under Article 19 including the right to free speech and the right to life and liberty under Article 21… The non-State subjects, who are citizens of India, who live in Jammu & Kashmir by virtue of Article 35A, are denied these protections."
It has been pointed out that since Article 35A is only a "clarificatory provision", and does not in itself confer any special powers, seeking to scrap it is pointless because any such action must also include all other presidential orders of 1954, some of which extended several provisions of the Indian Constitution to Jammu and Kashmir in addition to the three areas of defence, foreign affairs and communication as defined under Article 370.
Cautioning the NDA government, historian Srinath Raghavan writes in Hindustan Times, "questioning the validity of this Article (35A) has no bearing on the rights of state subjects. Nor can the Presidential Order of 1954 be questioned without questioning the validity of other provisions of the Indian constitution it extended to J&K."
While it is a valid legal argument, this position prevents a satisfactory political resolution to the Kashmir problem. The time has come to confront the Kashmir reality by holding a larger deliberation on the validity of Article 370 itself.
In fact, any debate on the validity of Article 35A must necessarily include the larger debate over Article 370 which in the guise of "special status" has remained the biggest obstacle towards integrating the state with India and normalising its relationship with the rest of the country by way of being a discriminatory and oppressive provision. It was meant, titled and appeared under "temporary provisions" of the Indian Constitution but in 2015, a division bench of J&K High Court subsequently interpreted it as a "permanent provision".
"(The) Article 370, notwithstanding its title 'temporary provision' is a permanent provision of the Constitution. It cannot be abrogated, repealed or even amended as mechanism provided under Clause (3) of Article 370 is no more available", pronounced the court in October 2015.
The ruling has been criticised as "pandering to political constituency".
"This interpretation is truly a travesty. If the word "temporary" can be equated with "permanent", we might as well burn all dictionaries, as every word can be given the meaning any individual desires to give it. No one can then understand what anyone else is saying," R Jagannathan wrote in his column for Firstpost in 2015.
It is imperative that the debate be held right now because Jammu and Kashmir is not just a political problem, it is also equally a security issue that has grave implications for India's sovereignty, given the animus that defines our ties with Pakistan and the deterioration of bilateral relationship with China. Both these countries have the resources, motivation and will to exploit India's festering political wound.
China has shown no compunctions in violating One India policy and building roads as part of the CPEC project through Gilgit-Baltistan, and recent reports suggest that it is ready to fund the $12-$14 billion Diamer-Bhasha mega dam project in Pakistan-occupied-Kashmir, which even the World Bank or Asian Development Bank refused to touch given Indian reservations. Nudged by China, Pakistan has duly agreed to declare PoK as its fifth province and legitimise its hold over a territory claimed by India.
It has been said that military action alone cannot solve the terrorism issue in Jammu and Kashmir, where the ethno-nationalist struggle for 'azaadi' has been usurped by an Islamist movement which is getting increased local backing. As the Indian Army eliminates terrorists in the Valley, critics have pointed out that these actions must be complemented with political outreach.
It is ironic that these very critics, who expound political outreach theories, balk at the suggestion of abrogation of Article 370 or 35A, which are instruments of alienation. A greater integration is simply not possible unless Jammu and Kashmir is considered as just another Indian state. The debate must start from that assumption.
World
While foreign aid had prevented Pakistan from suffering an economic crisis in the past, the current situation is different as the International Monetary Fund (IMF) imposing a host of tough conditions before considering a financial bailout
World
In its quest for the IMF bailout, the Pakistan government has come up with several measures. Pakistan's finance ministry had also informed that the Industrial and Commercial Bank of China Ltd (ICBC) is set to forward a loan of $1.3 billion
World
The leopard was caught on camera crossing the fencing near the Border Security Force (BSF) border outpost nursery on the intervening night of Friday and Saturday