Arrested professor Shoma Sen's daughter Koel says: My mother's been tagged a Maoist after lifetime of working for others
Koel Sen, the daughter of Prof Shoma Sen, who was recently arrested for 'alleged Maoist links' in the course of the Pune police's probe into the 1 January Bhima-Koregaon violence, describes the sense of shock and disbelief that has accompanied her mother's arrest
Editor's note: This article was originally published on 18 June, 2018. It is being re-published in light of the raids and arrests of activists carried out by Pune Police in connection with the Bhima Koregaon violence.
On 6 June, the Pune police arrested Professor Shoma Sen along with activists Rona Wilson, Mahesh Raut, Sudhir Dhawale and Surendra Gadling for their alleged Maoist links. The arrests were part of the police's probe into the 1 January 2018 Bhima-Koregaon riots. A week after her arrest, Prof Sen was suspended from her position as HOD of the English department at Rashtrasant Tukadoji Maharaj Nagpur University. Sen and the other activists have been charged under various sections of the IPC. In this column for Firstpost, her daughter Koel Sen describes the sense of shock and disbelief that has accompanied these developments. 
***
My first reaction to my mother's arrest was of shock and utter disbelief. I could have never imagined something like this happening to her. Having spent all her life working for others, my mother is now being tagged as an alleged Maoist.
We live in a modest home in the middle-class part of Nagpur. She and my father decided to move here from Mumbai as Maa wanted them to start a fresh life and focus more on social work. Growing up in Nagpur, Maa ensured that I got the best education. Even with her meagre salary, she tried to put me in Bharatnatyam classes — which I resisted quite a bit. I remember when we had a painting competition in my school, Maa suggested I draw Indians of all religions holding hands and standing in a circle. I won the first prize for that.
Since I was little, I have seen Maa go out of her way to help people. With whatever little money she earned, she tried her best to get things for our maid Geeta Bai's children. My first close friends were Geeta Bai's kids. Maa was a part of a women's organisation in Nagpur called Stree Chetna, which would discuss issues such as violence against women and dowry deaths. One day Maa returned home with Lata, a young girl whose father had committed suicide before her eyes. She had already lost her mother at childbirth. Lata was carrying a cloth bag with a few rags inside for clothes and looked traumatised. Unable to look after her needs, Lata's extended family had requested my mother to help. Lata lived with us for almost five years. She became my elder sister. Then, another girl — Neha — would drop in very often. She was studying for her medical entrance exam and needed a place to stay.
Our home became a shelter for almost anyone who needed help. As a child, I often felt outraged and often even jealous, that my mother had so much love to give and share with others' children. It took a distant cousin from Kolkata — who stayed with us for two years — to put it into perspective: "Shoma Mashi is a woman of true individuality, who has worked tirelessly throughout her life for underprivileged people, has empowered women and encouraged them to speak up. She taught us that our voices are meant to be heard."
The kind of sympathy and love that my mother is getting from people from across the world is unbelievable. One of the policewomen accompanying her to the Swargate Police Station in Pune, fell at her feet the other day. Maa didn't understand. The police woman was in tears. "Madam, you have taught me, I am so sorry to see you in this condition,'' she said.
Maa grew up in the posh locality of Bandra in (then) Bombay. The '70s were a turbulent period. At that time almost everyone had sympathies with the Left. She was close to the Vidyarthi Pragati Sangh (VPS). She soon shifted to Nagpur, because she felt that if all the intellectuals lived in Bombay, then who would work for the people in the poorest parts of Maharashtra, such as Vidarbha? She eventually spent the next 35 years of her life teaching in Nagpur.
She taught at the People's Welfare Society (PWS) college in Nagpur, located in Indora. She would ride her little moped for half an hour every day to teach her first class at 7 am. I woke up on most mornings to an empty house, making my own breakfast from the age of 9-10 and living very independently. Her evenings would be spent visiting women (many of them Dalits, and victims of domestic violence) in the slums of Juni Magalwari (a big ghetto in Nagpur), discussing their immediate issues and concerns.
Recently, with 38 years of teaching behind her, Maa became the head of the English department at Nagpur University. She was going to be honored by the Nagpur Teachers' Alumni Association, with a book on her being released. When she last came to Mumbai to meet me, she asked me to keep 31 July free for the event. The next day, 1 August, we were to celebrate her 60th birthday. We were in the thick of planning celebrations when she was picked up so arbitrarily.
Maa's arrest along with the four other activists is a shame for our society and our country as a whole. I think today, we are living in the darkest of times, where people have no faith left in each other. I feel there is no space left for dissent or opposition. The activists who have been arrested, and my mother, have been fighting for the rights of forgotten people, those who have slipped through the cracks in the system. It is one thing to take away the rights of marginalised people, and another to attack those working for their rights. Everyone is paranoid today, whether it is a painter whose exhibition can be ransacked, a filmmaker whose film can be banned, or an activist or lawyer fighting for civil liberties.
In court, the public prosecutor rants about "threat to national security", promoting "anti-national thoughts", "provocation of riots" etc. I no longer  understand what is the definition of anti-national? Possessing books on Marx, Lenin or Mao does not make anyone anti-national. "Activism'' is suddenly a derided term. My mother has been working with those communities that the present government is overlooking with its pro-modernisation agenda. She  is an advocate of the rights of Dalits, of women. She has been helping their voices be heard, voices that the present government neither hears itself, nor does it wish for others to.
To see her in custody for this "crime'' is not only unbearable for me, it is an injustice to them.
Koel Sen is an independent filmmaker based in Mumbai.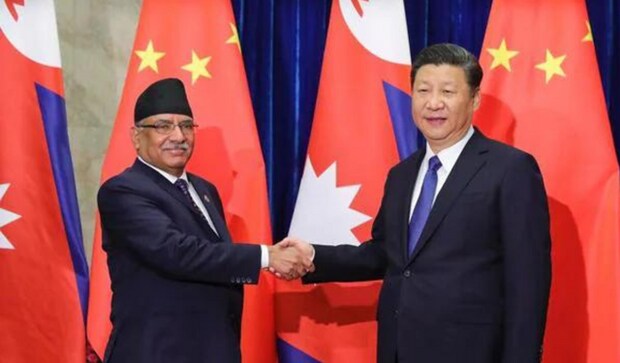 Politics
China's interference has become more apparent in Nepal after the elections held on November 20 and the formation of a government led by Maoist President Pushpa Kamal Dahal 'Prachanda'
India
CRPF officer Prakash Ranjan Mishra has been decorated with a gallantry medal for the eighth time, making him the highest recipient of bravery medals among the Central Armed Police Forces (CAPF)
Opinion
India is the fifth largest economy, ready to play in the big leagues. Those in the big leagues do not like to see a new kid on the block. They will do anything it takes to stop us. And they have their army of activists right inside our borders. This should bother us