Army ties Kashmir youth to moving vehicle: Grey areas in conflict blur the rights and wrongs
It is the soldier on the scene who has to face the fusillade.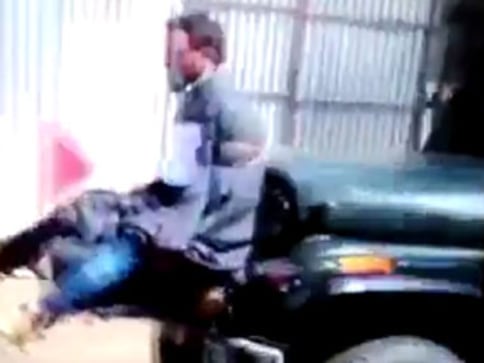 Grey areas in conflict are never really truly resolved. There are no clear answers and perfect solutions. You either defend an action or condemn it based on your interpretation of the rules of the game. Except that it is a hell of a deadly game.
The image of a man tied to the army jeep in Kashmir is visually disturbing. After all, we are not like that. Our army fights hostiles with grace, dignity, restraint and a song on their lips when the sharp-edged stones grievously injure our soldiers. If they die so be it, tough luck and all that.
The Geneva Convention to which India is signatory clearly sees the use of human shields as a war crime. In the context of international armed conflicts, this rule is set forth in the Third Geneva Convention (with respect to prisoners of war), the Fourth Geneva Convention (with respect to protected civilians) and Additional Protocol I (with respect to civilians in general).
But then in Protocol II which deals with non-international conflicts, it makes no mention of human shields specifically, though the general acceptance is that the spirit of the other three rules bleeds into it. To blur the matter further: International human rights law does not prohibit the use of human shields as such, but this practice would constitute, among other things, a violation of the non-derogable right not to be arbitrarily deprived of the right to life.
Nor does it say anything about the use of human shields if they are from the hostile cadres themselves. Again a grey area in reverse. Was the man tied to the jeep, Farooq Dar, a stone pelter or not? So far no evidence of this has emerged. Consequently, a case could be made in his favour for having denied him the protection accruing to a civilian.
But in an imperfect world let's go to the ground for a reality check. On the one side soldiers were trapped and heavily outnumbered by an aggressive and violent crowd, their lives in peril, the ghosts of a recent video where their comrades are being beaten by civilians fresh in their minds. Here it is worse: they are being threatened with a lynching. Does the commander of the QRT have the time to consider niceties of the Geneva Convention or does he try to save his men?
He picked up an individual, shoved him on the bonnet and drove his people to safety. Right or wrong, you be the judge.
Conflict is not a Norman Rockwell painting and sunbeams do not dance on the terrain. It is ugly, cruel and violent. The fact is, when you are under siege and hobbled at that by political handcuffs then it is twice as ugly, cruel and violent and the passing of pious judgment from a safe distance is relatively easy.
We are out of range.
It is the soldier on the scene who has to face the fusillade. Say what you like the officer in charge took his convoy through without a stone being thrown and a life being lost. As a strategy it worked much better than anything else, no one got a pellet in his eye, no soldier was touched. It could also have failed dramatically, always remember that.
Of course, it doesn't look nice. But looking nice has nothing to do with it. Keeping his men safe and carrying out his duties at the same time is the task he is entrusted with and that is all that counts if we validate the grey areas as integral to an ongoing conflict.
And we do not have a choice. Because they exist and there is no 100 percent clarity.
We are very quick to condemn the initiative but have you ever been in a war zone. No, really, I mean that. There is nothing romantic about it. Every creak of a board could be your death knell, every shadow the enemy. There is blood and gore and shrieking agony as bones are crushed and brains and guts are spilled and the coppery stench of blood fills the air.
I had the dubious privilege of being in Shakargarh as a war correspondent in 1971 and never want to witness those scenes again.
So, bear with army chief General Bipin Rawat when he said that stone pelters are to be seen as jihadis and should be treated as such. For those who feel otherwise and still seek sanctuary in belittling our forces and searching breathlessly for peace through appeasement, you should go up there and have a first-hand experience of the barrage that a mob of stone throwers can generate.
So, yes, no one encourages such incidents and if there can be peace in the valley it is the best option. But don't ask the soldier not to defend himself because we didn't like the scene in this movie.
India
The SIA team reached a Bunglow in the area, early Wednesday morning. While the search for information is on inside, there is huge security at the gates
India
A team of the State Investigation Agency's (SIA) Jammu-wing raided the houses of Ramzan and Dubai-based Abu Baker in Kulgam and the Bhatindi area of Jammu city, respectively, the officials said
India
Earlier on Friday, two local terrorists linked with the proscribed terror outfit Jaish-e-Mohammed (JeM) were killed after an encounter in Baramulla