Armed forces globally reek of misogyny; General Bipin Rawat's remarks on women in combat roles cements theory
The real question is whether the hypermasculinity in the global military can adjust to women rising up the ranks in what has been male-dominated terrain for generations. But when servicemen like Rawat high up in the ranks pass such distasteful comments, how can we expect to combat (pun intended) the disrespect women in the military face?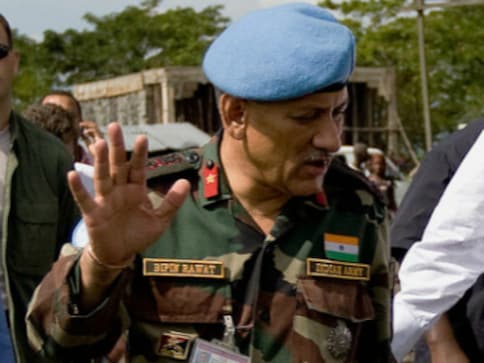 "A major embarrassment for the country" is just one among the myriad ways Chief of Army Staff General Bipin Rawat has been criticised since his interview to CNN-News18 on Saturday, during which he couldn't have made more disgraceful comments on women and why the Indian Army was not ready for women in combat roles.
In the interview, Rawat claimed that women are not ready for combat roles in the Indian Army because the male soldiers, who are largely from small villages, would not be willing to accept a female commander. He also claimed that Indian families are not yet ready to deal with the sight of women's bodies being brought back from war zones and also claimed that there would be "ruckus" if a woman commanding officer was denied maternity leave, implying that childcare is a woman's primary responsibility.
But the cherry on the cake was the general's assertion that women would complain about men peeping into their tents while they were changing clothes. "Mr Rawat, your statements are an insult not just to women but also to our brave soldiers!" Congress member Shama Mohamed tweeted.
A Twitter user summarised what many were thinking: "What he means is jawans are pervert peeping toms and even the Indian Army cannot provide a safe working environment for women." Another pointed out: "If at all the women do find jawans peeping into their bathrooms while they are changing their clothes, should not those peeping jawans be thrown out instead of not allowing women in combat roles?" One also chose to remind Rawat of the roles women have played in past wars.
This is clearly isn't how logic works for Rawat.
On assigning women combat roles in the Indian Army, he said he was ready, but the military wasn't. The truth is India as a whole isn't, and neither is the global military in general.
Women in the military the world over
Even today, very few countries allow women in combat roles. These include Germany, Australia, Canada, the United States, Britain, Denmark, Finland, France, Norway, Sweden and Israel. But this doesn't mask the misogyny that's deeply ingrained in the field of defence.
As is the norm in society, women in service have to work twice as hard to prove their worth and face several times the ridicule if they err in their role in any way. When performance isn't the issue, it is the lack of acceptability from their male colleagues that becomes a problem.
Sweden began to recruit women in combat jobs in 1989 and began a gender-neutral draft just last year. Male and female troopers share coed dorms — something that Rawal has made plenty clear that India isn't ready for — and physical standards are gender-neutral. Despite this, women have yet to experience complete acceptability in service and continue to face ostracism and harassment.
"The harassment stemmed from male peers being uncomfortable with a woman who had handled a stressful situation better than a man," The New York Times pointed out, referring to two specific instances.
Moreover, the Swedish military has had its own form of the #MeToo movement —#givaktochbitihop, which loosely translates to "stand at attention and bite the bullet" — on over the year.
"There is no lack of previous studies that have shown that the masculine military culture harasses women, who are not considered to belong in this male bastion in the first place," this report states on the Norwegian Army. "Not even the recruits in the more or less degenderised unit in the north completely escaped this tradition."
This is despite the fact was Norway was one of the first NATO countries to allow recruitment of women in all combat roles back in the mid-1980s, decades before the US and United Kingdom, which opened infantry roles for women in October.
Exceptions to the rule
However, standing out as a bright spot in this male military bastion is Magnus — a Norwegian special forces soldier who has trained the all-women "tough as nails" Jegertroppen unit — who rebuffed any and all chauvinist concerns, such as dealing with premenstrual syndrome.
Another bright spot is UK defence secretary Gavin Williamson. "Women have been involved in frontline activity in so many ways for so long. You've seen women serving alongside men in Afghanistan and Iraq. They have been part of the team. The idea that we're excluding half the population for some of these vital roles potentially holds our armed forces back," he had said while announcing the government's decision to allow women to apply for all military roles in the British armed forces.
Lieutenant-Colonel Elizabeth Curtis — the commander of the 82nd Airborne Division's 407th Brigade Support Battalion, which coordinated logistics support for about 1,700 US troops fighting to retake Mosul from the Islamic State — had said last year that in the war in the West Asian country, women are deployed as forward as men. "Female soldiers can be seen working alongside their counterparts at tactical bases within a few miles of Mosul," she had said.
As Williamson pointed out, in the Afghan war, too, women led units in commanding roles, only adding to the capabilities of the troopers deployed to combat the terror in the region.
Speaking of, even a repressive country like Afghanistan encourages women to join the military and change what has, for years, been considered "a man's army". Here, men and women train separately at academies, but their regimens are similar.
A conservative nation like Israel, too, has seen a spike in the number of women who want to serve in the Israel Defense Forces, since 2010. Their numbers nearly tripled from 935 in 2010 to 2,499 in 2017. Military officials and soldiers said this is because of their increasing sense of duty to defend Israel.
In contrast, the US has gone the other way. It began to draft women into frontline combat squads three years ago. The significance of this move was soon overshadowed by the Marine Corps shielding a finding of a year-long study that coed groups deployed in Afghanistan to interview and search civilian women, were better at problem-solving. In hindsight, this was unsurprising as Marine Corps Commandant General Joseph Dunford was against opening infantry jobs to women.
The bias against women in the US military was further cemented by Secretary of Defence Jim Mattis' less-than-enthusiastic remarks on the policy to draft women. "The question for the (defence) department comes down to whether it is a strength or a weakness to have women in the close-quarter infantry fight," said Mattis, who is ironically in charge of gender integration in the American military.
Back in India, any stride the country has made since deciding to open combat roles for women in the army, induct women as sailors in the navy and also induct the country's first women as fighter pilots were negated by Rawat's latest impropriety. On 1 December, too, Rawat had said women needed "to be prepared for that kind of hardships", citing this as a reason why the army was not ready to recruit women in combat roles yet. If peeping toms are the hardships he's referring to, harassment of that kind wouldn't be anything new for women in India.
Women volunteer to join the army, navy or air force for the same reasons as men: to serve their country, to protect the borders out of a sense of patriotism. So the question isn't about whether women can be effective in combat roles; it isn't about their capability; it isn't about them decreasing "military lethality"; it isn't about them crying 'harassment' every day as the Indian Army chief puts it. The real question is whether the hypermasculinity in the global military can adjust to women rising up the ranks in what has been male-dominated terrain for generations. But when servicemen like Rawat high up in the ranks pass such distasteful comments, how can we expect to combat (pun intended) the disrespect women in the military face?
Opinion
Who will teach men that if they believe they are entitled to being inconsiderate, intolerant, violent, cruel and barbaric just because of their gender then they are seriously delusional!
India
Citing Prime Minister Narendra Modi's slogan 'Jai Jawan, Hai Kisan, Jai Vigyan, Jai Anusandhan', Indian Army Chief General Manoj Pande said that it aptly captures the contemporary reality and underscores the importance of research and innovation
India
The latest move by the Indian Army to improve the firepower and overall performance of its fleet of Russian tanks involves a unique improvisation that has produced a hybrid of two iconic tanks – the T-72 and the T-90