APEC Summit: After Mike Pence, Xi Jinping spar over tariffs, infrastructure; grouping fails to issue joint statement
Chinese president Xi Jinping and US vice president Mike Pence traded barbs in speeches at the APEC summit of world leaders on Saturday, outlining competing visions for global leadership as trade and other tensions between them simmer.
Chinese president Xi Jinping and US vice-president Mike Pence traded barbs in speeches at the APEC Summit of world leaders on Saturday, outlining competing visions for global leadership as trade and other tensions between them simmer.
Leaders of 21 Pacific Rim countries and territories that makeup 60 percent of the world economy will meet in Port Moresby, the capital of Papua New Guinea, for the annual Asia-Pacific Economic Cooperation (APEC) Summit. They are struggling to reach agreement on a joint declaration, particularly whether to push for changes to the World Trade Organisation (WTO), which sets the rules for trade and can penalise nations that breach them.
WTO member nations have been unable to reach agreement on further freeing up trade for years and the organisation is in danger of atrophy. Following heated US-China exchanges, the members failed to put out a joint statement upon the conclusion of the summit.
CNN reported that all member countries, except China, were in agreement on a joint statement; a discord which resulted in the summit not issuing a joint statement for the first time in 25 years.
Two-thirds of its members claim developing nation status that allows them to take advantage of benefits and exemptions to obligations not granted to advanced economies, according to the Center for Strategic and International Studies. The US, meanwhile, believes the WTO's arbitration body has made decisions beyond its mandate.
APEC is also facing questions about its future. Malaysia's 93-year-old prime minister Mahathir Mohamad said it will become irrelevant if developing nations continue to be left behind by globalisation and free trade.
In the midst of uncertainty about the summit's purpose and outcome, Xi and Pence engaged in a war of words over unresolved issues between the two economic giants. The two debated over protectionism, trade tariffs and "chequebook diplomacy" as they laid out sharply contrasting visions for the Pacific Rim region.
The exchanges laid the ground for what could be a fiery encounter between the Chinese leader and President Donald Trump at next month's G20 in Argentina.
US-China tariff war
Pence said there would be no letup in President Donald Trump's policy of combating China's mercantilist trade policy and intellectual property theft that has erupted into a tit-for-tat tariff war between the two world powers this year.
The US has imposed additional tariffs on $250 billion of Chinese goods and China has retaliated. Pence reiterated Trump administration threats to more than double the penalties.
"The United States, though, will not change course until China changes its ways," Pence said, accusing Beijing of intellectual property theft, unprecedented subsidies for state businesses and "tremendous" barriers to foreign companies entering its giant market.
Xi, who spoke before Pence, anticipated many of the US criticisms in his speech. He said countries are facing a choice of cooperation or confrontation as protectionism and unilateralism spreads. He also expressed support for the global free trading system that has underpinned his country's rise over the past quarter century to the world's second-biggest economy after the US
"The rules made should not be followed or bent as one sees fit and they should not be applied with double standards for selfish agendas," Xi said. "Mankind has once again reached a crossroads, which direction should we choose? Cooperation or confrontation? Openness or closing doors. Win-win progress or a zero sum game?" he added.
The Belt and Road Initiative
Pence announced the US would be involved in ally Australia's plan to develop a naval base in Papua New Guinea, where the summit was held. China has been intensely wooing Papua New Guinea and other Pacific island nations with aid and loans for infrastructure.
"Our vision for a free and open Pacific region will prevail," Pence said.
The vice-president harshly criticised China's global infrastructure drive, known as the "Belt and Road Initiative," calling many of the projects low quality that also saddle developing countries with loans they can't afford. The US, a democracy, is a better partner than authoritarian China, he said.
"Know that the United States offers a better option. We don't drown our partners in a sea of debt, we don't coerce, compromise your independence," Pence said. "We do not offer constricting belt or a one-way road. When you partner with us, we partner with you and we all prosper."
Responding to a chorus of criticism of China's international infrastructure drive, Xi said it was not a trap or power grab.
"It is not designed to serve any hidden geopolitical agenda, it is not targeted against anyone and it does not exclude anyone," Xi said. "It is not an exclusive club that is closed to non-members, nor is it a trap as some people have labeled it."
South China Sea
China's territorial claims to most of the South China Sea that borders Southeast Asian nations were also a target in Pence's speech.
China has demanded that the US stop deploying ships and military aircraft close to its man-made islands in the disputed waters after American and Chinese ships nearly collided near a contested reef in September. But Pence stressed on Saturday that the US won't back off.
"We will continue to fly and sail wherever international law allows and our national interest demands," he said. "Harassment will only strengthen our resolve. We will not change course."
Washington will continue to support efforts by Southeast Asian nations to negotiate a legally binding "code of conduct" with China "that respects the rights of all nations, including the freedom of navigation in the South China Sea," Pence said.
also read
Explainers
Overweight people face prejudice from landlords, difficulty finding seating at restaurants and theatres, and are even paid lower wages. The new law, according to New York mayor Eric Adams, will help level the playing field and protect against discrimination'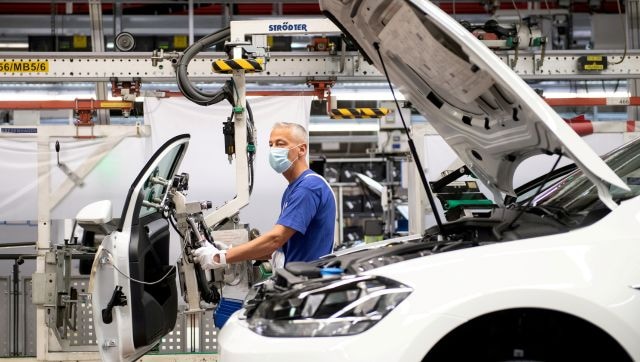 Explainers
Germany's GDP fell .3 per cent in the first quarter of 2023 following a .5 per cent decline in the last quarter of 2022. Though Chancellor Olaf Scholz described the outlook for the economy as 'very good' experts say this is a rude awakening for the country and the entire continent
Explainers
Elon Musk's brain-computer interface company Neuralink has received approval from the FDA to conduct its first in-human clinical study. The firm wants to put coin-sized implants into human beings, which will allow people with paralysis regain motor function, restore vision, and treat brain diseases