Anna-Ramdev: beyond the 'rift' lies a powerful alignment
But the excessive focus on the 'rift' between them misses out on the larger picture: they are now working in tandem.
By its very nature, 'news' represents something out of the ordinary. In every city across the world, hundreds of buses leave their bus terminals everyday, ferry thousands of people, and reach their destinations safely. Yet, they don't make 'news': you don't see headlines that scream 'Hundreds of buses reach destination safely'; readers and viewers wouldn't patronise any news entity that peddled such propaganda as 'news'.
But if even one of those hundreds of buses had an accident, it would become 'newsworthy' – simply because it broke the tedium of a dull newsday. That accident is, of course, only an aberration – it isn't representative of the city's record of transportation safety - but it's the essential nature of hypermedia to focus rather more on it.
In that sense, the news media thrive on 'drama', on the one thing out of the ordinary that provides a 'news peg'.
Which is why virtually every news outlet was turned on by the drama surrounding the perception of a 'rift', a 'spat', some 'friction' between Arvind Kerjriwal and Baba Ramdev at yesterday's fast at Jantar Mantar.
A Sunday afternoon spent in the scorching heat of midsummer Delhi listening to anti-corruption speeches that, for all their verve, have a vaguely familiar ring to them was suddenly enlivened when Ramdev publicly recorded his displeasure with Kejriwal's invocation of 'corrupt' politicians' names.
To add even more drama, Kejriwal left the venue soon thereafter.
That marked a 'Voila' moment for media organisations – which is why virtually every headline focusses disproportionately on the incident and saw it as symptomatic of deep divisions between Team Anna and Baba Ramdev. Kejriwal subsequently clarified that he had left the venue only because he was unwell, and only after taking due leave of Anna and Ramdev; Ramdev too confirmed this at the fast venue.
Yet, Kejriwal's stand that he still maintained that his name-and-shame strategy was entirely appropriate and that he would try and convince Ramdev on this point only served to accentuate the tactical differences that exist between them.
Yet, if one zooms out from that brief moment of drama at Sunday's fast, one gets the bigger picture – one that most commentators, in their rush to judgement, have failed to see so far.
It represents the symbolic coming together of two anti-corruption movements that, with all their faults, have formed a formidable flank that will be difficult to ignore.
In many ways, the anti-corruption movements over the past year, one led by Team Anna and the other by Baba Ramdev, complement each other, even when they don't always share a congruence of views.
Team Anna's approach dwells on nuts-and-bolts policy prescriptions - to the point of parsing and debating the microdetails of the Jan Lokpal Bill, which they drew up after intense studies of anti-corruption agencies around the world. Even if its leaders sometimes make over-the-top emotive speeches for dramatic effect, in the main they characterise a 'cerebral' approach to fighting corruption. Although Anna himself exudes a certain rustic simplicity, the movement that he leads draws its support largely among the urban middle class that has a keener understanding of policy minutiae. In that sense, Team Anna represents the cerebral 'head' of the anti-corruption campaign.
Baba Ramdev, on the other hand, brings a more earthy, emotive appeal with his single-minded focus on bringing back black money from foreign bank accounts. He is not a policy wonk in the way that Team Anna's members are; and although there is much that the Indian government can do to coerce 'tax havens' to yield their secrets, Ramdev's prescriptions sometime represent an oversimplification that does not reflect an adequate understanding of international laws and the complexity of dealing with tax havens. In effect, he speaks from the 'heart' – emotive, even if not always well-reasoned – and for that reason has a large and faithful following in the small towns and villages.
The larger significance of yesterday's fast was that the 'head' and the 'heart' of the anti-corruption movement joined forces and spoke from the same stage. Sure, they didn't always speak in one voice, but that's the way they work. Aren't all of us conflicted at some point between what our 'head' and our 'heart' tell us? Does that mean we're at war with ourselves?
It's, of course, hard to say how this coming together of the movements led by Team Anna and Ramdev will play out. Their limitations of their initial approach – of targeting just the Congress for its failure to tackle corruption – have since been shown up to be flawed, for the reason that virtually the entire political establishment is set against it. In some ways, Team Anna's movement has perceptibly lost a bit of momentum since the heady days of last year.
Yet, it would be folly for commentators and the political establishment to focus excessively on the 'rift' between the 'head' and the 'heart' as it manifested itself yesterday. There may be tactical differences between them, the two may still have incongruent views on many aspects of fighting corruption, and they may not always be well-reasoned. But this much can be said with certainty: they are now working together towards a larger goal.
The planets are aligning themselves in a certain formation, and it's fair to say that that they will have profound influence on the real world – even if it isn't clear just how that influence will play out.
Subscribe to Moneycontrol Pro at ₹499 for the first year. Use code PRO499. Limited period offer. *T&C apply
India
Earlier the magic was in the use of the umbrella word "Corruption". It was all things to all people. Now, when Kejriwal and his cohorts take a new tack and attack specific ministers, the issue is of no concern to large sections of the population.
Politics
Are Baba Ramdev and Anna Hazare fronting for the RSS? Does it matter if they do?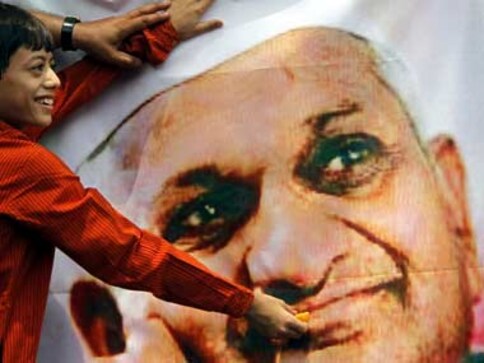 Politics
Every democracy needs unelected experts who will advice and offer options. The unelected advisors acquire legitimacy through a process of public vetting. The National Advisory Council of Sonia Gandhi's is not quite there because it is a hand-picked group with no accountability