Andhra Pradesh, Telangana throw prohibition to the winds, fill coffers with booze money
Even as both the ruling parties in the states made poll promises to end the reign of alcohol, they have been substantially promoting the production, distribution and consumption of liquor.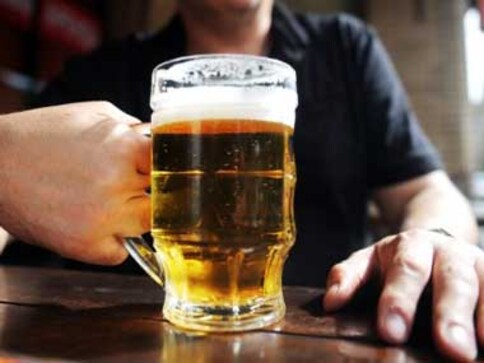 Comments at a 4 July press conference by Andhra Pradesh excise minister KS Jawahar caused a furore within the political circles of the state. In the interview, Jawahar termed beer "a healthy drink" and said it was better than other types of alcohol.
"We cannot change people's drinking habits but we can at least try to make available drinks that have less alcohol," he told the channel on 5 July.
The minister is not far off the mark as international studies support his statement, though of course in moderation and in a different context than what the minister actually stated. This is shown in a 2011 study by the US National Library of Medicine National Institutes of Health.
More importantly, a party that hailed and imposed prohibition in its first regime in the 1990s, the ruling Telugu Desam Party (TDP), has no way out now but to depend on liquor revenue as a major source of income.
Denotifying highways
The Andhra Pradesh cabinet's decision to denotify state and national highways in its jurisdiction into 'local roads' came in the wake of largescale opposition, allegedly sponsored by rival YSR Congress party against liquor retail outlets in residential colonies since March this year. Several liquor shops in Kadapa, Anantapur, Kurnool and coastal districts had relocated from highways to interiors of townships and villages from March onwards to escape the law. Many protests had turned violent like in Srikrishnadevarayanagar in Kadapa where police lathi charged and injured women agitators.
"Government had allowed us to operate within towns and away from highways. Where can we go now as our licenses are valid until October 2017," asked K Obul Reddy, a liquor shop license holder in Kadapa. Police stood as spectators in other towns as women agitators hurled liquor bottles at them, causing minor injuries as well. The new liquor vending licenses are due by October for a period of two years and the state government has opted for a lottery system as there were 13,500 applications for 4,000 odd shops and 1,000 bars.
In view of the highways crisscrossing the 13 districts of the state and the robust women's agitation against liquor outlets in the interiors of highway towns and cities, the government went ahead with denotifying state and national highways as 'local roads'. The last cabinet meeting on Tuesday, 4 June, also passed strictures against naming liquor shops and bars after Hindu Gods and Goddesses (for example - Venkateswara wine shop or Padmavathi bar). "Such naming of alcohol joints has hurt the sentiments of people," said Jawahar.
States addicted to liquor money
Andhra Pradesh loves its drink and as populist welfare schemes have been heaped upon the Telugus in both states, the question of how to fund them has become a serious one. And the answer inevitably has been – liquor.
In Andhra Pradesh, excise revenue of Rs 12,739 crore was reported with a 16 percent hike over last year. "Since 2018-19 is a crucial period — the election year — we project an overall 25 percent hike in excise revenue as we are looking at promotion of the retail sale of beer on par with toddy and neera," said Jawahar. But the next day, 5 July, the minister retracted his statement and said that he was misquoted for having said that "beer was a health drink". Earlier on 4 July, while briefing the media on the cabinet decisions on liquor policy, the minister had hailed beer as a healthy drink.
The Telangana prohibition and excise department earned a record Rs 12,143.88 crore in the financial year 2015-2016, a growth of 18.61 percent compared to last year. In 2014-15, of Rs 10,238.78 crore, as many as 238.62 lakh cases of Indian Made Foreign Liquor (IMFL) sales were sold while beer accounted for 334.56 lakh cases. "The facilitation of permit rooms at every retail outlet, the hassle-free license and permit systems for two years had helped push revenues," said Telangana prohibition and excise commissioner RV Chandravardan.
In Andhra Pradesh, there are 4,380 liquor outlets, 1,000 bars and 45 clubs of which 3,180 liquor shops and 550 bars were on the highways. Similiarly, Telangana has 2,144 wine shops, 800 bars and 27 clubs of which nearly 1,500 outlets, 500 bars and 10 clubs were within highway definitions.
Early this year the Supreme Court had ordered a ban on all liquor shops on national as well as state highways across the country and made it clear that licenses of existing shops should not be renewed after 31 March next year. A three-judge bench headed by then chief justice TS Thakur also directed that all signages indicating the presence of liquor vends were also prohibited on national and state highways.
On 4 July, the apex court said that roads within cities can be denotified as national highways, opening a window for numerous liquor shops that were set to lose their license after a blanket ban on alcohol shops within 500 metres of all highways. "How can we stop people from buying liquor as they are queueing up at all liquor outlets, day and night?" asked the Andhra Pradesh excise minister.
Even as both the ruling parties in the states made poll promises to end the reign of alcohol, they have been substantially promoting the production, distribution and consumption of liquor. Liquor distribution is a monopoly of both states and the respective corporations procure supplies and distribute to wholesalers and retailers in a well-oiled system.
Liquor money for populism
During his first innings in 1983 TDP founder NTR had opted for populist schemes like Rs 2 per kg rice and also pioneered provision of cheap liquor to people. His government had launched a project — Varuna Vahini — aimed to provide cheap and healthy arrack — in sachets and bottles produced and supplied under government supervision. But the project did not take off as TDP lost power in 1989 polls to the Congress led by K Vijayabhaskar Reddy.
It was during his days in opposition that NTR promoted a total prohibition campaign after an all woman crusade by Rosamma of Dubgunta village in Nellore district. When he returned to power again in 1994 winning 235 of 294 seats in Assembly, he introduced total prohibition, which was scrapped by Chandrababu Naidu.
Naidu introduced IMFL sale and consumption though banned arrack and toddy. In order to provide cheaper liquor to the poor, he also allowed production and supplies of cheap liquor in IMFL category with notorious labels like Be Happy Whiskey, Don't Worry Brandy among others. Strong beer too was introduced to keep the liquor within reach of the common man and fill state coffers.
Further, the Naidu government had introduced a new concept called 'belt shops' (golusu liquor angallu) which meant that every single shop license was allowed to set up 5-10 smaller retail outlets within his jurisdiction to increase sales. "The Andhra Pradesh government had also set targets for each retail shop to generate excise revenue from Rs 1 crore to Rs 10 crore each and hence promote belt shops," said G Prabhakar Rao, a liquor shop owner at Rajahmundry.
When Congress came to power in 2004 under YS Rajasekhar Reddy, it lifted the ban on toddy but restricted toddy sale within five kilometres of its production only. In view of the populist schemes, YSR too favoured the continuation of belt shops. "What was just an excise revenue of Rs 500 crore in the 1980s had shot up to Rs 10,000 crore by 2014 and now Rs 12,000 crore in 2017," said Andhra Pradesh finance minister Yanamala Ramakrishnudu in a reply to a question in the state Assembly during the last Budget session.
Telangana excise minister Padma Rao Goud, a toddy tapper himself, defends the government decision to promote more distilleries to increase production and distribution. "We have to spend over Rs 50,000 crore on irrigation works, from where can we get such resources?" he asked. Under its new excise policy, the Telangana Rashtra Samiti (TRS) government aims to make Hyderabad into a haven for guzzlers by giving longer operating hours for bars and outlets.
After bifurcation of Telangana and Andhra Pradesh, both Telugu states are looking at excise revenue as a major contributor to help them wade through financial deficit. Telangana extended the sale hours to late in the night for retail outlets and up to midnight for bars. Liquor shops were also allowed to run a permit room to allow tipplers to consume liquor. On the lines of Mumbai, Telangana also has plans to promote the sale of beer in Irani tea shops and dhabas.
Andhra Pradesh which borders Odisha, Chhattisgarh, Karnataka, Puducherry and Tamil Nadu besides 970 kilometres of coastline is vulnerable to both smuggling of liquor and also has a huge garland of national highways and state highways. In coastal Andhra and Rayalaseema, beer consumption is high. "Andhra Pradesh has a high rate for beer and IMFL sales in both coastal and dry areas," said Rayala Subbarao, former president, Andhra Pradesh Wine Dealers Association.
Activists are understandably upset over the state's desire for liquor income. Pasya Padma, anti-liquor campaigner and leader of Left-oriented Telangana Rythu Women's Association says that prohibition had been just an empty slogan as all governments were only keen to increase liquor revenue. "Though sloganeering against alcohol, Telangana chief minister K Chandrasekhar Rao had given permissions to more distilleries to supply more liquor to drunkards," she said.
In Andhra Pradesh too, the focus is on increasing production and consumption. The TDP government is scouting for areas to hike excise revenue by increasing the number of bars and liquor outlets on the basis of population. "Rs 15,000 crore excise revenue is our target for 2017-18," says Andhra Pradesh excise and prohibition commissioner Mukesh Kumar Meena.
Politics
Andhra Pradesh Chief Minister N Chandrababu Naidu on Wednesday slammed Jagan Mohan Reddy-led YSR Congress Party and K Chandrasekhar Rao-led Telangana Rashtra Samiti (TRS) for not supporting West Bengal Chief Minister Mamata Banerjee during her 'dharna' against the Centre.
Politics
YSR Congress and Telangana Rashtra Samiti today opposed the proposal for including two districts of Rayalseema in the new Telangana state to be carved out from Andhra Pradesh.
Politics
Andhra Pradesh did it first and now Telangana follows suit, spending lavishly on the whims and fancies of its chief ministers from the state purse