Andhra Pradesh: Centre denies Chandrababu Naidu's 'special category status' demand, offers financial aid
Another important reason why Andhra Pradesh didn't receive its SCS was because a number of so-called 'backward' states have also been demanding the same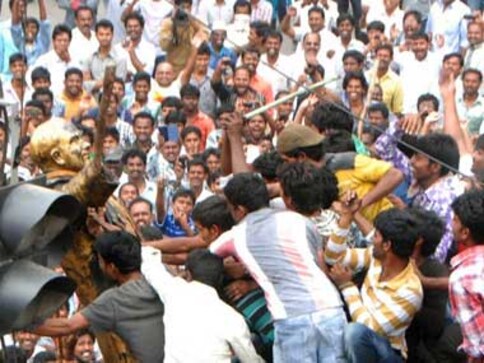 Andhra Pradesh's demand for special category status — made in the Rajya Sabha while adopting the Andhra Pradesh Reorganisation Bill 2014 — reinforced by Chief Minister Chandrababu Naidu, who insisted on the special package and "incentives for the economic growth and development of the state" was not wholly recognised.
On Wednesday night, the Centre announced a financial package for Andhra Pradesh that includes full funding of the Polavaram irrigation project, tax concessions and special assistance. However, it stopped short of giving the state a special category status. This package is valid for five years that ends in 2020.
In an earlier piece for Firstpost, TS Sudhir quoted Jayant Sinha (when he was MoS in the Finance ministry) as saying that "As per the 14th Finance Commission's recommendations, special status cannot be given to any State including Andhra Pradesh. There was no immediate proposal to amend relevant laws to give special status to AP. As per the provisions of Reorganisation Act, AP would get special package."
The bifurcation of Andhra Pradesh or the creation of Telangana gave rise to a revenue deficit — since Hyderabad (which was in AP), which housed several IT and pharmaceutical companies as well as PSUs, went to Telangana.
The Finance Commission came out with some proposals to bridge it, such as a railway zone, an all-cost incurred on the irrigation part of Pollavaram project from the date it was declared a National Project on 1 April, to be funded by the Centre.
Why has a special status been denied?
As per the recommendations placed by the 14th Finance Commission, in the grant of special category status to Andhra Pradesh, Finance Minister Arun Jaitley said an amount equivalent to what that categorication would have fetched, would be given to the state in form of a Special Assistance Measure for five years. According to Jaitley, this will be in the form of an externally-aided project and the state will also receive two tax concessions, details of which will be notified by the Central Board of Direct Taxes (CBDT) shortly.
Jaitley said the 14th Finance Commission has raised the states' share of central taxes from 32 percent (in 13th Finance Commission recommendations) to 42 percent. The commission then stated that in the view of the increased devolution of central assistance, it did not make any sense to grant SCS.
"Since the advantage of what they get by virtue of the former prime minister's statement is the monetary advantage, we have decided to give special assistance measure for Andhra Pradesh wherein an amount equivalent to what they would have got if that statement could have been implemented would be compensated to the state by virtue of externally-aided projects which otherwise state would have paid for," Jaitley said.
Another important reason why Andhra Pradesh didn't receive its SCS was because a number of so-called "backward" states such as Bihar, Jharkhand and Odisha have also been demanding the same status, and awarding the status to one state and denying the others of such a privilege can only prompt similar demands, reports The Hindu.
Benefits of special status
With a revenue deficit and no capital, the special status would have placed AP in a 'privileged' category, which would have helped in obtaining central funds assistance and tax breaks.
The Centre has already released Rs 3,795 crore towards revenue deficit for year 2014-15 and the balance amount will reportedly be released in installment, according to Jaitley. "We have given a support of Rs 2,500 crore state capital and Rs 1,500 crore as backward area grant," he said.
According to a report in The Times of India, the special package might include development of the Vizag-Chennai and Chennai-Bangalore industrial corridors, construction of government offices in Amaravati, the capital city, along with the Polavaram project. The handing out of the package is supposed to be done in a phased-out manner with most of projects aimed for completion by 2019.
Demerits of special status
As Srinivasa Prasad puts it — "this 'special' category has ceased to be anything special". Echoing the earlier point of economic privileges and the raising of the states' share of central taxes, he writes,
Till 2014-15, the SCS status indeed meant a bonanza of funds from the Centre. But the Centre virtually did away with the economic privileges attached to the SCSs from 2015-16, after the Fourteenth Finance Commission raised the share of states in central taxes from 32 percent to 42. Yet the Centre can now take a political decision by bestowing this privilege on AP and still find enough reasons to deny the state the economic benefits that supposedly go with it.
According to earlier reports, Jaitley had referred to the continuation of "hand-holding" of Andhra Pradesh for some time before it could become self-sufficient. This could mean that the Centre can pull out prematurely of the deal. Further, Jaitley is said to have remarked: "The size of the cake is limited, the size of the pie is limited."
Meanwhile, other reports suggest that some within the ruling establishment prefer to seek out a special package, as has been handed out, than a specific SCS as asked for by the state. This may be because it would come with huge funds to improve Amaravati and cover the gaping revenue deficit and that it will add the necessary incentives.
A report in The New Indian Express says that Jaitley had actually "very little" to offer AP but a promise to compensate the revenue deficit that came up at the time of bifurcation. In fact, BJP's Sudeesh Rambhotla has gone on record saying that there is nothing special about the SCS.
Chandrababu Naidu welcomes aid
That Naidu has been pushing for a SCS since 2014 is well known: The AP chief minister has made several visits to Delhi to push for the status, which was not originally part of the AP Reorganisation Act, which was promised by then Prime Minister Manmohan Singh. BJP, seeing a way to score points, promised the special category status for a decade, as opposed to the Congress' promise of five years, although BJP has gone the way of the Congress: giving AP five years.
Perhaps Naidu's visits have proven to be fruitful — he welcomed the announcement of a financial package for Andhra Pradesh but said he would have been happier had the Centre granted special status to the state. "People of the state have been waiting for this for many days now... Had they granted special status, I would have been happier. In case they have some technical problems, they should do whatever is possible as per law," he told a press conference after midnight at Vijayawada.
Naidu demanded that the Centre expedite the work on the Polavaram project and complete it in a time-bound manner. With respect to the construction of capital city Amaravati, he said Rs 2,500 crore already been sanctioned and another Rs 1,000 crore promised would not be in any way sufficient.
With inputs from PTI
Find latest and upcoming tech gadgets online on Tech2 Gadgets. Get technology news, gadgets reviews & ratings. Popular gadgets including laptop, tablet and mobile specifications, features, prices, comparison.
India
Governments can ensure that religious processions don't end in violence. For that though, the lives of innocent citizens, especially minorities, should matter to them
India
From the moment she steps out of her home till she reaches her Chepauk office, Aruna Devi requires assistance from passersby at multiple points. "That there is still no policy to cater to something as basic as transportation shows that there is no concern for us," says the Chennai revenue official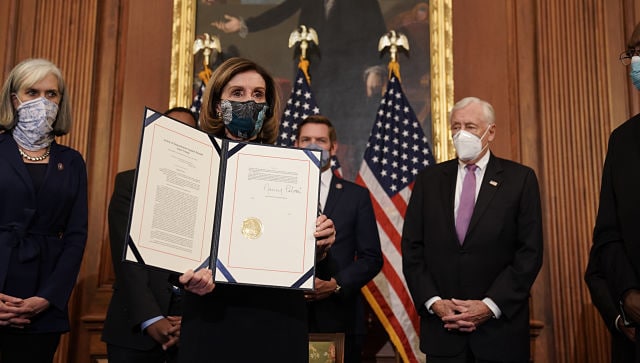 World
While the House moved with remarkable speed to impeach Trump, a Senate trial to determine whether to remove him cannot begin until 19 January, his final full day in office