AMU in the eye of fresh controversy: Student body up in arms over 'blasphemous' picture shared on Facebook
The Aligarh Muslim University (AMU) is once again at the centre of a controversy, this time over a blasphemous picture, which created a furore on Facebook.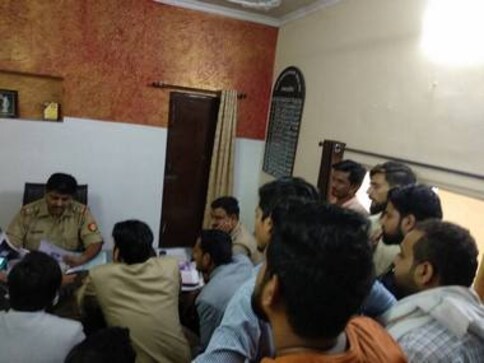 The Aligarh Muslim University (AMU) is once again at the centre of a controversy, this time after a student and some ex-students were booked by the Uttar Pradesh Police for posting a 'blasphemous' picture which created a furore on Facebook in the holy month of Ramzan.
AMU's Nashra Ahmad, a student of BA (psychology), former students Fahad Zuberi, Omar Gazi, and Sushant Tank went for an outing on 6 June and shared a photograph on Facebook. The picture showed the boys holding beer bottles and had the caption: "Iftari with musical stalwarts of Aligarh Muslim University. By Allah's grace made three lapsed Sunni's have Madira tonight (sic)... "
After an outcry in the campus, Nadeem Ansari, former vice-president of the Aligarh Muslim University Students Union (AMUSU), filed a case against them for hurting religious sentiments and causing harm to the religion through hate speech under Section 295A of the Indian Penal Code. Ansari met senior officials from the police and the university, and demanded that a show-cause notice be issued to Nashra and the entry of the other accused be banned in the campus.
AMU's Cultural Education Centre (CEC) has also banned all of them from all clubs of the varsity.
Students go into hiding
Nashra, meanwhile, has deactivated all her social media accounts and has released a video through her friends in the university in which she apologised for hurting the feelings of the Muslim community.
The JNU angle
Ansari has alleged that Bhole Vishwakarma, a student of Jawaharlal Nehru University (JNU) who shared the controversial Facebook post initially, has been spreading caste-based hatred for the last two years. Ansari said that this time, he crossed all limits.
"He is a product of JNU and is a communist. He has been indulging in insulting Islam and Hinduism for the last two years. Insulting religion and spreading hatred has become a habit for him. The other boys who were there with him should have thought before holding beer bottles in their hands. I am no one to stop them, but sharing such pictures on social media, that too in the holy month of Ramzan, has caused immense damage to our religion. This has also affected the environment of our university," Ansari said.
Meanwhile, a delegation led by Abu Bakr Bin Safdar, the person who first raised this issue, met the proctor of the university and demanded strict action.
"These people are not so young that they would not know the difference between freedom of expression and spreading hatred. Students of the university will not tolerate this and we will show them the door," Abu Bakr said, alleging that the accused are 'serial offenders and self-proclaimed atheists.'
"These people (the accused) have been calling us and requesting us to withdraw the FIR. But we are not going to compromise. We can consider the case of Nashra, but that will be the decision of every student of the university, and not mine alone," he added.
AMU to take strict action
AMU spokesperson Shafey Kidwai said he was unaware about this incident and came to know through the proctor of the university.
"Right now, I do not know the magnitude of this incident. The varsity will take stern action against every person who has damaged the reputation of our respectable institution and has insulted Islam," he said.
Proctor Mohsin Khan stated that a show-cause notice has been served to Nashra and the officials are contemplating on imposing a ban on the entry of the accused.
Nashra's batchmate Yasir Khan said the varsity, police and those who have complained against her should speak to her and know her stand before jumping to any conclusion.
"I have known her for the last one year, and she is a rational thinker... She is very young and strict action, like an arrest or a suspension, could ruin her career and life. I think her intention was not to hurt anyone's sentiments," he said, requesting everyone to think about Nashra and her family.
"What has happened is wrong, but she has begged for mercy, and people should forgive her for this," Yasir Khan appealed. Fahad Zuberi, another ex-student named in the FIR, also sought mercy and requested that the FIR be withdrawn. He refused to comment further.
Javed Khan, Station House Officer of Civil Lines police station, said that the investigation was underway, and they would also consult the varsity administration, as the matter is related to faith and the careers of students.
In the first week of May, a controversy broke out in AMU over a portrait of Pakistan's founder Mohammed Ali Jinnah. However, the matter was subsequently defused.
Saurabh Sharma is a Lucknow-based freelance writer and a member of 101Reporters.com, a pan-India network of grassroots reporters
India
On Wednesday, the Supreme Court, granting bail to Indrani Mukerjea, the prime accused in the murder of her daughter Sheena Bora, said the trial will not be completed anytime soon as only 68 out of 237 witnesses cited by prosecution have been examined till date. This was Indrani's 10th attempt at seeking bail
India
A 1969-batch IAS officer, Baijal was the vice-chairman of the Delhi Development Authority. He also served as the home secretary under the Atal Bihari Vajpayee government
India
Prime Minister Narendra Modi also asked the ministers to spend the maximum possible time in their constituencies and to implement all the schemes of the government, according to sources