Amritsar train tragedy: Securing assets like railways key to avoiding mishaps; 1,400 killed in 2016 on Mumbai tracks
What happened in Punjab, is an outcome of Indian Railways' lackadaisical attitude towards its right of way. Had it fenced the railway lines like it did along the route of the high-speed Gatiman Express, the tracks where the mishap took place on Friday would have been completely fenced by now.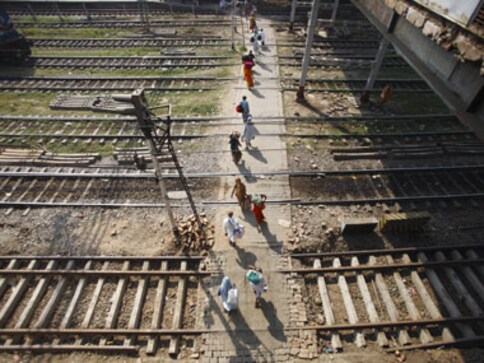 It was the late 1990s. And I frequently travelled along the harbour branch line of Mumbai, from Kurla to Navi Mumbai. After Tilak Nagar, right until Mankhurd, the train inched ahead at barely 15 kilometres per hour. The reason was not far to see. The track on both the sides had slums protruding out as close as six feet. Daily markets of street vendors, housewives sharing a banter, freshly rolled papads soaking the sun, all co-existed harmoniously along the railway track.
The effete railway administration, lived with this for years until a persistent PIL, got the courts to order that the slums be pushed back, far from the railway tracks for not just safe but also a speedy traversal of the local trains. The local train then saved eight minutes each way. The railway-speak for these slow traversals is "caution order".
Coming to the current Amritsar train accident in Punjab, what the railways have said is that no caution order was communicated to its folks down the line, and that it was a case of trespassing. A caution order would have necessarily reduced the speed and thus reduced the number of casualties.
The issue that attracts the attention of several railway ministers often is unmanned crossings, as they become the most visible cause of accidents. However, trespassing and loss of right of way, not only impact safety but also speed. In 2016, there were roughly 1,400 deaths due to trespassing on the Mumbai Suburban network, which is roughly 100 deaths per month, which means the monthly casualties in densely populated urban stretches could be higher than the single accident in Punjab.
Sadly enough, the railways have only sought to curtail trespassing or protest their right of way only in the cases of unmanned level crossings, where the blame would clearly lie on their shoulders, or more so to pursue the dreams of semi-high speed corridors where safety and speed become the same operational concern. The Indian Railways thus started fencing the entire route of the Gatimaan Express in 2016. Similarly, in December 2017, it was decided that the entire route from Mumbai to Delhi and Delhi to Kolkata would be fenced to enhance train speeds. Little did anyone mention that this would also enhance safety as it would prevent trespassing of cattle, and Individuals and save several precious lives.
What has happened in Punjab, thus is an outcome of Indian Railways' lackadaisical attitude towards its right of way. Had a Gatimaan like attention been given to, say any particular railway line, it would have been completely fenced by now. And yes, these costs are not prohibitive. Conservative estimates in 2016, pegged the cost of fencing at Rs 70 crore for the 195 kilometres for the Gatimaan, which is approximately Rs 36 lakhs per kilometre.
The total route length of Indian Railways is about 64,000 kilometres. Assuming that there are about 20 percent of the stretches that lie in urban and semi urban high congestion areas, it would mean about 12,800 kilometres, and fencing these 12,800 kilometres would mean, a cost of RS 5,000 crore, which should not be considered high given the annual outlay of Indian Railways which is Rs 1.35 lakh crore. The cost of fencing critical stretches is less than 4 percent of the annual outlay of Indian Railways. This miniscule, but firm, commitment would gift the Indian Railways not just safety but would be a big leap forward for mission raftaar as well.
Several speed reducing caution orders on these stretches would be gone, and sectional throughput would rise to the Indian Railways' new speed benchmarks of 130 kilometres per hour to 160 kilometres per hour. All the railways would need is a little muscle to do away with a few encroachments along the right of way. Given the gravity of the current situation, getting necessary administrative backing for the same also should not be an issue.
Also, these measures are needed for larger safety of public assets. What if a private property on the edges of the railway line was to be used for running an illegal cracker factory, and it were to suddenly have an explosion. Only legally permissible construction activities, and assets where a complete trace of ownership is possible, should be allowed along railway tracks and even national highways. Even an airport surrounded by unauthorised slums, like the Mumbai Airport, therefore, runs the same risk. Imagine a fire in the slums leading to masses pouring onto the Airport runway, and being crushed by a landing flight or imposing heavy flight diversion costs on an airline.
Effective safeguarding of public assets and legality and traceable ownership of private assets alongside public transportation assets holds the key to not just safety, but speedy and effective transportation as well. Gatimaan or no Gatimaan, we should be ring fencing our public transportation assets.
The author is founder of M76 Analytics
India
According to Arun Gosai, the counsel of the Centre, while hearing the matters of illegal mining in Punjab, the High Court raised security concerns of the country regarding the large ditches in the border area
India
This examination comes before the potential introduction of two additional Vande Bharat semi-high speed trains, in addition to the two that are now in service to the nation, sources told ANI
India
Indian Army has been endeavouring to exploit 5G for supporting operations in the tactical battlefield areas, sources told ANI. China has already begun establishing the 5G network along the LAC for better communication