Amritsar train tragedy: How poor crowd management, official apathy and overcrowding led to Dussehra disaster
The Ram Lila was staged this week—like it has been for at least 14 years—not on an open ground but within the four-walled compound of a rustic dhobhi ghat.
Even a cursory walk through the Joda Phatak locality of Amritsar reveals that the death of 59 people during the Ram Lila revelries on Friday evening was not the result of a sudden mishap. It seems more like an obvious outcome of decades of mismanagement and apathy towards how festivities in this part of the holy city are organised.
The Ram Lila was staged this week—like it has been for at least 14 years—not on an open ground but within the four-walled compound of a rustic dhobhi ghat. This ghat, overrun with stone slabs and water channels does have a small grassy compound, but it can barely accommodate 2,000 people. Yet, the organisers of this year's Ram Lila were given permission to host a 20,000-strong gathering by local authorities.
Not just that, the organisers seem to have gone all out to attract attention to their event, which is one of the at least ten Ram Lilas in town. Plush, multi-coloured posters with details of the exact location and the planned festivities have been put up all over the area by the organisers. They now serve as macabre reminder of how badly things went for those that attended.
The ghat at Joda Phatak is fenced in by a concrete wall on all sides. It opens up from a single large entry gate to the east, facing the busy Golden Avenue street and from a barely three-feet wide opening on the south that is not motorable. To the south of the ghat, beyond a perimeter wall that is five feet high, lies a low-lying grassy strip of land. Along this grassy strip runs a slightly elevated three-track railway line, resting on a bed of stone. And beyond these fateful tracks is a massive residential area—a slum populated by working class Amritsaris and thousands of migrants from some of the poorest districts of Uttar Pradesh and Bihar.
It is these migrants who were drawn to the bustling advertisements for the Ram Lila, which was to be graced by none other than the local Congress leader Navjot Kaur Sidhu. (Mithoo Madan, the local councillor, was the brains behind the event but vanished from the scene the moment tragedy struck, and is yet to return to his home in Ward No 29, which the bereaved's families are sporadically gheraoing on Saturday.)
While Punjab chief minister Amarinder Singh set up a magisterial inquiry into how a train could have smashed into people attending a Ram Lila event, locals unwaveringly blame Sidhu for this crisis. "Sidhu came to the Ravana-burning more than one-and-a-half hours late. The time to consign Ravana to flames should be at dusk, around 6 pm, but she showed up at well after 7. It was too dark for us to notice any train coming our way at that hour," said Hemant Rai, a local car trader, who was present at yesterday's fiasco and helped ferry injured to hospitals.
Every year (except 2017, when the Ram Lila was not organised due to a local leader's death), thousands gather at this dhobhi ghat for Dussehra celebrations. Delicacies from Uttar Pradesh and Bihar are sold from pushcarts by vendors who know that they will get a large number of buyers on this day. This year, the organisers set up at least one (possibly two) large LED TV screens, locals said. These screens were raised to the height of several meters, and one of them faced the railway tracks.
This was done by the organisers because they knew that crowds far in excess of the capacity of the dhobhi ghat would gather. On the LED screens, they would watch the festival whilst standing or sitting on the tracks, which being slightly raised also allowed a peep into what was happening within the compound. Ramesh Kumar, who ekes put a living as a bronze worker, and is now recuperating from severe injuries at the Amritsar Civil Hospital, said "the whole world was on the railway tracks" on Friday after 6 p, as they "watched the LED screen blare out Punjabi numbers." There was no way to watch that screen except from on the tracks, and so people stayed on.
A team of district officials inspected the venue before the event but they limited their investigation to how the stage for VIPs was set up. They paid no attention to the well-known fact that people were expected to gather beyond the walls of the ghat and watch the show from the railway tracks.
As is customary, children insisted on seeing Ravana go down in flames, and parents—both Sikh and migrant Hindu workers—brought them to Joda Phatak in large numbers. Since migrant workers often live far from their families, who are in very distant parts of the country, these attendees showed a particular inclination to record the festivities using their mobile phones.
They said they wanted to share the videos of Ram Lila and Ravana's effigy burning in Punjab with their relatives back home. This simple act of trying to forge a connection with people far away compounded their tragedy, for they were distracted from the danger barrelling toward them at breakneck speed—a train would pummel into them not even an hour later and they would be caught unawares.
Around 7:40 pm, right after Ravana's effigy was set alight, crackers stuffed inside the idol also burst into flame and sped into the air as rockets of fire. The people who had been watching the events from outside the perimeter wall shifted further south to avoid these projectiles; they either strayed further on to the tracks or got much closer to those who were already on the tracks.
This is right after two other trains, both headed north, (toward Jalandhar) went past them in quick succession and on separate tracks. Both these trains went by painfully slowly, locals said. This slowing down of trains, they said, is the usual practice, for authorities know that Dussehra is celebrated in these parts every year. The crowd easily dodged these two trains but by the end of their manoeuvres more people ended up on one of the three train tracks: the one closest to the ghat's perimeter wall. Now, a third train was coming hurtling down from the north, headed toward Amritsar city, unbeknownst to these celebratory crowds.
"This train was coming at super-fast speed. By now Ravana was burning and crackers were flying about and everything was so loud that we had put our fingers in our ears. That is why we could neither see the train nor hear it," said Devinder Singh, a young fuel station employee who lives in a part of the slum beyond the dhobhi ghat, known as Krishna Nagar. Scores had come to the tracks to watch the effigy burn on their bicycles through the narrow lanes of Krishna Nagar. "They must have died or were injured because they never returned to pick up their bicycles from our colony," Devinder said.
This could also be why people heard no horn sounded by the train's driver: the festivities get more and more raucous every year, and the crowds bigger too. Many who have ended up in hospital after the train ploughed through them say they were mesmerised by the attractions at the fair: not just the effigy on fire but the crackers and the "famous Punjabi singer" who had been brought to fill the time before the chief guest—the much-delayed Sidhu—arrived.
Swarn Gorey, who lost her son in the melee, holds the train driver responsible for the entire fiasco, and then blames Sidhu and the organisers. Her son Dalbir was the one who played Ravana in this year's reenactment of Ramayana, and the word has gotten around her locality—Gali No 2—that "even Ravana has died." "What hurts most is that my son and only breadwinner has died after playing different roles in the same Ramayana for years," she said. "But it's also incomprehensible why nobody has come to visit us after this tragedy. All the politicians and administrators have forgotten us."
Chief Minister Amarinder Singh paid a visit to the spot of the tragedy on Saturday afternoon, but he was met with a restive and aggressive crowd that had to be controlled with lathi-charge. They kept shouting slogans against the government: saying they didn't believe a train would come rushing at them: they had grown accustomed to trains slowing down on Dussehra. Earlier, while ordering a magisterial inquiry into the incident Amarinder said he would not want to comment on whether the venue was granted permission or not, nor would he comment on the Indian Railways claim that the incident was not an accident but an act of trespass. On this and other questions, Amarinder said the magisterial inquiry of four weeks would have to be the final answer.
Yet, it wasn't just the train that mowed down people Friday evening. Locals and patients in both Guru Tej Bahadur Hospital and Amritsar Civil Hospital said they lost their near and dear ones in the ensuing stampede. Sandeep (Kour), a Punjabi woman, was among those injured in this stampede, which involved bodies of those who came under the train's wheels being flung on to those who were alive and distant from the tracks. She lost her father, a son and a daughter in this crush, she said.
Her mother also lost an arm, leaving the entire family inconsolable. "There were no warnings issued from loudspeakers, there was hardly any police presence on the day of the function," said her husband Jitender, a daily wage labourer. (Amarinder stopped by her and other patients' hospital beds late Saturday afternoon and promised "all their requirements" would be taken care of.)
Jaspreet Singh and Shailendra Singh, DSP and SP rank Punjab Police officials on duty at Amritsar Civil Hospital said the train driver cannot be blamed because he got a green signal at a checkpoint just a few hundred meters from the perimeter wall of the dhobhi ghat. "Even if the signal wasn't given, that doesn't give people the right to walk on the railway tracks, does it?" asked Jaspreet.
So far, 113 injured have come into the civil hospital: none have been discharged. Thirty-nine have died, of whom three remain unidentified. At the GTB Hospital, 27 injured have been brought and 19 have died. Some injured have been shifted to other hospitals.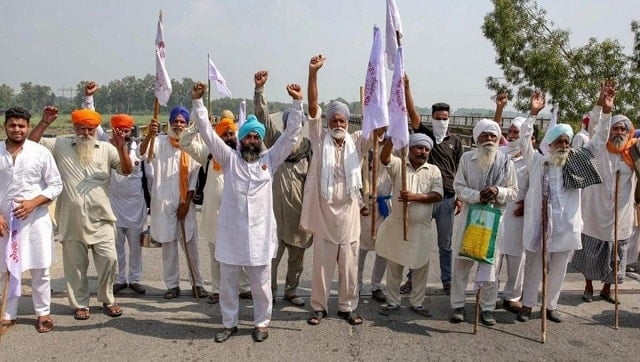 India
The Centre had postponed procurement of kharif paddy in Punjab and Haryana till 11 October as the crop maturity is delayed and moisture content in fresh arrival is beyond permissible limits owing to recent heavy rains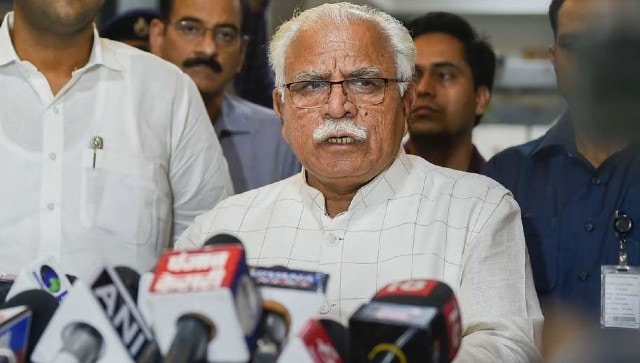 India
Farmers broke police barricades and faced water cannons, including near Chief Minister Manohar Lal Khattar's house in Karnal to protest the delay in procurement
India
In a joint press conference, Punjab ministers Pargat Singh and Vijay Inder Singla termed the Centre's decision to extend the jurisdiction of the Border Security Force an "attack on federalism".