Amritsar train accident updates: 58 dead; Narendra Modi approves aid of Rs 2 lakh for kin of deceased
LIVE NEWS and UPDATES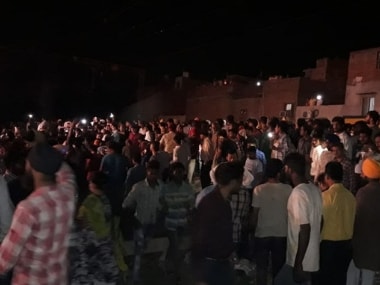 00:07 (IST)

Army reaches spot for relief and rescue operation

Video by Gursimran Singh/101Reporters

23:55 (IST)

Train which mowed at least 61 reaches Ludhiana

Amritsar-Howrah (Punjab) Mail that had run over many people in Amritsar city reached Ludhiana at around 11pm. Railway authorities took pictures of the train and also questioned the driver regarding the incident that has killed over 50 people. It is learnt that the driver has told the authorities that he was not able to see the crowd on the rail tracks from a distance.

By Arjun Sharma/101Reporters

23:03 (IST)

Train services on Jalandhar-Amritsar route suspended

All services on Jalandhar-Amritsar route remained suspended three hours after Dussehra revellers standing across railway tracks were mowed down by a train near Amritsar Friday evening, a railway official said.

While some trains are being diverted, many are stationed near Jalandhar, he said.

PTI

22:59 (IST)

Congress MP from Amritsar assures action against guilty

Congress MP from Amritsar Gurjeet Singh Aujla is at Civil Hospital, where the injured have been admitted. He said that a probe will be conducted into the incident. "Action will be taken against those found guilty, even if it is Navjot Kaur Sidhu," he said.

#Amritsar: MP from Amritsar, Gurjeet Singh Aujla who is present at Civil Hospital, says, "probe will be conducted into the incident, action will be taken against those found guilty, even if it is Navjot Kaur Sidhu." pic.twitter.com/did5IJmFrG

— ANI (@ANI) October 19, 2018

22:55 (IST)

Centre to provide Rs 2 lakh to families of deceased

Prime Minister Narendra Modi approved a financial relief of Rs 2 lakh for the family of each deceased in the Amritsar train accident and Rs 50,000 for the injured, a spokesperson told PTI.

22:53 (IST)

Amarinder Singh to reach Amritsar on Saturday

District administration of Amritsar advises Chief Minister Amarinder Singh to not visit city on Friday as it could divert the attention being given to relief and rehabilitation work. Singh will reach Amritsar on Saturday. Meanwhile, an official 5-day tour of the chief minister to Israel that was scheduled on 21 October has also been postponed.

By Arjun Sharma/101Reporters

22:51 (IST)

Watch: Scenes from outside Civil Hospital in Amritsar

By Gursimran Singh/101Reporters

22:41 (IST)

'Mishap took place after people ran towards rail tracks during stampede'

Raveen Thukral, media advisor to the Punjab chief minister has said that as per initial reports, mishap occured during a stampede as people rushed towards the rail tracks when crackers in effigies were burnt and they were run over by speeding train.

By Arjun Sharma/101Reporters

22:29 (IST)

Priority is to give best possible medical assistance to the injured: Northern Railways CPRO tells Firstpost

When asked whether any probe will be conducted by Northern Railways, Deepak Kumar — CPRO, Nothern Railways — told Firstpost: "The Minister of State for Railways, along with Railway Board chairman and other senior officials, are on their way to the accident site. Any announcement on any enquiry can be given only by them."

He also said that the railways was not responsible for the mishap. Kumar also said that the railways will decide on compensation later.

"The question of compensation doesn't arise immediately because the priority is to give the best possible medical assistance to the injured as of now. The railways would decide on compensation later," Kumar said.

22:28 (IST)

MoS Railways Manoj Sinha speaks on train tragedy

Medical teams are rushing to the spot. I am also leaving for the site of the accident. As per initial information, people present near the railway track couldn't hear the sound of the approaching train due bursting crackers: MoS Railways Manoj Sinha on #Amritsar train accident pic.twitter.com/5R3cZiL22N

— ANI (@ANI) October 19, 2018

22:27 (IST)

Toll rises to 52

At least 52 people were killed and 72 others after a crowd of Dussehra revellers that had spilled onto railway tracks while watching burning of Ravana effigy was run over by a train, officials said.

These numbers can be used reach for information on the incident — 01832223171 and 01832564485.

MoS Manoj Sinha, Chairman Railway Board Ashwani Lohani, GM/NR Vishwesh Chaubey will take off from Delhi by an Air Force plane at 11pm.

PTI

22:21 (IST)

Punjab govt forms crisis management group

A crisis management roup under Punjab health minister Brahm Mohindra has been set up to monitor relief and rehabilitation efforts.

Revenue Minister Sukhbinder Singh Sarkaria and Technical Education Minister Charanjit S Channi will be members of the group.The team has rushed to the accident site.

By Arjun Sharma/101Reporters

22:17 (IST)

Watch: Injured receive treatment at Guru Nanak Dev Hospital

By Navdeep Ahluwalia/101Reporters

22:15 (IST)

Eyewitnesses say train did not stop after running over people

22:00 (IST)

Railways issues helpline numbers for Amritsar accident

Indian Railways issues helpline numbers for #Amritsar accident: Helpline telephone numbers at #Manawala station- Rly -73325, BSNL - 0183-2440024; Power Cabin ASR-Rly - 72820, BSNL - 0183-2402927; Vijay Sahota,SSE: 7986897301 and Vijay Patel, SSE: 7973657316

— ANI (@ANI) October 19, 2018

21:58 (IST)

Relatives of injured at Civil Hospital

Input by Gursimran Singh/101Reporters

21:57 (IST)

Punjab announces state mourning

Punjab government ordered state mourning. All offices and educational institutions to remain closed on Saturday in wake of Amritsar train tragedy.

By Arjun Sharma/101Reporters

21:56 (IST)

Local Army establishment offers help in rescue and relief operations

By Gursimran Singh, 101Reporters

21:55 (IST)

Northern Railway spokesperson says only one train was passing at the time of incident

"Operations in-charge at the accident site in Amritsar has told me that only one train was passing from the area. We have issued helpline numbers," said Northern Railway spokesperson.

Operations Incharge at the accident site in #Amritsar has told me that only one train was passing from the area. We have issued helpline numbers: CPRO, Northern Railways on #Amritsar train accident pic.twitter.com/zkhwr4Qd1k

— ANI (@ANI) October 19, 2018

21:52 (IST)

Piyush Goyal cancels engagements in US, rushes to India

Railway Minister Piyush Goyal said that he has cancelled all engagement in US and is returning to India.

May God give strength to the bereaved and injured. Railways is proving all possible assistance at the site.
I have cancelled all engagemnts in USA and immediately returning back to India.

— Piyush Goyal (@PiyushGoyal) October 19, 2018

21:42 (IST)

Hospitals face shortage of blood

There is a shortage of blood at the hospitals where the injured have been brought. NGOs are appealing to the people to donate blood.

By Arjun Sharma/101Reporters

21:39 (IST)

Situation at hospital 'very serious', says Amritsar deputy commissioner

Firstpost tried contacting Kamaldeep Singh Sangha, deputy commissioner of Amritsar. Sangha was in a hospital and said that the situation there was "very serious".

21:32 (IST)

Minister Of State Railways Manoj Sinha rushes to Amritsar, reports ANI

21:31 (IST)

Harsimrat Kaur Badal says incident casts serious question on administration

Union minister Harsimrat Kaur Badal said, "There are not enough words to mourn the Amritsar train tragedy that claims so many innocent lives. My deepest condolences to the families who lost their loved ones. The incident needs to be probed as it casts serious question on administration."

There are not enough words to mourn the Amritsar train tragedy that claims so many innocent lives. My deepest condolences to the families who lost their loved ones. The incident needs to be probed as it casts serious question on administration. #AmritsarTrainTragedy|

— Harsimrat Kaur Badal (@HarsimratBadal_) October 19, 2018

21:29 (IST)

Several Dussehra event attendees missing

Many people are still searching for their missing relatives, who had come to witness Dussehra event.

By Arjun Sharma/101Reporters

21:25 (IST)

Navjot Kaur Sidhu says she left the Dussehra event when accident took place

"The effigy of Ravana was burnt and I had just left the site when the incident happened. Priority is to get the injured treated. Dussehra celebrations are held there every year. People who are doing politics over this incident should be ashamed," said Navjot Kaur Sidhu.

The effigy of Ravan was burnt&I had just left the site when the incident happened. Priority is to get the injured treated. Dussehra celebrations are held there every year. People who are doing politics over this incident should be ashamed : Navjot Kaur Sidhu,on #Amritsar accident pic.twitter.com/QEsjoEdzS3

— ANI (@ANI) October 19, 2018

21:20 (IST)

Several bodies still lying on railway tracks

Around 40 to 45 dead bodies have arrived at Guru Nanak Dev Hospital while several are reportedly still lying on railway lines. Amritsar deputy commissioner has asked all hospitals including military hospital to provide free treatment to the injured who are brought in the respective hospitals.

Many children of in age group of 6-10 have also died during the accident. Eyewitnesses say some children died even in stampede caused after the accident.

By Arjun Sharma/101Reporters

21:18 (IST)

Watch: Amarinder Singh's statement over Amritsar train accident

Video procured by Arjun Sharma/101Reporters

21:15 (IST)

SAD leader demands dismissal of Navjot Singh Sidhu

Former cabinet minister and Shiromani Akali Dal (SAD) leader Bikram Singh Majithia has demanded dismissal of Local Bodies Minister Navjot Singh Sidhu. He further sought the registeration of a case against those who allowed organising a Dussehra function along side a busy railway line.

21:09 (IST)

At least 70 people hospitalised in 'critical condition'

"We have received 70 people in critical condition. We are monitoring the situation closely. Around 10 dead bodies also received at hospital", Surinder Pal, Medical Superintendent, Government Medical College, Amritsar said.

By Gursimran Singh/101Reporters

21:05 (IST)

50 confirmed dead

Sub Divisional Magistrate of Amritsar Rajesh Sharma has confirmed that 50 bodies have been found.

Input by Arjun Sharma/101Reporters

21:02 (IST)

Piyush Goyal says Railways conducting immediate relief operations

"Shocked and deeply saddened by the tragic train incident that occurred in Amritsar. My heartfelt condolences to the families of the victims. I pray for the injured to recover quickly. Railways is conducting immediate relief and rescue operations," Railway Minister Piyush Goyal said in a tweet.

Shocked and deeply saddened by the tragic train incident that occurred in Amritsar. My heartfelt condolences to the families of the victims. I pray for the injured to recover quickly. Railways is conducting immediate relief and rescue operations.

— Piyush Goyal (@PiyushGoyal) October 19, 2018

21:01 (IST)

Navjot Singh Sidhu says wife visiting injured at hospital

Punjab minister Navjot Singh Sidhu said that he will rush back to Amritsar from Bengaluru. Speaking to India Today, he said, "I have spokes to the deputy commission. There will be an investigation.

On reports that his wife was the chief guest at the event, he said, "My wife is visiting the injured at the hospital. One should understand, nobody causes such incidents intentionally. I urge people to not politicise the issue. At this time, everyone needs to come together and share the grief."

20:53 (IST)

No confirmation if Navjot Singh Sidhu's wife was at Dussehra event at time of incident

Navjot Kaur Sidhu along with area councillors was present at the spot as guests at the Dussehra function. But it is so far not confirmed whether they left before the incident or not.

Input by Arjun Sharma/101Reporters

20:51 (IST)

Centre ready to provide assistance at this hour of grief, says Rajnath Singh

Home Minister Rajnath Singh said that he spoke to the Punjab home secretary and the DGP over the train accident. "Centre is ready to provide all possible assistance to the state at this hour of grief," he said.

I spoke to Home Secretary of Punjab and DGP of the state regarding the train accident in Amritsar. They are rushing to the spot. Centre is ready to provide all possible assistance to the state at this hour of grief.

— राजनाथ सिंह (@rajnathsingh) October 19, 2018

20:48 (IST)

Narendra Modi directs officials to provide immediate assistance

Prime Minister Narendra Modi said in a tweet, "Extremely saddened by the train accident in Amritsar. The tragedy is heart-wrenching. My deepest condolences to the families of those who lost their loved ones and I pray that the injured recover quickly. Have asked officials to provide immediate assistance that is required."

Extremely saddened by the train accident in Amritsar. The tragedy is heart-wrenching. My deepest condolences to the families of those who lost their loved ones and I pray that the injured recover quickly. Have asked officials to provide immediate assistance that is required.

— Narendra Modi (@narendramodi) October 19, 2018

20:45 (IST)

Ram Nath Kovind reacts to train accident

Shocked to hear about the tragedy on rail tracks in Amritsar, Punjab. Understand Indian Railways and local authorities are taking steps to help affected people. Heartfelt condolences to bereaved families #PresidentKovind

— President of India (@rashtrapatibhvn) October 19, 2018

20:44 (IST)

Navjot Singh Sidhu's wife was chief guest at Dussehra event

Punjab minister Navjot Singh Sidhu's wife was the chief guest at the Dussehra event. An eyewitness told ANI that celebrations were organised by the Congress near the railways tracks without permission.

#WATCH Eyewitness at #Amritsar accident site says, "Congress had organised Dussehra celebrations here without permission. Navjot Singh Sidhu's wife was the chief guest at the celebrations and she continued to give a speech as people were struck down by the train." pic.twitter.com/rcsxbVxiB9

— ANI (@ANI) October 19, 2018

20:41 (IST)

Watch: Police conduct rescue operation in Joda Phatak

Input by Arjun Sharma/101Reporters

20:37 (IST)

Death toll could be between 100-150, says Punjab minister

Punjab minister OP Soni says that death toll could be between 100-150. But no confirmed figure was given as the bodies are still scattered in the area.

Input by Arjun Sharma/101Reporters

20:35 (IST)

Amarinder Singh rushes to Amritsar to 'personally supervise' relief operations

Punjab chief minister Amarinder Singh said in a tweet that his government will grant Rs 5 lakh each to the family of the deceased and ensure free treatment of the injured.

Rushing to Amritsar to personally supervise relief & rescue in tragic rail accident on Dussehra in Amritsar. My govt will give Rs 5 lakh to kin of each deceased & free treatment to injured in govt & pvt hospitals. District authorities have been mobilised on war footing.

— Capt.Amarinder Singh (@capt_amarinder) October 19, 2018

20:27 (IST)

Injured being treated at hospital

In the wake of the tragic rail accident, the Punjab chief minister Captain Amarinder Singh has directed home secretary, health secretary and ADGP law and order to immediately rush to Amritsar.

Input by Arjun Sharma/101Reporters

20:23 (IST)

Rescue ops hampered by lack of floodlights

The rescue operation is getting hampered as the authorities have not arranged any floodlights to search the bodies and injured who were thrown by the speeding trains. Video camera lights and mobile phones are being used to search for bodies.

Eyewitnesses say people were not able to hear the speeding train due to the noise of burning crackers in the effigies.

Input by Arjun Sharma/101Reporters

20:21 (IST)

Northern Railway spokesperson says railway gates were closed at the time of incident

#Punjab: At gate no. 27 b/w Amritsar & Manawala. As Dussehra celebration was taking place some incident had occurred& people started rushing towards closed gate number 27 while a DMU train number 74943 was passing the closed gate: CPRO Northern Railway; Visuals from accident site pic.twitter.com/TMJILYC6Or

— ANI (@ANI) October 19, 2018

20:20 (IST)

Reports say two trains caused tragedy

According to some reports, there were two trains coming from opposite directions on two lines. One was Howrah Mail and theother was Amritsar-Jalandhar DMU.

20:17 (IST)

300 people were on tracks to watch Dussehra festivities

The train was coming from Jalandhar to Amritsar. At least 300 people were at the spot watching 'Ravan dahan', sources said.

ADCP Lakhbir Singh said 15 bodies have been found, but the toll is likely to rise.

PTI

20:15 (IST)

Watch: Train runs over Dussehra revellers

20:10 (IST)

Jalandar Express was coming from Pathankot, reports India Today

Amritsar train accident LIVE updates: Prime Minister Narendra Modi approved a financial relief of Rs 2 lakh for the family of each deceased in the Amritsar train accident and Rs 50,000 for the injured. At least 52 people were killed and 72 others after a crowd of Dussehra revellers that had spilled onto railway tracks while watching burning of Ravana effigy was run over by a train.
A crisis management group under Punjab health minister Brahm Mohindra has been set up to monitor relief and rehabilitation efforts.
Punjab government ordered state mourning. All offices and educational institutions to remain closed on Saturday in wake of Amritsar train tragedy.
Former cabinet minister and Shiromani Akali Dal (SAD) leader Bikram Singh Majithia has demanded dismissal of Local Bodies Minister Navjot Singh Sidhu.
Two hours after the incident, Union railway minister Piyush Goyal reacted on Twitter saying that he was deeply saddened and shocked by the incident.
Punjab minister Navjot Singh Sidhu reacted to reports that his wife was the chief guest at the event. "My wife is visiting the injured at the hospital. One should understand, nobody causes such incidents intentionally. I urge people to not politicise the issue. At this time, everyone needs to come together and share the grief."
Punjab chief minister Amarinder Singh said that his government will grant Rs 5 lakh each to the family of the deceased and ensure free treatment of the injured.
About 50 people are feared dead after a train ran into several people standing on railway tracks to watch the burning of a Ravana effigy in Amritsar's Joda Phatak on Friday.
The train was coming from Jalandhar to Amritsar. At least 300 people were at the spot watching 'Ravana dahan', sources told PTI.
ADCP Lakhbir Singh said 15 bodies have been found.
The toll is likely to rise, he said. Further details are awaited.
With inputs from agencies
Updated Date: Oct 20, 2018 00:07:15 IST