Amnesty International vs FCRA: All you need to know
Amnesty International's request to set up office in India for operations in South Asia is likely to get rejected.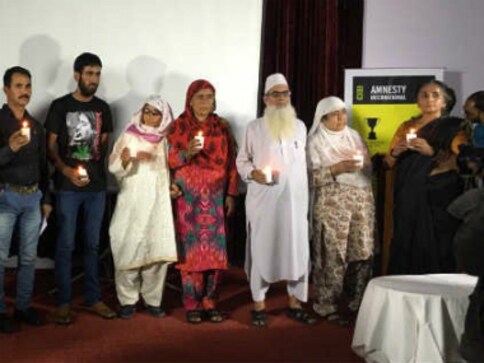 Amnesty International's request to set up office in India for operations in South Asia is likely to get rejected. Amnesty India was booked for sedition and other unlawful acts after anti-India slogans were raised at an event it organised in Bengaluru last week.
On 8 May last year, the organisation had approached the government to start a hub and said that it would bring nearly Rs 19 crore as foreign funds under the 'prior permission category'. However, according to The Indian Express, a senior official in the home ministry has said that though the application is under review, it is likely to get rejected as Amnesty has not registered under Foreign Contribution Regulation Act (FCRA).
The charges against Amnesty India include sedition, rioting, an unlawful assembly and promoting enmity. An FIR was filed on Monday, two days after the RSS-affiliate Abhinav Bharat Vidyarthi Parishad (ABVP) lodged the complaint with audio-video evidence on 13 August and protested against Amnesty on Sunday at the venue (United Theological College) in Bengaluru.
What is FCRA?
When a foreign body in India wants to purchase any capital assets such as shares, property, it has to abide by RBI rules, since the apex banking organisation needs some way to regulate funds. The FCRA has hard restrictions — NGOs must mention where they are sourcing the money from, how much and what the money will be used for. The foreign contributions cannot be accepted by someone standing for elections, public servants or correspondents in newspapers.
The government also has discretionary powers in way of granting FCRA and can prohibit an organisation from registering if it considers the organisation to be a threat to the sovereignty of India. However, if the organisation is not registered, it can still get funds by getting prior permission from the government.
What is a 'prior permission'?
An organisation, which is not registered under the FRCA and wishes to receive funds, needs to obtain a 'prior permission' from the Central government.
The organisation can only be granted a prior permission in the following scenarios:
If it does not have a FCRA registration number.
The number has been cancelled by the government.
The organisation has been so instructed by the central government.
The number is suspended due to violation of provisions and conditions mentioned under FCRA.
The organisation is of a 'political nature', not being a political party or any person recieving funds on behalf of an organisation of 'political nature'.
What's the deal with Amnesty?
According to The Economic Times, in 2000, Amnesty India was granted permission for the first time to bring in £1,30,629 (approx Rs 1.15 crore);  in 2003, another sum of £2,21,428 (approx Rs 1.9 crore); and in 2009, a sum of Rs 54,40,000 under the prior permission category. However four applications by Amnesty since 2010 have been denied by the government. According to ANI, BJP leader Shaina NC said that Amnesty India "needs to adhere to certain parameters of Foreign Contribution Regulation Act (FCRA). If the FCRA has been violated, this is the prerogative of the Home Ministry to bring it to the notice of public at large and if it has worked in accordance to law, it has absolutely nothing to worry about."
The Times of India reported that the MHA is contemplating asking Amnesty India to apply for FCRA registration, however in the past Amnesty International held the position that it would not register under FCRA because it is "much abused" by the government and works to "curb the freedom of expression of NGOs.
Is FCRA really misused?
Journalist, political activist, Praful Bidwai wrote for South Asia Citizens Web that India has a complex "maze of laws and rules" which gives "arbitary powers to the state" and according to him FCRA falls under that category. He traces the origins of the law to 1975-1977 emergency imposed during Indira Gandhi's rule — "partly out of her paranoid conviction that 'foreign powers' were out to destabilise her by instigating domestic political groups. The FCRA originally banned funding for political parties, election candidates, trade unions, the media, etc. All applicants for a permit to receive funding would have to be registered for at least three years and be closely screened by the intelligence bureau, no less."
According to a report by Institute of Rural Management Anand (IRMA), the FCRA should focus on "on devising a proper mechanism to identify and curb such malpractices rather than penalising genuine organisations."
Others echo similar sentiments, Sonia Pereira writers in The Dialogue that FCRA is "highly ambigous" and "gives the government free reign to influence work of NGOs." FCRA bars entities that are of "political nature" or those that are likely to "prejudicially" affect public interest.
also read
Explainers
Tipu Sultan, the 18th Century Mysore ruler, slept in a hammock suspended from the ceiling of his locked bedchamber with this sword by his side. Found in his private apartments after his defeat at the battle of Seringapatam in May 1799, it was previously owned by Vijay Mallya
Explainers
Bernand Arnault, who owns LVMH – which includes luxury brands such as Louis Vuitton, Moet & Chandon, and Christian Dior – saw a considerable drop in his fortune after shares of the conglomerate declined five per cent on Tuesday. Arnault's net worth is currently at $192 billion
Explainers
The term 'comfort women' has been given to people that were forced to work as sex slaves by the Japanese Army during World War II. It comes from the Japanese word ianfu – which combines the Chinese characters 'comfort or solace' (i-an) and woman (fu)