Amit Shah likens illegal immigrants to 'termites,' alleges Rahul Gandhi, Arvind Kejriwal care for them due to vote bank politics
Amit Shah also asserted that BJP will repeat its 2014 feat and win all seven Lok Sabha seats in Delhi.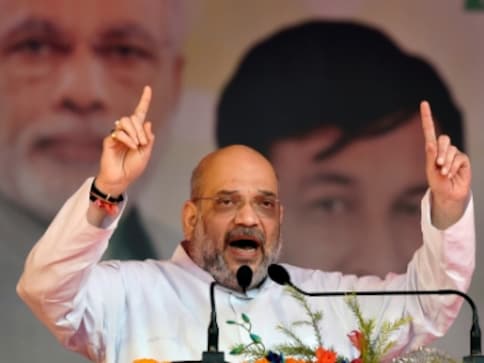 New Delhi: BJP chief Amit Shah on Sunday said his party will seek to identify illegal immigrants living in the country if it comes to power after the Lok Sabha polls and alleged Congress president Rahul Gandhi and Delhi chief minister Arvind Kejriwal care for them for vote bank politics.
He said at a rally in New Delhi that illegal infiltrators are also causing trouble in the national capital, and likened them to termites, action against whom should not worry any patriot. "After forming government in 2019, the BJP will undertake a nationwide identification of illegal infiltrators living in the country," he said.
Shah said Rahul and Kejriwal complain when action is taken against them and asserted the BJP will repeat its 2014 feat and win all seven Lok Sabha seats in the city.
Following the ongoing National Register of Citizens (NRC) process in Assam, there has been increasing demand from many BJP leaders that an exercise should be undertaken in the rest of the country to identify illegal immigrants. "The illegal infiltrators are acting like termites in this country. They are also causing problems in Delhi. Action against them should not worry any patriot. But, whenever we take action Rahul Baba and Kejriwal start complaining. They care for illegal infiltrators because of vote bank politics," Shah said at Purvanchal Mahakumbh organised by Delhi unit of the party at Ramlila Ground.
The BJP chief asked Rahul and Kejriwal to clear the stand of their respective parties on the issue of illegal immigrants living in the country.
Sharpening his attack on Kejriwal, Shah charged the AAP leader with "preventing" the development of Delhi in his three and a half years of rule. "Kejriwal's only mantra is to tell lies, and talk forcefully and repeatedly," Shah alleged. He said the Centre had given Rs 50,000 crore to the Delhi government in past four and a half years years and alleged there was "anger" among people against AAP dispensation in the city.
Attacking efforts of Opposition parties to forge a Mahagathbandhan against ruling National Democratic Alliance (NDA) led by the BJP, Shah said his party was ready to take the challenge. "This Mahagathbandhan has no policy or leader. Rahul wants to lead the bandwagon but leaders like Sharad Pawar, Mamta Banerjee, Mayawati and Akhilesh Yadav are against it," he claimed.
Lauding Purvanchali people for their contribution in the development of the country under the Narendra Modi government, the BJP chief said his party will not take rest till the eastern part of the country is as developed as the western part of it.
Accusing the Congress of doing "injustice" to the eastern region, including parts of Uttar Pradesh, Bihar, Odisha and Jharkhand, Shah said the Modi government had released 13.80 lakh crore and ensured development through expressways, hospitals and industries in the area. "I have come here to give you account of the work done by Modi government for Purvanchal. Development of the region is our priority," he said.
"Purvanchal Mahagathbandhan is first in the series of four mega rallies planned by Delhi BJP in the run up to the Lok Sabha elections, said Delhi BJP chief Manoj Tiwari. In his address, Tiwari also raised the issue of "illegal" Bangladeshis and Rohingyas in the national capital and charged Kejriwal government with "settling" them in the city for votes.
Several senior leaders, including Union minister Harsh Vardhan, BJP general secretary (organisation) Ram Lal, Shahnawaz Hussain, party MPs Meenakshi Lekhi, Udit Raj, Parvesh Verma, among others attended the rally.
also read
India
Addressing a press meeting in Udupi, she claimed that the protest is getting international support as it is against the central government
India
"I will go to Manipur soon and stay there for three days but before that, both groups should remove mistrust and suspicion among themselves and ensure that peace is restored in the state," he said
Opinion
Rahul Gandhi has in the US shared space with people working with Soros-sponsored organisations who are hell-bent on inducing a regime-change in India and with Islamists such as the Indian American Muslim Council