Amarnath Yatra: Fragile security situation deters pilgrims, affects business
The government has taken no chances and has deployed a heavy security cover with 35,000 to 40,000 troops including police, the army, BSF and CRPF for the safe passage of pilgrims.
Srinagar: It is 5 pm in Anantnag town, some 80 km away towards the south from capital Srinagar. The situation is deceptively serene with normal vehicular movement and busy markets. There is no evidence of protests or stone pelting, which happened here just two days before after Eid prayers and the 16 June killing of six policemen in Achhabal, less than 10 km away. The lush green paddy fields on both sides of the meandering Khannabal-Pahalgam road give no indication of a year-long unrest in south Kashmir, apart from the hundreds and thousands of security forces guarding on both the sides of the road.
The security deployment is for the annual Amarnath Yatra which commenced on 28 June. Just a few days away from the first death anniversary of Burhan Wani on 8 July, the security situation in the Valley is fragile with a surge in militant attacks and protests. South Kashmir has witnessed the deadliest attacks in recent years on the security forces exacerbated by the incident where local boys, demanding 'freedom' have pelted stones on the paramilitary forces. Incidents like these indicate the potential vulnerability of a spontaneous violence that has occurred from time to time since last year after Wani's killing.
The Amarnath Yatra via Pahalgam in south Kashmir is the shorter route as against from Baltal via Sonmarg in Gandarbal district. However, for both routes, pilgrims have to travel through south Kashmir, which is simmering with anger against India and the security forces.
One of the pilgrims, Pankaj Mehta who has come for the first time for Amarnath Yatra while talking to Firstpost said, "Firstly we were reluctant to come but the government has assured the safety and it is also seen on the ground that there are adequate security arrangements."
Many locals from Anantnag district who earn their livelihood from Amarnath Yatra by providing facilities like ponies and horses, palanquins or guiding are reluctant to go this year fearing militant attacks.
Reyaz Ahmad, a local from Anantnag who ekes out most of his living from the yatra, while talking to Firstpost said, "This year situation is not favourable. My family is worried so I will have to reconsider going to Amarnath. I may have to give it a miss."
The call for a shutdown by Syed Salahuddin, who heads the UJC, an umbrella of militant organisations and who was designated as a 'global terrorist' by the US just two days back, has set a new challenge for the security establishment. Salahuddin, has asked people on both sides of the Line of Control to observe the 'Hafta-e-Shuhuda' (martyrs' week) beginning 7 July. Apart from asking people to observe the shutdown on Wani's first death anniversary, he has called for a shutdown to pay the tributes to 22 Kashmiris who were killed while they were protesting against the autocratic regime of Maharaja Hari Singh, outside the Srinagar Central Jail on 13 July 1931.
"To pay tributes to Burhan Wani and the 1931 martyrs, there would be state-wide shutdown on 8 and 13 July. Also, public gatherings would be held, especially in Tral township, to pay homage to Wani," he has said in a video message.
Amid all the chaos, Pahalgam is all set to host the Yatra, the first batch of pilgrims has already reached the base camps of Nunwan in Pahalgam and Baltal in Sonmarg safely. There are locals who have established stalls around the base camp Nunwan to provide services to these devotees. And pilgrims seem to be happy with them. "I have not seen much yet, but I can tell you, even for a while we had good bonding with locals here," Mehta said.
The security situation which spiraled out of control after Wani's killing last year had affected not only the Amarnath Yatra but also the overall tourism sector of the Valley. In 2015, 3.72 lakh pilgrims had performed darshan at the holy cave of Amarnath, as compared to last year's 2.20 lakh.
This year Pahalgam has received lesser number of tourists. An hotelier speaking to Firstpost said, "We had just 20 percent of occupancy in our hotel this year and I believe most of the hotels have this much as the highest. This year situation is totally different in Pahalgam. People fear to roam around as there is a high security deployment all around."
The government has taken no chances and has deployed a heavy security cover with 35,000 to 40,000 troops including police, the army, BSF and CRPF for the safe passage of pilgrims. Munir Ahmad Khan, IGP Kashmir also held a security review meeting with all the stakeholders and emphasised on co-ordination between all service providers and security agencies.
In the past, there have been no major incidents of violence against the outsiders in the Valley especially against the Amarnath pilgrims. People believe that Kashmir has a history of warm hospitality. However, they also fear any untoward incident. "I think there is nothing to worry about and yatra shall go smoothly. But one can't ignore fringe elements, so the state should ensure proper security. This time security personnel must be instructed to be people-friendly so as to avoid any untoward incident," Javid Ahmad from Anantnag told Firstpost.
Speaking of the threat perception for the Amarnath Yatra, a senior intelligence official, speaking on the condition of anonymity, told Firstpost, "Amarnath Yatra in the past has been held mostly peacefully, but this time with heightened anti-India feelings and increased radicalisation in the Valley, we are taking no chances. Even a one-off, isolated incident can spark tensions in this surcharged environment. We are also monitoring social media since it has been misused in mobilisation and for fuelling unrest."
With the first batch of pilgrims beginning its arduous journey to the holy cave, all those involved in the organisation and security of the Yatra are keeping their fingers crossed hoping that this year's affair turns out to be peaceful, which may bring some calm to the frayed nerves of the Valley.
India
As per the Jammu and Kashmir Police, approximately 5 kilograms of explosives have been recovered from the drone.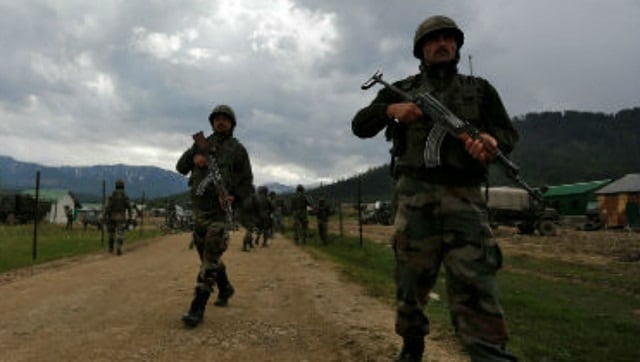 India
One of the militants was identified as Ishfaq Dar alias Abu Akram, a top commander of LeT, said DGP Dilbag Singh
India
The Maharashtra chief minister made this suggestion in a virtual meeting held by the prime minister on Friday during which he took stock of the coronavirus situation