Amarinder Singh, Navjot Singh Sidhu sing different tunes on Kartarpur corridor: Their inability to see eye-to-eye isn't new
While Amarinder rejected Pakistan Foreign Office's offer to attend the event and cited continued terrorist attacks in Punjab, Sidhu accepted the invite and arrived in Lahore on Tuesday.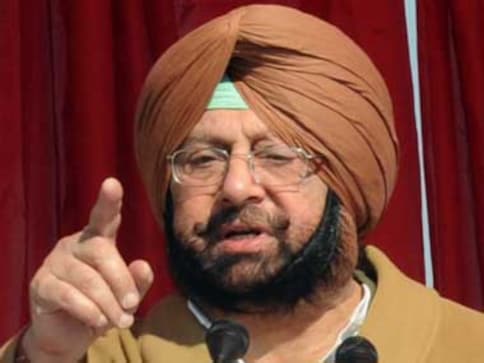 Amid the frenzy surrounding the construction of the Kartarpur corridor, Punjab chief minister Amarinder Singh and his cabinet minister Navjot Singh Sidhu are holding polar opposite views on visiting the neighbouring country for the groundbreaking ceremony on 28 November.
While Amarinder rejected the Pakistan Foreign Office's offer to attend the event and cited continued terrorist attacks in Punjab, Sidhu accepted the invite and arrived in Lahore on Tuesday.
In an interview to India Today on Tuesday, Amarinder said that he had advised Sidhu against the visit and had told him he was taking a stand on Pakistan terror. "Yet he went," he said.
"I will not allow terror in Punjab. For the first time, there were some militants from Kashmir trying to set up la logistics base in Punjab. Pakistan is using them, but we won't permit it," he said.
Speaking to Republic TV, the Punjab chief minister said that his cabinet was supportive of his decision and that Sidhu has gone for the ceremony in individual capacity. "Sidhu gets carried away sometimes," he said.
The Punjab Congress is familiar with having the two leaders not agree on an issue.
In August, when Sidhu had travelled to Pakistan for Prime Minister Imran Khan's swearing-in ceremony, he had triggered a controversy for hugging Pakistani Army chief Qamar Javed Bajwa. Amarinder had then heavily criticised Sidhu, and said the Punjab local bodies minister should have avoided the gesture. "The fact is that the man (Sidhu) should understand that our soldiers are being killed everyday. My own regiment lost one major and two jawans a few months ago," said Amarinder, a retired officer of the Indian Army's Sikh Regiment.
Sidhu had defended his action saying, "If someone comes to me and says that we belong to the same culture and that we'll open the route to Gurdwara Kartarpur Sahib on first Sikh Guru, Guru Nanak Dev's 550th birth anniversary, what else I could do?" he said while speaking to reporters.
The two also had difference of opinion on the cultivation of opium in Punjab. When Patiala MP Dharamvir Gandhi had suggested the legalisation of the sale and cultivation of opium, Sidhu had backed the demand.
Dharamvir Gandhi is doing a very good thing, I support him. My uncle used to take opium as a medicine and lived a long life: Punjab Minister Navjot Singh Sidhu on being asked about AAP MP from Patiala Dharamvir Gandhi's demand for legalising opium cultivation #Punjab pic.twitter.com/NoZ2RU6eVN

— ANI (@ANI) October 1, 2018
However, Amarinder turned down the proposal in view of Punjab's "serious drug problem". "We are against the concept of drugs... I have created a special force to deal with it, whether it is heroin or opium. I am against it (the proposal) and Punjab will not do it," The Daily Pioneer quoted him as saying.
In June, Amarinder had also turned down Sidhu's suggestion to set up a corporation to sell sand even when the state was dealing with the issue of sand mining. The Indian Express reported that the chief minister said that Sidhu's idea would take time to be realised and directed the ministers to continue with the progressive bidding policy for the second year in row.
When Sidhu's drive against illegal constructions in Jalandar prompted several MLAs to protest, Amarinder took up the matter with Congress president Rahul Gandhi.
During a media interaction event in August, Sidhu had addressed the matter. "We all respect whatever decision is taken by the chief minister. But it does not mean that I've put a lid on my mouth," Hindustan Times quoted him as saying.
With inputs from agencies
India
Environment Minister Bhupender Yadav, however, has rejected the charge, saying the new rules 'do not dilute or infringe on' the provisions of the Forest Rights Act, 2006
India
The Congress has planned a mass protest against price rise, unemployment and the GST hike on essential items on August 5.
India
Bishnoi joined the BJP this week and stated that politics is all about perception, and right now, the opinion is that the Congress cannot compete with the BJP