Al-Qaeda threat: Not just J&K, Kerala could be a terror hot-spot too
It's Jihad versus Jihad! But of a different kind.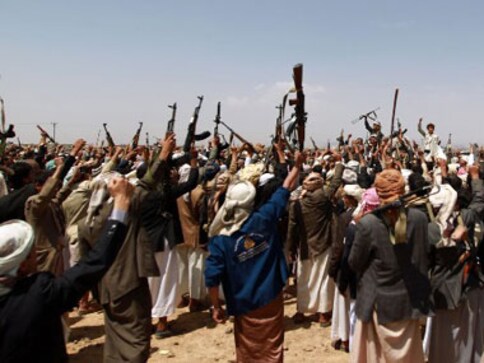 New Delhi: It's Jihad versus Jihad! But of a different kind.
Now it's between the most dreaded terrorist outfit Islamic State (IS), a breakaway faction of al-Qaeda, on one side and the parent organization, that has gradually lost its sheen with the death of its iconic leader Osama bin Laden, on the other.
Though it's a war over the issue of supremacy and hegemony, and to establish supreme control over the Indian subcontinent that has the highest Muslim concentration in the world, the ultimate objective of al-Qaeda is to meet its ideological goal -- Ghazwa-e-Hind or the final battle in India, on Indian soil.
Ghazwa-e-Hind refers to an indoctrinated view of a final apocalyptic war in which India will be conquered by a jihadi army and in lieu, all soldiers of this army would be guaranteed a place in heaven. Terror groups like al-Qaeda, Taliban and their affiliates operating in Kashmir have been following this ideology, where India is regarded as the next battle ground.
By making a video announcement of a branch in the Indian subcontinent called the Jamaat Qaidat al-jihad fi'shibhi al-qarrat al-Hindiya or the Organisation of The Base of Jihad in the Indian Sub-Continent, the al-Qaeda, whose credibility and hold among jihadists is gradually declining due to the rise of the IS, wants to regain the position it had enjoyed under bin Laden. Over the years, there has been a shift in allegiance from al-Qaeda to IS, with the latter challenging the authority of al-Qaeda.
The video of al-Qaeda chief Ayman al-Zawahiri wants to give the message that 'al-Qaeda shouldn't be ignored and it's still active'.
How does it plan to do it?
By lighting up the flame of Ghazwa-e-Hind among the Muslim youth and bringing them in its fold.
"The Indian subcontinent, with India, Pakistan and Bangladesh together has the highest Muslim population, concentrated closely as a unit. Due to this reason, al-Qaeda wants to have its domination on this subcontinent and execute its ideological goal of Ghazwa-e-Hind, which it thinks would catapult the group above IS," an intelligence agency official said. "For this al-Qaeda may use local terror modules and sleeper cells to unleash attacks within India quite like 26/11 to register a strong presence, and we're keeping a vigil on it."
The Intelligence Bureau has already issued alerts to all the states after the release of the video tape, and as a result the intelligence units of various states like Jammu & Kashmir, Madhya Pradesh, Tamil Nadu, Assam, Kerala, Gujarat etc have beefed up their vigilance.
"The al-Qaeda wants to explore the possibility of recruiting youths as jihadis from India, which is very significant for the group, so that they make the ideology of Ghazwa-e-Hind true," said Alok Bansal, director, Centre for Security and Strategy, India Foundation. "According to the belief, there are many Muslims waiting for this ideology to happen on ground. And al-Qaeda wants to tap this opportunity in India and Pakistan. It's trying to bring jihadis close to it and show IS that it's bigger," said Bansal.
But, how far has al-Qaeda been successful in relaying its message among its target audience?
"The al-Qaeda successfully used the media in spreading its message by releasing the video, which has already had a magnifying effect," observed Maj Gen (retd.) Dhruv Katoch, director, Centre for Land Warfare Studies (CLAWS).
But, simultaneously he feels that it would not be an easy task for the militant group to get jihadis from Indian states to fructify Ghazwa-e-Hind ideology, despite the fact that al-Zawahiri specifically mentioned: "It would fight on behalf of Muslims suffering injustice and oppression … in Burma, Bangladesh, Assam, Gujarat, Ahmedabad and Kashmir."
"It's certainly not easy in India to gain base, unlike in Pakistan, where North Waziristan is under the control of rebel forces and a large number of youths have joined terrorist groups including the IS. But, there is an immediate need for Indian intelligence agencies to enhance its capabilities and intensify its information gathering system, especially in J&K and Assam, where much vote-bank politics have been played so far, and Muslims youth could be soft target," said Katoch.
However, analysts wouldn't like to completely rule out the possible threat that J&K and Assam may face from al-Qaeda's announcement. "Since, al-Qaeda is competing with IS for attention and leadership of the radicalised Islamist world, it cannot afford to be seen as second best. There are insurgencies already existent in J&K and Assam with large Muslim populations in neighbouring Bangladesh and Pakistan; sufficient support is available in the form of local terrorist cadres," said Lt Gen (Retd) SA Hasnain, strategic analyst and former military secretary.
"Kashmir in particular remains vulnerable although there may not be widespread support, but Kerala can be a potential state, where al-Qaeda can set up its base because of the large number of expatriates in the Middle East who can be recruited," he added.
The al-Qaeda has targeted those states in India in particular, where grievances among Muslims are high, and youths could be an easy prey. "Wherever there's a perception that Muslims are at the receiving end or facing oppression, which may or may not be true, al-Qaeda would use this opportunity," added Bansal.
also read
India
After the matter came to the attention of the police, Tanveer reportedly admitted to his crime and requested that the victim withdraw the First Information Report (FIR). The complainant claims that Tanveer gave an affidavit, confessing to harassing her
India
A 16-year-old was brutally stabbed 20 times and bludgeoned with stone to death by 20-year-old Sahil Sarfaraz in Delhi's Shahbad Dairy area
India
The skull of the girl was ruptured after it was smashed with a blunt object, the preliminary post-mortem findings suggested