Akbar Lone shouldn't be allowed to escape scrutiny for pro-Pakistan slogan; govt must treat him like IAF officer Arun Marwaha
Jammu and Kashmir MLA Mohammad Akbar Lone must be drummed out of the House, shorn of his powers and not allowed to enjoy the privileges of the Assembly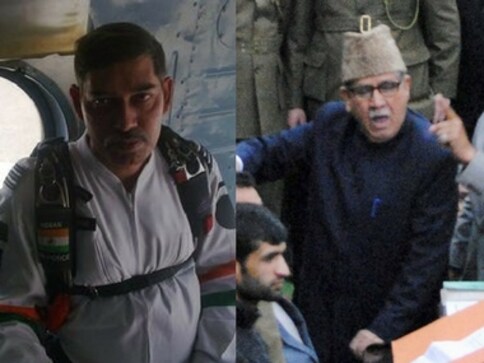 Indian Air Force Group Captain Arun Marwaha fell head first into the honey trap and even though it is a moot point what great depth there were in the 'secrets' that he was posting on an open forum like facebook, if there's proof then the book can be thrown at him.
It is likely that his indiscretion was predicated to showing off his seniority and importance, and the level of access that he has to the ISI 'girl' on the social networking platform, and somewhere in a cell he is probably kicking himself for being such an idiot. But that is not an excuse and he will pay the price. Even if he shared one top-secret document in this virtual reality affair, it is enough to indict him and if that is what he has done then so be it.
On the other hand, we have Mohammad Akbar Lone, a senior National Conference leader, former minister and onetime speaker of the Jammu and Kashmir Legislative Assembly, shouting "Pakistan Zindabad" slogans on the floor of the House, against the backdrop of a terrorist attack in which two soldiers were killed and five civilians are injured.
Talk about a complete lack of empathy and sensitivity. Lone is walking free and thumping his chest.
While the Indian Army is busy searching and eliminating these terror merchants ostensibly linked to Pakistan-based Jaish-e-Mohammed, Lone comes on TV utterly without regret or remorse, almost absurdly proud of his stance.
This tawdry drama then progresses with National Conference legislators Javed Rana, Ali Mohammad Sagar, Abdul Majid Larmi and others along with Lone trooping into the Well of the House seeking an apology from Speaker Kavinder Gupta for making superfluous comments about the attack occurring as a result of the Rohingya refugee camp near the army's Sunjuwan facility.
While Gupta may not get many marks for his thoughtless and unsubstantiated assessment, the Lone statement stands alone and that is not a pun.
How is he any less treacherous and unthinking than Marwaha? In fact, the Group Captain's lovelorn foolishness appears faded in comparison to an elected individual who has held high office and stands there in the House and belts out pro-Pakistan slogans on a day of terrorism.
The National Conference says it has distanced itself from these remarks. This is not enough. Clearly, the implication is that it has not distanced itself from the man. If you watch Lone explain himself, he is openly defiant.
We cannot have different rules for activities that are blatantly anti-national. These are not 'mind in the clouds, daddy pays for us' JNU students with bleeding hearts. These are people in positions of responsibility and it is the duty of their superiors to take appropriate action.
If the Centre and the state government allow Lone to get away with this, they compromise the integrity of this coalition. And just condemning the one-man demonstration against his country is not be enough for the BJP members.
Lone must be drummed out of the House, shorn of his powers and not allowed to enjoy the privileges of the Assembly. He must be given the same treatment that is being given to the Indian Air Force officer. Otherwise, two messages are clear: politicians are above the law, and in the state of Jammu and Kashmir, you can be pro-Pakistan (read anti-Indian) and wear it as a badge of honour. No one is doing anything to rectify it.
also read
World
Stringent security arrangements are in place across the Kashmir Valley to ensure that the high-profile event passes off peacefully, officials said
World
The event will witness the participation of G20 member countries, invited countries, international organizations, and industry stakeholders. The meeting aims to strengthen economic growth, preserve cultural heritage and promote sustainable development of the region.
World
Srinagar will be hosting the G20 meeting of the working group on tourism from May 22 to May 24