AIMPLB expels cleric Salman Nadvi for saying moving of Babri Masjid permissible, says it cannot 'be gifted, sold or shifted'
All India Muslim Personal Law Board's (AIMPLB) executive member Maulana Syed Salman Hussain Nadvi, who on Sunday said shifting of the mosque is permissible, was expelled from the board soon after.
The All India Muslim Personal Law Board (AIMPLB) on Sunday expelled cleric Syed Salman Hussain Nadvi, who said shifting of the mosque is permissible, according to several media reports. Nadvi, however, said that AIMPLB behaved in a dictatorial manner, CNN-News 18 reported.
#BREAKING - Maulana Syed Salman Al Husaini Nadwi has been expelled from AIMPLB. pic.twitter.com/Mu3vtz8AkX

— News18 (@CNNnews18) February 11, 2018
Committee announced AIMPLB Board will continue with its old stand that Mosque cannot be gifted, sold or shifted. Because Salman Nadwi has gone against this unanimous stand, he has been expelled: Qasim Ilyas (AIMPLB member) on Salman Nadwi pic.twitter.com/VsU6GmD6e0 — ANI (@ANI) February 11, 2018
An AIMPLB spokesperson confirmed that Nadvi was expelled after the recommendations of the disciplinary committee, formed to look into the matter,  News 18 reported. On Saturday, at the general body meeting of AIMPLB, many of the 500 participants said Nadvi should be removed from the board, the report added. While briefing the media, AIMPLB referred to the Nadvi's statement and said it is not acceptable and the remarks were made in his personal capacity. The AIMPLB member also said, "As India is a secular country, Muslims have the right to follow their religion and to not allow any interference in it."
According to a report in The Times of India, a source close to Jamiatul Ulema-e-Hind president Maulana Arshad Madani, who is also a board member, said he was vehemently opposed to Nadvi's suggestion, which he likened to sabotaging Muslim claims over the disputed site.
According to PTI, on Sunday, Nadvi, who met Art of Living (AOL) founder Sri Sri Ravi Shankar earlier this week, said he favoured an amicable settlement of the Babri Masjid-Ram Janmabhoomi dispute.
"The atmosphere should be good (between the two communities)... there is permission for this in the Sharia. As per the Hanbali school of (Islamic) thought, a mosque can be shifted," Nadvi said.
The AIMPLB on Sunday said there is no change in its stand on the Ayodhya issue as "once a masjid is built, till eternity that will be a masjid". AIMIM president and Hyderabad MP Asaduddin Owaisi, who is also a member of the board, briefed reporters on the proceedings of the second day of the 26th plenary of the board. AIMPLB also defended its decision by saying "only Supreme Court can decide on this decision", CNN-News 18 reported.
On 8 February, Sri Sri Ravi Shankar held a meeting in Bengaluru with Muslim leaders including members from the AIMPLB and the Sunni Waqf Board.
After the meeting, the AOL said some eminent members of the Sunni Waqf Board, the AIMPLB and others met Ravi Shankar and expressed support for an out-of-court settlement of the Ayodhya dispute and "supported the proposal of shifting the Masjid outside to another place".
Sri Sri Ravi Shankar also reacted to Nadvi's expulsion through a tweet.
Maulana Salman Husaini Nadwi's expulsion from the AIMPLB comes as a surprise, as several members of the board have met with me & expressed their commitment to foster amity amongst Hindus & Muslims & to peacefully resolve this issue.

— Sri Sri Ravi Shankar (@SriSri) February 11, 2018
With inputs from PTI
India
The Hyderabad MP said that this was the third time that his residence had been attacked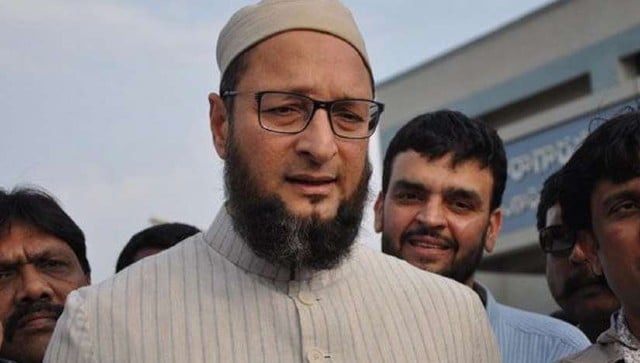 India
Jail authorities denied permission on the ground of COVID-19 protocols and since he is not Ahmad's blood relative