AIIMS signs MoU with National Health Agency, becomes first Delhi hospital to implement Ayushman Bharat scheme
Prime Minister Narendra Modi on Sunday rolled out the Centre's flagship Ayushman Bharat scheme.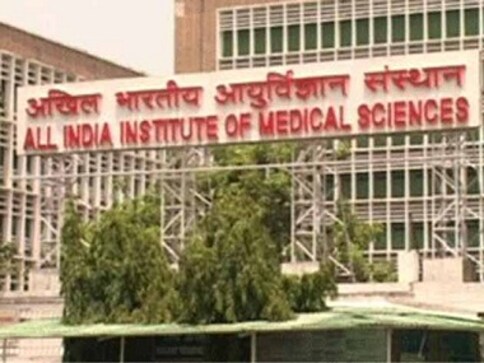 New Delhi: The All India Institutes of Medical Sciences (AIIMS) has inked an MoU with the National Health Agency (NHA), the apex body implementing the Pradhan Mantri Jan Arogya Yojana, thus becoming the first hospital in Delhi to have become a part of the Centre's health insurance programme.
A formal MoU was signed between AIIMS Director Dr Randeep Guleria and NHA deputy CEO Dinesh Arora on Tuesday. "In accordance with the provisions of the scheme, AIIMS will provide all diagnostic and therapeutic facilities to the entitled beneficiary patients admitted in the hospital, as per approved packages," its spokesperson Dr Aarti Vij said.
Prime Minister Narendra Modi on Sunday rolled out the Centre's flagship Ayushman Bharat-National Health Protection Mission (AB-NHPM) from Jharkhand. The ambitious scheme, named the Pradhan Mantri Jan Arogya Abhiyan (PMJAY), aims to provide a coverage of Rs five lakh per family annually, benefiting more than 10.74 crore poor families for secondary and tertiary care hospitalisation through a network of empanelled health care providers.
The scheme will provide cashless and paperless access to services for the beneficiary at the point of service. It will help reduce expenditure for hospitalisations which impoverishes people and will help mitigate the financial risk arising out of catastrophic health episodes. Eligible people can avail the benefits in government and listed private hospitals.
The 71st round of National Sample Survey Organisation (NSSO) has found 85.9 percent of rural households and 82 percent of urban households have no access to healthcare insurance. The scheme seeks to target poor, deprived rural families and identified occupational category of urban workers' families, 8.03 crore in rural and 2.33 crore in urban areas, as per the latest Socio-Economic Caste Census (SECC) data. It will cover around 50 crore people.
There is no cap on family size and age in the scheme, ensuring that nobody is left out. One would only need to establish one's identity to avail benefits under the scheme and it could be through Aadhaar card or election ID card or ration card. Having an Aadhaar card is not mandatory.
In case of hospitalisation, members of the beneficiary families do not need to pay anything under the scheme, provided one goes to a government or an empanelled private hospital.
India
The ED probe began after the agency raided Mishra and his alleged associates on July 8, covering 19 locations in Sahibganj, Barhait, Rajmahal, Mirza Chauki and Barhara in Jharkhand in the case linked to alleged instances of illegal mining and extortion
India
With Delhi recording more than 400 fresh cases of dengue in the past week, the tally rises to 937.
Sports
The 36th National Games was inaugurated by Prime Minister Narendra Modi at a glittering opening ceremony