Ahead of Chhattisgarh election, privatisation of Shivnath river looms large for Raman Singh govt
Chhattisgarh goes to the polls this December and, considering the RWL contract is up for renewal in October 2020, the Shivnath issue is bound to loom large once again.
Raipur: Privatisation is a dirty word in large swathes of socialist India. So, it would take an extremely brave person or a madman to hand the management of a community asset like a river to a private company.
But that's what the Digvijay Singh government in Madhya Pradesh did in 1998, when they contracted out a 23.6-kilometre stretch of the Shivnath River in Durg district to Radius Water Ltd (RWL) to build a barrage and supply water to a nearby industrial estate.
Twenty years on, the controversy over the original decision refuses to die down. The new state of Chhattisgarh inherited the project and both successive governments, one led by Ajit Jogi of the Congress and the other by Raman Singh of the BJP, have stood firmly behind it.
That, despite a scathing report by the state legislature's Public Accounts Committee (PAC) in 2007 that described the terms of the Radius water contract as a plunder of public assets and called for the arrest of the officials involved.
The 345-kilometres Shivnath River is Mahanadi's largest tributary. It originates in the Gadchiroli district of Maharashtra and joins the Mahanadi River near the small town Shivrinarayan in Chhattisgarh. The Radius project arose from the Madhya Pradesh government's efforts to attract industry to the area. Factories in the proposed Borai industrial park needed water, but the government lacked the funds to build the requisite infrastructure.
Under a Rs 9-crore project, MP Aydhyogik Kendra Vikas Nigam (MPAKVN) contracted RWL to build a barrage on the Shivnath River and supply up to 30 million litres per day (mld) to factories in Borai. RWL would operate the storage and distribution infrastructure for 22 years, after which the entire asset would be transferred to MPAKVN (now its successor, Chhattisgarh State Industrial Development Corporation or CSIDC) at no cost.
RWL gained exclusive rights to supply water to the Borai industrial park and the CSIDC was obliged to provide the company land needed to build project-related infrastructure free of cost. CSIDC would purchase water from RWL and sell it to factories in Borai. Construction was completed in two years and operations began in January 2001.
Borai then housed two medium-scale units and their combined water requirement was between 1.14 and 2.5 mld. But CSIDC, under the agreement, had to compulsorily buy 4 mld to make the project viable. It was the water-pricing formula, however, that did CSIDC in.
Bad business ignored too long
According to the latest report of Chhattisgarh's Comptroller and Auditor General (CAG), between fiscal 2011 and 2015 CSIDC paid RWL between Rs.15.95 and Rs. 17.36 per kilolitre. In this 5-year period, CSIDC also paid the government's Water Resources Department between Rs.10.53 and Rs.25.17 per kilolitre, taking its cost of water to anything between Rs.26.71 and Rs.41.58 per kilolitre.
But CSIDC supplied the water to its industrial clients at a steep discount, at rates ranging from Rs.18.12 to Rs.21.26 per kilolitre. Unsurprisingly, CSIDC incurred a cumulative loss of Rs. 30.6 crore over this period. As the PAC report of March 2007 observed, "(This) is in the view of committee a conspiracy done with an ill motive to put the administration in a situation of non-profit. It's a conspiracy done with bad intention and (it's) very rare to find such (an) example in (a) democratic system."
But 11 years later, the PAC's recommendations remain a dead letter. Says RWL director Kailash Soni, "This is a very old story and has already expired long back as the project has nothing wrong (with it)." Adds Tokhan Sahu, parliamentary secretary for irrigation in the Chhattisgarh government, "Shivnath's privatisation is no more an issue. The required amount of water needed for farmers is supplied by us. The Opposition parties spread rumours and try to defame the BJP government."
Speaking of the government's unwillingness to act, Ramchandra Singhdev, a former finance and irrigation minister and member of the PAC says, "How to exploit the natural resources of state can be seen in BJP governance anywhere in Chhattisgarh. The government should explain that in the Shivnath matter, under whose pressure or what allurement has the file been kept closed for eight years?"
Farmers' pumps, nets seized
RWL has always maintained that, under the terms of the contract, people living on the banks of the river along this 23.6 kilometres stretch have no right to its water, whether for drinking or irrigation. If the villagers draw water for any reason, it's the responsibility of CSIDC to compensate the company. The company has repeatedly seized electric pumps belonging to farmers. The company has also confiscated the nets of local fishermen on its stretch of the river.
Mahmara village is most affected by RWL's operations. Sivakumar Nishad, former sarpanch of Mahmara village recalls how farmers and fishermen of the area had fought a long battle over water. "Earlier we used to mine sand from Shivnath river. It was a huge source of income for the panchayat, but due to  Radius Water, the work was completely closed. Besides this, there was a graveyard there that was submerged. If someone dies in the rainy days, it is difficult to conduct a funeral. Radius Water opens the dam gates whenever they want, due to which danger always prevails."
Says Gautam Bandopadhayay of Nadi Ghati Morcha, a river activist working in Chhattisgarh, "Shivnath is not Chhattisgarh's but India's first river to be privatised. Those dependent on the river have no law to protect their rights. The gates to privatisation has been opened. Next will be the Kelo river in Raigarh, Shabri in Dantewada and Maniyari in Bilaspur. Rivers like Indravati, Arpa, Kharun and Mahanadi are already supplying industry. We don't have an equitable water policy."
Chhattisgarh goes to the polls this December and, considering the RWL contract is up for renewal in October 2020, the Shivnath issue is bound to loom large once again.
(Vandana Agrawal is a Raipur-based freelance writer and a member of 101Reporters.com, a pan-India network of grassroots reporters)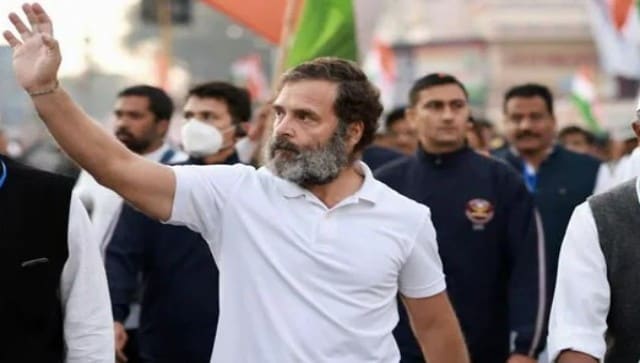 Politics
On Sunday, the sixth day of its Madhya Pradesh leg, the Bharat Jodo Yatra, which is led by Congress MP Rahul Gandhi, arrived in Indore, the cleanest city in the nation
India
Raveena Tandon is leaving behind the recent controversy on her visit to Madhya Pradesh's Satpura Tiger Reserve with a smile. She talks to Firstpost about how she fell in love with wildlife, the magic of India's forests, her encounters with tigers and the one animal she hopes to sight someday
India
The eight cheetahs were translocated from the African country on September 17 as part of an ambitious reintroduction project of the species. They were released into the quarantine zone by Prime Minister Narendra Modi