AgustaWestland chopper scam: Milan court acquits Giuseppe Orsi and Bruno Spagnolini, says 'no evidence of corruption'
In a setback for CBI, Milan court acquits VVIP Chopper Scam accused and former Finmeccanica chief Giuseppe Orsi and former ad of the subsidiary AgustaWestland Bruno Spagnolini saying there was no evidence of corruption.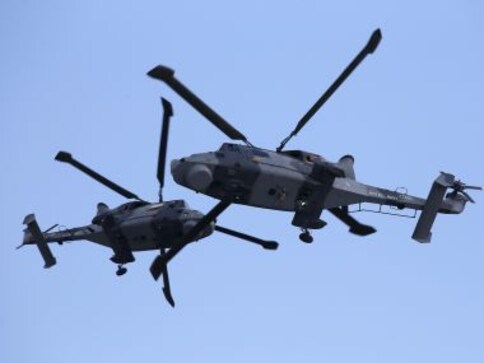 A Milan court acquitted VVIP chopper scam accused and former Finmeccanica chief Giuseppe Orsi and former CEO of the subsidiary AgustaWestland Bruno Spagnolini, according to a report by ANI.
#AugustaWestland The Court of Appeal of Milan, Italy acquitted the former president of Finmeccanica (now Leonardo), Giuseppe Orsi, and the former ad of the subsidiary AgustaWestland, Bruno Spagnolini

— ANI (@ANI) January 8, 2018
India Today reported that the court, acquitting Orsi and Spagnolini, stated that there was no evidence of graft and rejected India's claims for damages. Orsi was arrested in 2014 and resigned as chief executive of Finmeccanica which was later renamed as Leonardo.He was at the helm of AgustaWestland when the deal was struck and was suspected of involvement in the payment of bribes. Orsi had been sentenced to four-and-a-half years in jail for false accounting and corruption. The case against Orsi and Spagnolini resulted from an investigation launched in 2012 into the sale of 12 luxury helicopters to India. The two were accused of international corruption and false invoicing in relation to bribes exchanged for the contract with India. Both were cleared on charges of committing international corruption at the first-instance trial in 2014 but convicted of false invoicing and sentenced to two years in prison. In Italy, criminal sentences are not usually considered definitive until the appeals process has been exhausted. Both appealed against the conviction, while the prosecution appealed against the acquittal on the corruption charge. This move comes as a setback to the Central Bureau of Investigation (CBI), which on 1 September, filed a charge sheet against Tyagi, Sanjeev, Gujral, Khaitan, Orsi, Spagnolini and three alleged European middlemen Christian Michel, Guido Haschke and Gerosa, Finmeccanica's subsidiary AgustaWestland and IDS Infotech. However, the CBI responded saying, "our investigation is independent and we have strong case against both of them".
#AugustaWestland Italian authorities can appeal against the acquittal Giuseppe Orsi & Bruno Spagnolini in Supreme Court of Italy. Our investigation is independent & we have strong case against both of them. This acquittal will have no impact on our case: CBI — ANI (@ANI) January 8, 2018
The officials said the same set of evidence had resulted in their conviction earlier. The sources said the case in Italian courts is based on the evidence gathered by the Italian authorities whereas the CBI carried out a completely independent investigation in the matter.
They said there is an option of appeal with Italian authorities even after the order of the Milan court of appeals. "We have had a completely different probe. We have very strong case," CBI Spokesperson Abhishek Dayal said.
Meanwhile, a director of two Dubai-based firms has been "non-cooperative" and evading probe in a money laundering case connected with the Rs 3,600-crore VVIP chopper deal, the Enforcement Directorate (ED) told a court on Monday.
On 20 December, former Indian Air Force chief SP Tyagi appeared before a court in New Delhi in the multi-million dollar helicopter deal case.
Apart from Tyagi, the former chief's cousin Sanjeev alias Julie, former Air Marshal JS Gujral and advocate Gautam Khaitan also appeared before the CBI special judge Arvind Kumar.
Kumar on 11 October asked the accused to appear in court on 20 December.
In October 2017, the ED said it will file an extradition request to Italy for Carlo Gerosa, an Italian national who was accused under the Prevention of Money Laundering Act 2002 in the AgustaWestland scam. Gerosa, who was arrested on 5 October, is also an alleged middleman in the scam.
In December 2016, Italy's highest court had ordered a re-trial of the case, after the former executives of the Rome-based group were found guilty on corruption charges.
India had scrapped the contract with Finmeccanica's British subsidiary AgustaWestland in January, 2014 for supplying 12 AW-101 VVIP choppers to the Indian Air Force over alleged breach of contractual obligations and charges of kickbacks paid by the firm for securing the deal.
India's defence ministry had ordered a CBI probe into allegations of kickbacks to the tune of Rs 362 crore after the arrest of Orsi and Spagnolini by Italian investigators in connection with the case.
In 2010, India had inked the deal to acquire 12 three-engine AW-101 helicopters from AgustaWestland for VVIP use.
In view of the corruption charges, India also barred Finmeccanica and its group companies from participating in any new programme of the defence ministry.
With inputs from agencies
News & Analysis
The ED seized about Rs 5,551 Crores of Xiaomi's assets for disguising unscrupulous payments as royalty payments in the form of foreign payments. Xiaomi claims that they have abided by the law, and they are working with authorities to clear the misunderstanding.
India
The agency stated that the doctors at the JJ hospital, where Deshmukh was treated, suggested surgery for his shoulder but the same need not be done in an emergency
Business
Xiaomi is accused by the ED of violating Section 4 of the FEMA Act by transferring money in the name of 'Technology Royalty' to three companies outside India