AgustaWestland case: ED files fresh chargesheet, names Christian Michel
ED has filed a fresh chargesheet, delving into the role of British national and alleged middleman Christian Michel James int eh AgustaWestland case.
New Delhi: ED has filed a fresh charge sheet, delving specifically into the role of British national and alleged middleman Christian Michel James and his few Indian associates, in connection with its money laundering probe in the Rs 3,600 crore VVIP chopper deal.
The over 1,300-page prosecution complaint (ED's equivalent for charge sheet) has been placed before a special Prevention of Money Laundering Act (PMLA) court in New Delhi early this week and it has said that agency's investigation into the case has found that Michel received Euro 30 million (about Rs 225 crore) from Ms AgustaWestland which was nothing but "kickbacks" paid by the firm to execute the 12 helicopter deal in favour of the firm in "guise of" of genuine transactions for performing multiple work contracts in the country.
The court is expected to soon take cognisance of the supplementary charge sheet, agency sources said.
Michel is one of the three middlemen being probed in the case, apart from Guido Haschke and Carlo Gerosa, by the Enforcement Directorate and the CBI and both the agencies have also notified an Interpol Red Corner Notice (RCN) or the global arrest warrant against him after court issued a non-bailable warrant against him.
Michel was extensively interviewed by Indian media in Dubai recently and both the agencies want him to join probe.
This is the second charge sheet filed in the case by ED which goes into the detailed role of Michel in the deal, his multiple visits to India and his transactions. The first charge sheet was filed by the agency in the case in November, 2014.
It is understood that filing a charge sheet against Michel was necessary as ED has sought his extradition from the UK and hence such a court complaint against an accused is necessary in order to execute the treaty between the two countries.
The agency has also brought on record, in the charge sheet, that the three middlemen "managed to" make inroads into the Indian Air Force in order to influence and subvert the stand of the air force regarding reducing the service ceiling of the helicopters from 6,000-meters to 4,500 meters in 2005 after which AgustaWestland became eligible to supply the dozen helicopters for VVIP flying duties.
ED investigations have found that remittances made by Michel through his Dubai-based firm Ms Global Services, FZE to a media firm he floated in Delhi, along with two Indians, were made from the funds which he got from Ms AgustaWestland SpA through "criminal activity" and corruption being done in the chopper deal that led to the subsequent generation of proceeds of crime.
The PMLA probe found that AgustaWestland CEO Bruno Spagnolini was paying "kickbacks" to Michel and the two other middlemen in the guise of numerous "consultancy contracts" and Michel alone received Euro 30 million in his Dubai company accounts and others under this arrangement.
The agency has also detected that the media firm floated by Michel in Delhi, along with two Indians, was nothing but a "shell company" to "launder the proceeds of crime."
At least two other associates of Michel in Delhi and the media firm, whose assets were attached by ED last year, have been named in the charge sheet along with the statements made by various people connected to him including his driver Narayan Bahadur.
The probe also found that Michel had hired a firm to provide to him from India an analysis of market publications related to manufacturing industry active in Indian defence arena, the economic and financial trends in the country and overall views on private sector participation in Indian defence and manufacturing industry.
The probe in the deal had been in news recently after a a Milan (Italy) based court sentenced Italian defence and aerospace major Finmeccanica's former chief Giuseppe Orsi and Spagnolini on corruption charges in the sale of these helicopters to India.
The Milan court order also mentions the name of former IAF chief SP Tyagi at several points.
Post this, both the agencies began a fresh round of questioning the accused and collection of further evidences.
ED had registered a PMLA case in this regard in 2014 and named 21 people including Tyagi in its money laundering FIR.
It had also arrested Delhi-based businessman Gautam Khaitan in the case and he is out on bail at present.
It had earlier submitted that Khaitan was on the board of Chandigarh-based company Aeromatrix which was allegedly a front firm for the financial dealings in the chopper deal.
On 1 January, 2014, India scrapped the contract with Finmeccanica's British subsidiary AgustaWestland for supplying 12 AW-101 VVIP choppers to the IAF over alleged breach of contractual obligations and charges of paying kickbacks to the tune of Rs 423 crore by it for securing the deal.
ED and CBI had also issued Letters Rogatory (judicial requests) to multiple countries to gather more leads and evidences in this case.
India
The arrested accused were identified as Sumit Gupta, Pardeep Rana, Ankur Kumar and Akash Ahlawat. All the accused are sub-inspector posted in CBI Delhi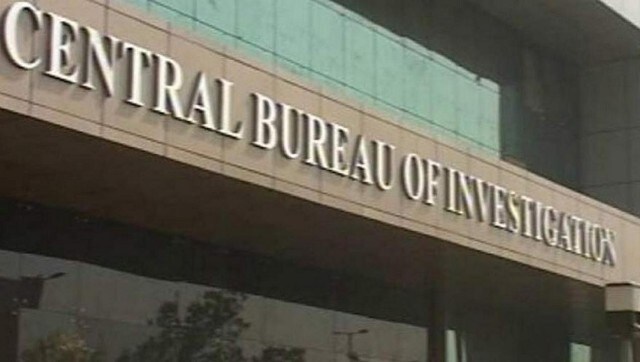 India
The CBI received a complaint from a Chandigarh-based businessman, Abhishek Dogra, that six people, including four from the CBI, had entered his office and threatened him of arrest on the charges of supporting and providing money to terrorists
India
Operations are underway in Delhi, Rajasthan, Chennai, Hyderabad, Coimbatore, Mysore, etc, to "nab representatives of NGOs, middlemen and public servants of MHA's FCRA division who were facilitating illegal FCRA clearances in lieu of bribes"