Jet Airways flyers suffer nosebleeds after alleged pilot negligence; DGCA ropes in AAIB to probe incident
In a case of negligence and oversight, at least 166 passengers aboard a Jet Airways flight suffered nose bleed and headaches as the cabin crew had forgotten to select the switch that maintains cabin pressure during take-off.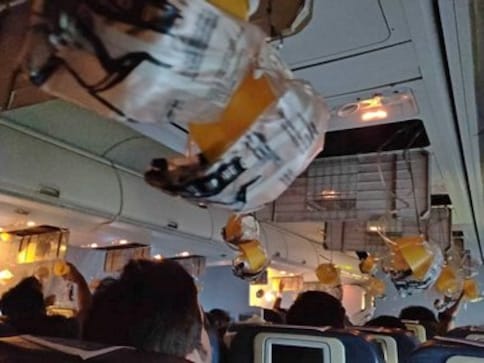 In what appears to be a case of negligence and oversight, at least 30 passengers aboard a Jet Airways flight suffered nosebleeds and headaches when the cabin crew forgot to select the switch that maintains cabin pressure during takeoff.
The incident was reported on board a Mumbai-Jaipur Jet Airways flight on Thursday. According to reports, Jaipur-bound flight 9W 697 was turned back to Mumbai mid-air due to the incident. During the climb, the crew forgot to select the switch that maintains the cabin pressure following which 30 out of the 166 passengers experienced nose and ear bleeding. Many also complained of headache. Oxygen masks had to be deployed to help the passengers breathe normally. There were 166 passengers and 5 crew members on board flight 9W 697.
The civil aviation ministry has taken note of the incident and ordered the Directorate General of Civil Aviation (DGCA) to conduct an enquiry and fix accountability. The aviation regulator looked at the primary information available and decided that it could be a case of negligence on the part of the pilots since controlling cabin pressure control is part of check before operating a flight. Subsequently, the probe was transferred to the Aircraft Accident Investigation Bureau (AAIB), which is tasked to investigate serious incidents and accidents.
The Civil Aviation Minister Suresh Prabhu has also ordered the DGCA to come up with a comprehensive safety audit plan to assess the compliance to safety parameters by all airlines. The plan should be submitted to the ministry within 30 days, CNN-News18 reported.
Meanwhile, one of the flyers who suffered nose and ear bleeding had to be later rushed to the hospital. A middle-aged man was brought to Dr Balabhai Nanavati Hospital in suburban Vile Parle by Jet Airways officials. "He has been admitted for audiometry test and the hospital will issue a health statement after some time," a spokesperson of the hospital said.
Darshak Hathi, one of the persons onboard the aircraft, told Firstpost that the passangers started facing difficulty in breathing within the first 10 minutes after the takeoff. "The air-conditioning system stopped functioning within the first 10 minutes. In the next five minutes, the air pressure had dropped so much that the oxygen masks came down automatically," Hathi said. He claimed that there was no oxygen flow in the masks and many people faced difficulty in putting on the mask. The cabin crew was also unavailable for help as they too had taken their seats and had put on masks.
He said that their was no official announcement or communication from the pilot, other than an advice to wear the mask, which lead to a lot of commotion and confusion.
Panic situation due to technical fault in @jetairways 9W 0697 going from Mumbai to Jaipur. Flt return back to Mumbai after 45 mts. All passengers are safe including me. pic.twitter.com/lnOaFbcaps — Darshak Hathi (@DarshakHathi) September 20, 2018
The airlines later issued a statement expressing 'regret' over the inconvenience caused to the passengers. It also clarified that the Boeing 737 aircraft had indeed returned to Mumbai due to "loss of cabin pressure" and the pilots have been taken off duty pending investigation, a Jet Airways spokesperson said in an official response.
Please refer to our official statement: pic.twitter.com/MfKGi29OqE

— Jet Airways (@jetairways) September 20, 2018
The flight was later scheduled to take off at 10.15 am for Jaipur. "During climb, the crew forgot to select bleed switch due to which cabin pressurisation could not be maintained. As a result, oxygen masks got deployed," an official at aviation regulator DGCA told PTI. All the 166 passengers were given first aid by doctors at the Mumbai airport, a journalist reported on Twitter citing sources from the DGCA. Several passangers also tweeted their ordeal.
When your flight to Jaipur was more like your flight to hell! #Pressurecooked #midairscare #JetAirways @MirrorNow pic.twitter.com/PzAnI3TbN6 — Joel D'Souza (@jdjoeld) September 20, 2018
According to the airline, the aircraft landed normally in Mumbai.
"All guests were deplaned safely and taken to the terminal. First aid was administered to few guests who complained of ear pain, bleeding nose etc," it said.
With inputs from PTI
Arts & Culture
Every Friday, we'll bring you a curated list of online experiences — performances, talks, tours, screenings — to mark on your weekly calendar.
India
The Haldi Ghati battle was fought between Maharana Pratap and Muhjal Emperor Akbar in 1576. While NCERT books mention the date as June 18, 1576, the date on the plaques is 21 June, 1576