After Jharkhand girl's death, Centre asks states not to deny PDS food to poor sans Aadhaar
States and Union Territories will have to make arrangements to provide Aadhaar enrolment facilities to those without Aadhaar and link their Aadhaar numbers with ration card
New Delhi: The Centre has instructed states not to deny PDS benefits to any beneficiary who does not have Aadhaar or has not linked ration card to the 12-digit biometric identifier and warned of strict action on violation. It has also asked state governments not to delete eligible households from the list of beneficiaries for non-possession of Aadhaar.
An instruction has been issued in this regard this week to all states, after an 11-year old Jharkhand girl allegedly died of starvation recently after being denied PDS ration.
In a directive, the Union food ministry has clarified that deletion from the ration card database can only happen after proper verification of ration card holder establishes "beyond reasonable doubt" that an entry pertaining to the said ration card holder is not genuine. State field functionaries have been asked to ensure that beneficiaries are not turned away on the ground of non-possession of Aadhaar, and all exceptions in this regard are recorded in a separate logbook.
When contacted, Ajay Bhushan Pandey, CEO of Aadhaar issuing body, Unique Identification Authority of India (UIDAI), told PTI, "The intention is to ensure that no one is denied any food benefits for lack of Aadhaar, lack of linking, or technical difficulty in biometric authentication. As long as a person is genuine, he has to be given the benefit, in this case, ration."
States and Union Territories will have to make arrangements to provide Aadhaar enrolment facilities to those without Aadhaar and link their Aadhaar numbers with ration card, the food ministry said and cautioned that strict action will be taken for violation of provisions of the notification. As per the National Food Security Act, states have been given deadline till December to link Aadhaar with ration cards.
The Centre on Wednesday, however, told the Supreme Court that the deadline for mandatory linking of Aadhaar to avail of benefits of various government schemes would be extended till 31 March next year for those who do not have the 12-digit biometric identification number.
So far, 82 percent of the ration cards have been seeded with Aadhaar number in the country. The food ministry directive mentions that till such time Aadhaar is assigned to the beneficiary, subsidised foodgrains will have be given on production of ration card, enrolment slip and other stipulated documents like election card.
Irrespective of whether all members of an eligible household have Aadhaar, full quantity of subsidised foodgrains or cash transfer of food subsidy upon fulfilling the requirements laid down will have to be extended. Similarly, even in the case of failure of biometric authentication due to a technical glitch or poor biometric quality, the beneficiary will have to be provided the benefits on physical production of Aadhaar card along with the ration card.
All these cases - namely those without Aadhaar, Aadhaar not linked to ration card, or failure of biometric authentication - where benefits are being extended, will have to be recorded separately as "exceptions" by the fair price shop dealer.
Further, states will have to devise a mechanism of monthly audit and inspection, including field verification of such "exceptions" to guard against any "misuse".
It may be recalled that in the Jharkhand case, the activists have alleged that the girl in Simdega district died of starvation as her family's ration card was cancelled as it was not linked to Aadhaar.
Entertainment
A Death in the Gunj effortlessly underlined the terror of family vacations, where every minute feels like it is going to last an eternity and survival isn't an act of resilience as much an exercise in defeat.
India
Some political leaders tried to visit him but were politely turned away from the gates of Rajkamal Saraswati Vidya Mandir School, where Bhagwat is staying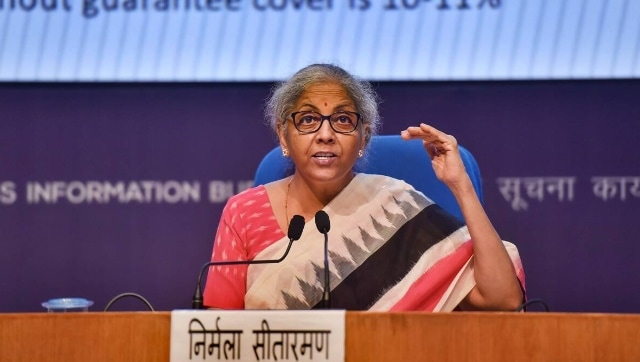 India
Sitharaman also said the Aadhaar linkage also helped in getting KYC-verified accounts.