Economy set to get demand boost as Met predicts 'above normal' monsoon in 2016
Easing fears over farm and economic growth after two consecutive years of drought, the IMD on Tuesday predicted 'above normal' monsoon this year.
Easing fears over farm and economic growth after two consecutive years of drought, the India Meteorological Department (IMD) on Tuesday predicted "above normal" monsoon this year.
"Monsoon rains will be above long-period average this year and the El Nino conditions will be seen diminishing by June and July," IMD said, adding that it will come out with the second stage of prediction in June.
Releasing its first monsoon forecast for the season, IMD Director General Laxman Singh Rathore said, "Monsoon will be 106 percent of the long period average (LPA). There is 94 percent probability that monsoon will be normal to excess this year. By and large, there will be fair distribution of monsoon across the country. But North-East India and South-East India, particularly Tamil Nadu, may get slightly less than normal rainfall."
Drought-hit Marathwada is also likely to receive "good" rainfall, Rathore added.
Anything less than 90 percent of the LPA is termed as a "deficient" monsoon and 90-96 percent of the LPA is considered as "below normal". Monsoon is considered as "normal" if the LPA is between 96-104 percent of the LPA.
"Above normal" monsoon is between 104-110 per cent of the LPA and anything beyond 110 per cent of the LPA is considered as "excess".
Agriculture, which contributes 15 per cent to India's GDP and employs about 60 per cent of the country's population, is heavily dependent on the monsoon as only 40 per cent of the cultivable area is under irrigation.
Due to poor monsoon in 2015-16 crop year (July-June), 10 states have declared drought and the Centre has sanctioned relief package of about Rs 10,000 crore to help farmers.
The forecast, which comes after two straight years of drought - is likely to boost the farm sector, which has been weighed down by subdued agriculture output and falling farmers' income.
Two back-to-back monsoon failures, 2015 being the hottest year on record, poor post-monsoon rain, an alarming depletion of reservoirs and a heat wave that's forecast to continue and even intensify — all this has changed the country's water economics drastically for farmers, households, businesses and hydropower.
On Monday India's only private weather forecaster Skymet, said that the annual monsoon rains are likely to be above average, snapping two straight years of drought that cut farm output and farmers' income. The July to September monsoon delivers nearly 70 percent of annual rains and waters half of India's farmlands that lack irrigation facilities.
Monsoon rains are expected to be 105 percent above a long-term average, with a 35 percent probability of above average rainfall, Skymet had said in a statement. The El Nino effect is likely to wane after monsoon hits the southern Kerala coast by the end of May, the statement said.
The annual weather phenomenon of monsoon accounts for as much as 75 percent of India's rains and over a half the agriculture sector's water needs. It is also singularly responsible for refilling the reservoirs, so crucial for our daily dose of water.
India receives annual rainfall of around 4,000 billion cubic metres, of which three-fourth comes in the four-and-a-half months of south-west monsoon. Of this, only 1,100 billion cubic metres is utilised. The rest flows away.
"The monsoon is likely to stay between 104 percent to 110 percent of the normal, and it is likely to have fair distribution across all parts of the country," Rathore said, adding the northeast and eastern coastal regions were likely to have slightly deficient rainfall.
Rathore also cautioned that more precise data can only come two weeks prior to onset of monsoon.
"In any case we keep an error of a plus-minus five percent. So there is a possibility of excess monsoon also. When we have more than normal monsoon, possibility of natural calamities like floods exceeds and such a situation can't be ruled out this year," Rathore said.
He said regions like some areas of Marathwada (region comprising south central Maharashtra) and Bundelkhand (which covers north-central Madhya Pradesh) were hit by a severe drought in the past harvesting season. This year, they are likely to have an ample monsoon.
"For the last 31 years years we have had deficient rainfall. But there are better days ahead," Rathore said, while not ruling out that weather conditions emanating from India's west and other climatic conditions outside the Indian peninsula may also impact on the actual rainfall.
Specifying the reasons for deficit monsoons all these years, IMD said that analysis of data suggests that El Nino conditions (irregularly occurring and complex series of climatic changes) over equatorial Pacific Ocean kept the rainfall below normal in Indian peninsula.
Thus, El Nino conditions that peaked already in last December and have been on weakening track since then are the primary reason for the likely increase in the South-west monsoon.
El Nino, or warming of sea-surface temperatures in the Pacific, can lead to scorching weather conditions across Asia and east Africa, but heavy rains and floods in South America.
India's west coast and central parts will get good rains, Skymet said, bringing in relief for farmers and policy makers, who are struggling with droughts and severe water scarcity in some regions.
Above average monsoon rains play a key role in boosting demand for an array of consumer goods, as 70 percent of India's 1.3 billion people live in villages.
Agriculture accounts for about 14 percent of India's $2 trillion economy, Asia's third-biggest, but it supports two-thirds of Indian's population.
State-run India Meteorological Department is expected to issue its forecast for this year's monsoon rains soon.
Separately, Farm Secretary Shobhana K Pattanayak said current climatic conditions indicate that El Nino is gradually fading and giving way to La Nina, indicating bountiful rains this year.
With inputs from agencies
India
The IMD has expressed the possibility of heavy rains in many states including West Bengal, Odisha and Jharkhand for the next two to three days due to Monsoon 2022
India
According to the IMD, a cyclone had started forming over over north and central Bay of Bengal on Saturday and under its influence, a low pressure area will form over the northwest part of the sea till Tuesday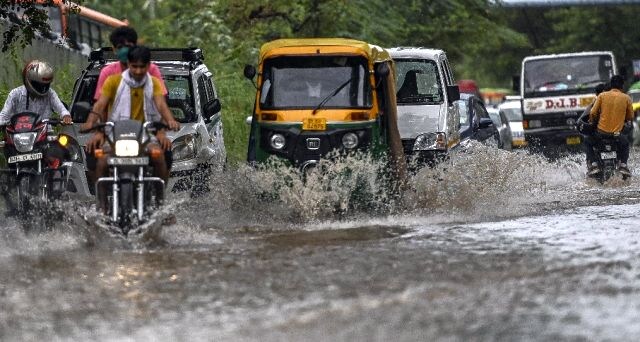 India
The IMD issued a 'yellow alert', cautioning people about moderate rain at most places in Delhi