Abhijit Iyer-Mitra gets bail after brief arrest in Delhi; journalist facing action for 'derogatory' video on Konark temple
Abhijit Iyer-Mitra's arrest could be in connection with his tweet from Sunday with a 'defamatory' video commentary from the Konark temple in Odisha.
Journalist and defence expert Abhijit Iyer-Mitra, who was briefly arrested in Delhi on Thursday, has been granted bail on a surety of Rs 1 lakh. A team of the Odisha Police had arrested him in the capital earlier in the day in connection with a case registered against him in Odisha. The police have asked him to join the investigation by 28 September.
Iyer-Mitra was held at Delhi's Nizamuddin Police Station. His lawyer had earlier said they had no idea what he was taken in for as they were not given a copy of the FIR. ANI quoted his legal counsel as saying: "He is being taken to Saket court for remand. We are going there to oppose it. We have not even been given a copy of the FIR, so we can't say what the offences are, who the complainant is or under what sections the case has been registered."
According to an Odisha TV report, the arrest was in connection with a 16 September tweet that Iyer-Mitra had posted. The tweet was a video commentary from the Konark temple. It said:
Odisha 9: my special message to you from the Konark temple expressing my utter disgust at this monumental conspiracy against the Hindu Civilisation pic.twitter.com/wJeqZPHRDk

— Abhijit Iyer-Mitra (@Iyervval) September 16, 2018
The video garnered heavy backlash, with legislators of the ruling Biju Janata Dal (BJD) and Opposition Congress on Tuesday demanding action against the journalist for what they said were "derogatory" remarks. Stating that Iyer-Mitra had "ridiculed" the sun temple, BJD MLA Sanjay Dasburma had said: "It (the video) is an insult to the state and its existence. Action should be taken against the man." Odisha TV reported that the Leader of Opposition in the Odisha Assembly and Congress member Narasingha Mishra had said: "There are two video clips that show a non-Odia, RSS man standing in front of the Konark Temple making comments... Abhijit Iyer's remarks have disrespected and hurt the sentiments of the people of Odisha and the Odia language. He should be summoned to the state, and the House should decide on the quantum of punishment." On Thursday, Speaker Pradip Amat accepted the privilege motion in the Assembly and allowed a discussion on the controversy in the House. Twitterati responded immediately to the news of Iyer-Mitra's detainment and spoke out in his support, condemning the police action. A Twitter movement is afoot, with #IStandWithAbhijit beginning to trend on the social media platform:
So Odisha Police has arrested my friend @Iyervval for his satirical humor because it "hurt religious sentiments". This is the other side of Indian democracy where religious sentiment supersedes and prevails over all other fundamental rights. We remain stuck in Middle Ages. Shame. — Aarti Tikoo Singh (@AartiTikoo) September 20, 2018
Apparently, Odisha Police has detained him without a warrant and no one knows his whereabouts.

— Aarti Tikoo Singh (@AartiTikoo) September 20, 2018
It was an immature thing to do. He may have been trying satire, & perhaps meant the opposite of what some ppl concluded, but sarcasm doesn't fit well w/religious & cultural sentiments, which call for sensitivity. Of course, it goes without saying i take pride in our heritage 🙏🏼 https://t.co/XSozxCU6lP — Baijayant Jay Panda (@PandaJay) September 18, 2018
#IStandWithAbhijit his video was of course a satire. He has made such Videos many times and we all have taken it as a joke. Don't know what is police thinking.

— Vikas Pandey (@MODIfiedVikas) September 20, 2018
These fruitcakes don't know who they are dealing with. @Iyervval would probably egg them on to make sure he is jailed and stuffed inside a striped jumpsuit. Then he will tweet on the nuances of prison cuisine from inside. STOP this nonsense and get to work. #IStandWithAbhijit pic.twitter.com/09lW4669kK — Anand Ranganathan (@ARanganathan72) September 18, 2018
This is terrible news. @Iyervval has been detained ??? Really !!!! For what ? For satire? Are we a police state ? #IStandWithAbhijit

— Samir Saran (@samirsaran) September 20, 2018
SHOCKING that @Iyervval has been detained by police *without* FIR or due process. I'm exploring legal/other options, but please raise your voice against this nonsense. #IstandwithAbhijit pic.twitter.com/Ft2Cha1XF5 — Anuraag Saxena (@anuraag_saxena) September 20, 2018
News & Analysis
The "Cyber Deals Sunday" livestream will be conducted on Twitter during the post-Thanksgiving weekend, which is traditionally associated with huge offers all around.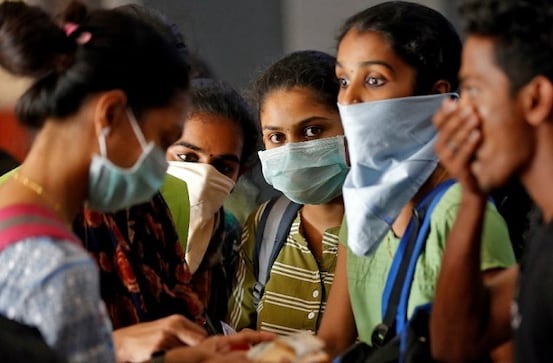 India
The alarming reports come in the backdrop of declining cases of COVID-19, India registered 9,119 cases on Thursday, and states starting to reopen the educational intuitions
India
Sammriddhi Sakunia and Swarna Jha have been accused of 'promoting enmity between different groups on grounds of religion' under Section 153-A and 'being a part of criminal conspiracy' under Section 120 (B) of the IPC