Abdul Karim Telgi dead: How the brains behind multi-crore fake stamp paper scam defrauded India
Abdul Karim Telgi, who was convicted for fake stamp paper racket, died on Monday at the Victoria hospital in Bengaluru, Karnataka
Abdul Karim Telgi, who was convicted in multi-crore fake stamp paper racket died on Thursday, according to several media reports.
Telgi was suffering from meningitis and was on ventilator.
56-year-old Telgi, who was implicated in a multi-crore scamm was serving his term in Parappana Agrahara Central Jail in Bengaluru after being sentenced to 30 years of rigorous imprisonment.
Between 1992 and 2002, 12 cases were registered against Telgi relating to counterfeit stamps in Maharashtra alone and 15 cases in other parts of the country, according to The Financial Express. His tentacles spread across 12 states.
Son of a Class 4 employee in the railways, Abdul Karim 'Lala' Telgi, was first arrested in 1991 by Mumbai Police for cheating. He previously worked as a travel agent in Mumbai, where he developed underworld links, according to a report in The Times of India.
According to the report, Telgi acquired a stamp paper licence in 1994 and procured machinery from Nashik Security Press declared as 'junk', using political connections.
Telgi and his cohorts made use of equipment discarded by the India Security Press (ISP) at Nashik and were able to get the assistance of technical personnel, both serving and retired, of the ISP.
They were also able to obtain raw materials, such as specialty paper needed for printing the documents from sources that supplied the ISP and affix the same security marks as used by the Security Press, The Hindu reported.
Telgi then started printing counterfeit stamp paper, judicial court fee stamps, non-judicial stamps, revenue stamps, special adhesive stamps, notarial stamps, foreign bills, brokers notes, insurance policies, share transfer certificates and insurance agency stamps, Frontline reported.
He used to sell the fakes to bulk purchasers, including banks, insurance companies, and stock brokerage firm business, according to The Financial Express. 
He merely filled the then present vacuum with his fake stamp papers. According to The Financial Express, he had appointed as many as 350 people as agents who sold the fakes to bulk purchasers.
His cover was blown, when in Janaury 2003, Assistant Commissioner of Delhi Police Vijay Malik passed on information about a fake stamp racket to his counterparts in Pune.
Police started tapping a number of phones which finally led to the kingpin's arrest in November 2003 in Ajmer, India Today reported.
According to the report, Telgi may have sold bogus stamps worth over Rs 20,000 crore in the past decade. His agents sold fake stamps worth Rs 50,000 every day.
Initial figures said that the fraud totaled Rs 2,000 crore. That already massive figure has steadily been increased, In some circles, the estimate goes up to Rs 26,000 crore and even to Rs 32,000 crore, according to The Hindu.
A couple of months before his arrest, he reportedly showered as much as the Rs 93 lakh on a bar girl in Mumbai's Grant Road, according to a report in The Times of India.
The case was registered by the Bund Garden police in Pune in June 2003. Police recovered fake stamps worth Rs 2,200 crore from Bhiwandi, Hindustan Times reported. The then government formed a Special Investigation Team (SIT) headed by a senior officer.
The SIT, in its report—called the Jaiswal report—indicated connivance of officials of the India Security Press at Nasik in the transfer of appropriate technology, including stamps.
However, no action was taken, the report added.
In 2005, sub-inspector Pratap Prabhakar Kakade, who was accused of not seizing the machine used for printing fake stamps and stamp papers, died under mysterious circumstances, The Times of India reported. Police arrested the medical officer and jail guards, who were later acquitted for lack of evidence.
A fine of Rs 202 crore was also imposed on Telgi. Some cases against him are still pending. He was lodged at the Central Jail at Parapana Agrahara in Bengaluru.
On 29 June, 2007, Telgi sentenced to 13 years rigorous imprisonment and a fine of Rs 202 crore was imposed, according to Hindustan Times. He was convicted for offences under Sections 255(counterfeiting government stamp), 256 read with 259 ( possession counterfeit government stamp), 468 read with 420 (forgery for cheating) and 120B of IPC(criminal conspiracy), according to The Times of India.
Forty-three other accused were sentenced to minimum of five years.
Crippled and ill, Telgi was said to be a loner. He hardly had any visitors to see him. His wife, who used to visit him regularly, had also stopped visiting him, India Today reported.
Recently, Telgi was in thick of controversy when former DIG (Prisons) D Roopa alleged that prison authorities were giving him preferential treatment in the prison.
In July 2017, a report by DIG (Prisons) D Roopa revealed that Telgi used to get special treatment at the jail, and was allotted three to four inmates to give him a body massage.
He was also being treated for AIDS.
With inputs from PTI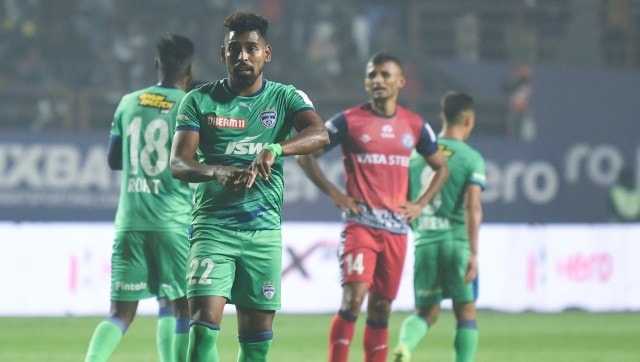 Football
The win puts Bengaluru FC in seventh place, three points ahead of Chennaiyin FC, and just one behind FC Goa.
World
Go First submitted a reply to the show cause notice on Wednesday and the same was examined by the DGCA