Talwar couple donate prison earnings of Rs 98,000 to fellow inmates, travel to Punjab a day after leaving Dasna jail
A day after being released from Dasna Jail in Ghaziabad, Rajesh and Nupur Talwar have left for Punjab where they will visit religious places.
A day after being released from the Dasna prison in Ghaziabad, Aarushi Talwar's parents Rajesh and Nupur left for Punjab to visit the Golden Temple, media reports said.
#NewsAlert - The Talwars have left for Punjab to visit religious places pic.twitter.com/ez5ewuoCga

— News18 (@CNNnews18) October 17, 2017
On Monday, the Talwars walked out of Ghaziabad's Dasna jail, where they had spent four years over the murder of Aarushi and their domestic help Hemraj. Rajesh and Nupur, both dentists, looked sombre as they stepped out of the main inner gate of the jail towards a car that was waiting for them outside at 4.55 pm.
Rajesh wore a white shirt and a pair of blue trousers, while his wife was dressed in an orange kurta, with a white salwar and dupatta. They both carried bags.
Aarushi's uncle Dinesh Talwar, along with lawyer Tanveer Ahmed Mir, reached the jail at 4.48 pm. Minutes later, the Talwar couple were out of the prison, with photographers and camerapersons milling around to capture them in their frames. The two stood still for a few seconds, before walking up to the car, escorted by Dinesh.
The police escorted the couple to the residence of Aarushi's maternal grandparents in Jalvayu Vihar in Noida. Nupur Talwar's father, BG Chitnis, was a former group captain in the Indian Air Force.

While in jail, the Talwars earned Rs 40 a day as their daily wages, according to The Times of India. While Rajesh spend 1,471 days in Dasna jail, Nupur was imprisoned for 1,451 days. Their total earning amounted to over Rs 98,000, the entirety of which they pledged to their fellow inmates.

The reports also stated that while Rajesh worked at the dental clinic in the jail hospital, Nupur did stitching and tailoring apart from helping out women patients at the dental clinic.
Dinesh later spoke to the media and said that the dentist couple were in no position to speak to the media. "The pain of losing Aarushi can never go away and the grief over her loss, which was somewhere bottled up, will now come to the fore. They are not in a position to talk," he told reporters.
"Aarushi and Hemraj's names were linked in this story. It was not only her parents who had been branded guilty but it was also Aarushi who was meted out the same treatment. Even Hemraj was held guilty. At this point, we can say none of them was guilty," he said.
Convicted of the double murder, the Talwars were lodged in jail in 2013 and freed only after the Allahabad High Court on 12 October acquitted them.
With inputs from PTI
India
The development came after the Allahabad High Court on Monday dismissed a plea against proceedings initiated by the Uttar Pradesh government to take over the university land for non-adherence to certain conditions on which it was granted to a trust in 2005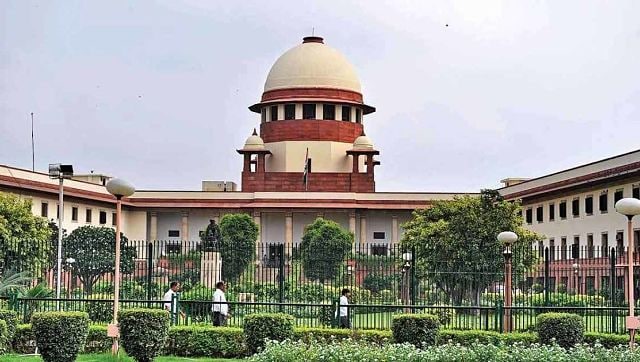 India
An apex court bench of justices M R Shah and Aniruddha Bose said it is up to the employer to shift the staff considering the requirement
Politics
The FIR against the AIMIM chief was registered Thursday night at Barabanki city police station after his party's rally