AAP vs Delhi chief secretary updates: Arvind Kejriwal says L-G assured to act on bureaucrats' protest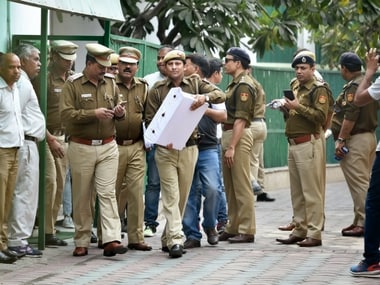 18:06 (IST)

AAP says list of bureaucrats who haven't been attending meetings submitted to L-G

हमने LG साहब को बताया की कैसे इन 2-3 दिनों में अफसरों ने मीटिंग अटेंड नहीं करी,
उन्होंने हमारे फ़ोन भी नहीं उठाये,
हमने LG साहब को मीटिंग नहीं अटेंड करने वाले अफसरों की लिस्ट भी सौंपी है - @msisodia pic.twitter.com/Z3BCAgaXr3

— AAP (@AamAadmiParty) February 23, 2018

17:50 (IST)

Arvind Kejriwal tweets over bureaucrats' protest after meeting with L-G

Officers not attending meetings for last 3 days. Governance suffering. I m v concerned. LG assured he will take all steps to ensure officers started functioning normally. Council of ministers assured him all cooperation. All of us need to work together for betterment of Delhi

— Arvind Kejriwal (@ArvindKejriwal) February 23, 2018

17:40 (IST)

L-G assured to talk to officers over matter, says Manish Sisodia

"Arvind Kejriwal informed L-G how bureaucrats are striking work completely. We have asked whatever is necessary for Delhi. Kejriwal and other ministers said that we will ensure that no untoward incident takes place. We will take whatever step is necessary. The way L-G assured, I think he is viewing the matter from the point of view of entire Delhi," says Deputy Chief Minister Manish Sisodia.

17:36 (IST)

Manish Sisodia addresses press conference

17:22 (IST)

Have advised Arvind Kejriwal Cabinet to take steps to remove mistrust among govt employees, says L-G Anil Baijal

Met Hon'ble CM @ArvindKejriwal & his cabinet colleagues. Strongly condemn the recent unfortunate incidents. Advised elected Govt. to take steps to remove mistrust with Govt. employees so that development of Delhi is not affected. No place for violence in democracy.

— LG Delhi (@LtGovDelhi) February 23, 2018

17:09 (IST)

Arvind Kejriwal arrives at L-G Anil Baijal's home

Delhi Chief Secretary alleged assault case: Delhi CM Arvind Kejriwal arrives at the residence of LG Anil Baijal. pic.twitter.com/zeQJH1XDA7

— ANI (@ANI) February 23, 2018

17:03 (IST)

Council of ministers arrive at L-G residence in Delhi for meeting; Satyendra Jain, Manish Sisodia among those present, reports CNN-News18

16:57 (IST)

AAP leader Atishi Marlena speaks on the alleged assault of Anshu Prakash at Arvind Kejriwal's residence

Even if one stretches one's imagination to believe that the CM wanted to get the Chief Secretary beaten up, would he call him to his own house: @AtishiMarlena pic.twitter.com/IZnk1cVwOM

— AAP (@AamAadmiParty) February 23, 2018

16:39 (IST)

Union minister Jitendra Singh assures 'necessary steps' by Centre in Delhi chief secretary assault case

A delegation of IAS officers working under the Delhi government met Union minister Jitendra Singh on Friday and put forward their grievances following the alleged attack on Delhi chief secretary Anshu Prakash.

"We have heard the members of the delegation. We took cognisance of all the grievances and concerns raised by them and necessary steps would be taken on it," Singh told reporters after the meeting.

He said the officers wanted to officially register their grievances with the personnel ministry, which is the cadre controlling authority of the Indian Administrative Service (IAS).

Delhi IAS officers association secretary Manisha Saxena said the minister has assured full cooperation. "He said he is overseeing the developments, and action, as per the law, will be taken. He said they will take every step to protect and uphold the dignity of the civil servants," Saxena said.

16:28 (IST)


Arvind Kejriwal to address media after meeting L-G at 5 pm, reports CNN-News18

16:23 (IST)

An MLA would only assault a bureaucrat when he wants to make him do something wrong, Congress' Ajay Maken tells CNN-News18

​

16:18 (IST)

IAS officers' delegation says won't attend L-G meet with Arvind Kejriwal, reports India Today

16:14 (IST)

Search at Delhi CM's house: 7 CCTV cameras found not working

Delhi Police, which searched Chief Minister Arvind Kejriwal's residence on Friday for CCTV footages in connection with the alleged assault on Chief Secretary Anshu Prakash, said no cameras were installed in the room where the incident reportedly took place.

A senior police officer said they would go about the investigation based on the coverage by cameras installed in the corridor and added that seven of the 21 CCTV cameras in the house were not functioning.

"Going by the coverage by CCTV cameras outside the drawing room and in the corridor, we will try to understand the movement of people before and after the incident," Additional Deputy Commissioner of Police (DCP) Harendra Kumar Singh said.

"The time of cameras at the chief minister's residence was running behind by 40.43 minutes," he said, adding that hard disks of the cameras had been seized.

IANS

16:08 (IST)

AAP slams Delhi Police over raid at Arvind Kejriwal's house

Soon after the Delhi Police raided Chief Minister Arvind Kejriwal's residence to look for evidence in connection with the alleged assault on Chief Secretary Anshu Prakash by AAP legislators, party leaders slammed the police in a press conference.


AAP leader Sanjay Singh said that only on the basis of a person's account, the Delhi Police has arrested two legislators and reached the chief minister's place. He also asked if the Delhi Police is dancing to the tunes of the BJP.

Party leader Ashutosh said that the aim of the Delhi Police was only to humiliate.

15:51 (IST)

Court rejects bail plea of Amanatullah Khan, Prakash Jarwal

Delhi Chief Secretary alleged assault case: Delhi's Tis Hazari Court rejects bail plea of AAP's Amanatullah Khan and Prakash Jarwal. Both to remain in judicial custody.

— ANI (@ANI) February 23, 2018

15:49 (IST)

Delhi L-G meets AD DCP North before meeting AAP MLAs, reports CNN-News18

15:26 (IST)

AAP MLA Naresh Balyan says babus who don't work should be beaten up

#WATCH: While addressing a rally in Uttam Nagar, AAP MLA Naresh Balyan says, 'jo Chief Secy ke sath hua, jo inhone jhootha aarop lagaya, main to keh raha hu aise adhikariyo ko thokna chahye, jo aam aadmi ke kaam rok ke baithe hain aise adhikariyo ke sath yahi salook hona chahye.' pic.twitter.com/BDamX7TJGe

— ANI (@ANI) February 23, 2018

15:16 (IST)

Delhi L-G to meet AAP MLAs at 5 pm on Friday, reports CNN-News18

18:11 (IST)

Amantullah Khan, Prakash Jarwal sent to judicial custody for 14 days

AAP's Amanatullah Khan and Prakash Jarwal sent to judicial custody for 14 days in connection with alleged assault on Delhi Chief Secretary Anshu Prakash.

— ANI (@ANI) February 22, 2018

20:09 (IST)

Copy of FIR filed over alleged manhandling of Delhi chief secretary at Arvind Kejriwal's residence

Alleged assault of #Delhi Chief Secy Anshu Prakash: FIR lodged under Sections 186 (obstructing a public servant from performing the duty), 353 (assaulting a public servant), 323 (voluntarily causing hurt), 342, 504, 506(2) & 120b & 34. pic.twitter.com/NL3kytA0jY

— ANI (@ANI) February 20, 2018

20:07 (IST)

Delhi Police says two cases registered in matter

Another complaint has been filed by a Delhi Minister where he has said that he was assaulted while he was taking the lift in Delhi Secretariat. We have registered case, investigation initiated: Deependra Pathak,Delhi Police Spokesperson pic.twitter.com/gEsndnozXf

— ANI (@ANI) February 20, 2018

20:01 (IST)

CCTV footage from Arvind Kejriwal's residence

Video procured by Pallavi Rebbapragada

19:12 (IST)

Uttar Pradesh chief minister Yogi Adityanath slams AAP govt

What happened is unfortunate & sad, running a govt is team work no one can have a monopoly in it, you cannot make anyone sign anything forcefully. The way AAP is working is not how a govt is run, they are working like a 'giroh': UP CM on alleged assault of #Delhi Chief Secy pic.twitter.com/utyeuP6HES

— ANI UP (@ANINewsUP) February 20, 2018

18:50 (IST)

Visuals from IAS officers' protest in Rajghat

Alleged assault of Delhi Chief Secy Anshu Prakash: IAS Association takes out candle light protest march at Rajghat pic.twitter.com/LSTPpg7wUz

— ANI (@ANI) February 20, 2018

18:43 (IST)

Details of FIR lodged by Anshu Prakash

Alleged assault of #Delhi Chief Secy Anshu Prakash: FIR lodged under Sections 186 (obstructing a public servant from performing the duty), 353 (assaulting a public servant), 323 (voluntarily causing hurt), 342, 504, 506(2) & 120b & 34.

— ANI (@ANI) February 20, 2018

18:24 (IST)

Delhi BJP workers protest outside Arvind Kejriwal's residence

Alleged assault of #Delhi Chief Secy Anshu Prakash: BJP workers continue protest near Delhi CM Arvind Kejriwal's residence. pic.twitter.com/QKDusefp5f

— ANI (@ANI) February 20, 2018

18:22 (IST)

Ashish Khetan says Thursday's events against AAP orchestrated by BJP

11 AM: News is planted that CS was manhandled; 12 noon: Office bearers of IAS Officers Assoc & allied services start giving statements against AAP Govt; 1 PM: Imran Hussain & I are attacked at Secretariat; 4 PM: HM gives a political statement. Isn't this all orchestrated by BJP?

— Ashish Khetan (@AashishKhetan) February 20, 2018

18:19 (IST)

Chief Secretary Anshu Prakash's letter to Delhi Police (5/5)

"5. I request you to take action as per law as the assault was premeditated and in conspiracy of all present with intention to criminally intimidate, cause hurt with motive to deter me from discharge of my lawful duty and compel me to follow unlawful directions. None of the persons present in the room made any effort to save me."

18:18 (IST)

Chief Secretary Anshu Prakash's letter to Delhi Police (4/5)

"4. The MLAs started shouting at me and abused me while blaming me and the bureaucracy for not doing enough for publicity of the government. One MLA, whom I can identify threatened that I will be confined in the room entire night unless I agree to release TV campaign. A threat was made that I will be implicated in false cases including under the SC/ST Act. The MLAs whom I can identify became more aggressive and abusive extending threat to my life. Then suddenly Amanatullah Khan, MLA and the person/MLA on my left side, whom I can identify, without any provocation from my side, started hitting and assaulting me and hit several blows with fists on my head and temple. My spectacles fell on the ground. I was in a state of shock. With difficulty I was able to leave the room and get into my official car and leave the chief minister's residence. At no stage did I retaliate or provoke any person in the room despite confinement, criminal intimidation by extending threat to my life, and assault by several MLAs while I was discharging my official duties."

18:17 (IST)

Chief Secretary Anshu Prakash's letter to Delhi Police (3/5)

"3. On my arrival at chief minister's residence, I met Sri VK Jain, Advisor to Chief Minister, and thereafter both of us were taken to the front room where Chief Minister Arvind Kejriwal and Deputy Chief Minister Manish Sisodia and around 11 MLA's/persons were present. The chief minister told me that persons present in the room was MLAs and they had come to ask him about government's publicity program on completion of three years. One of the MLAs firmly shut the door of the room. I was made to sit in between Amanatullah Khan and another person/MLA on a 3-seater sofa. The chief minister directed me to answer the MLAs and explain the reason for the delay in release of the TV campaign. I explained to them that the officers were bound by the guidelines laid down by the Supreme Court and advertisement to be released must be in consonance with the said guidelines."

18:15 (IST)

Chief Secretary Anshu Prakash's letter to Delhi Police (2/5)

"2. Advisor to the Chief Minister again called me around 11.20 pm to confirm that I have left for chief minister's residence for the meeting. Thereafter I left my residence in my official car and driver along with my PSO and reached chief minister's residence at midnight."

18:14 (IST)

Chief Secretary Anshu Prakash's letter to Delhi Police (1/5)

"1. On Thursday, i.e on 19 February, I was informed on the telephone around 8.45 pm by Advisor to Chief Minister VK Jain that I have to reach Chief Minister Arvind Kejriwal's residence at midnight to discuss with chief minster and his deputy the issue of difficulty in release of certain TV advertisement relating to completion of 3 three years of current government in Delhi. I suggested that the meeting could be held on 20 February morning. However it was reiterated by Advisor to Chief Minister at 9 pm and again at around 10 pm that the meeting has been scheduled by the chief minister at midnight. Prior to this message from Advisor to Chief Minister, and the deputy chief minister had also called me around 6.55 pm and had informed if the matter of release of TV advertisement is not resolved by evening, I should reach chief miniserresidence at midnight to discuss the issue. I had already explained to the deputy chief minister earlier that any advertisement to be released should not be in contravention of Supreme Court guidelines."

18:07 (IST)

Former Delhi chief minister Sheila Dikshit slams AAP over the alleged manhandling of chief secretary

Sad situation when the Chief Secy is being manhandled by MLAs, its totally unacceptable and very very wrong, makes it worse if the CM was present there. CM himself has been a civil servant,did he ever do this? Or what if this happened to him? Shameful: Sheila Dikshit,Congress pic.twitter.com/6ZQOLiHezV

— ANI (@ANI) February 20, 2018

17:26 (IST)

Exclusive details from chief secy's letter; 'AAP MLA rained blows on my head, left me in state shock'

17:01 (IST)

AAP questions discrimination by Centre

At a press conference, the Aam Aadmi Party leaders said that the CCTV footage from Arvind Kejriwal's residence shows that Chief Secretary Anshu Prakash left the premises without showing signs that he was attacked. "It is clearly seen in the footage that one of our leaders went after Prakash, requesting him to come back to the meeting," they said.

AAP leader Atishi Marlena said that Delhi Cabinet minister Imran Hussain was given the date of 23 February by Rajnath Singh's offfice when he tried to fix a meeting with him. "Why are we being discriminated against," she asked.

CCTV फुटेज में आप साफ़ देख सकते है की हमारा एक विधायक CS से हाथ जोड़कर कह रहा है की वापस मीटिंग में आ जाइये।

हमारे मंत्री इमरान ने जब HM से मिलने का समय मांगा तो उन्होंने कहा की हम आपको 23 फरवरी का मिलने का समय देते है,
इतना भेदभाव क्यों हमारे साथ हो रहा है - @AtishiMarlena pic.twitter.com/KJVjCzoKAl

— AAP (@AamAadmiParty) February 20, 2018

16:52 (IST)

AAP leader Ashish Khetan say 'busy' Rajnath Singh won't be able to meet him

I just received a call from Hon'ble HM @rajnathsingh ji's office. I have been told that HM is very busy and he wont be able to meet me.

— Ashish Khetan (@AashishKhetan) February 20, 2018

16:30 (IST)

Ashish Khetan says AAP leaders being threatened over law and order

रात को जो घटना हुई उसमें 2 पक्ष है,
एक तरफ CS है तो दूसरी तरफ जनता के प्रतिनिधि,
इस मामले की भी निष्पक्ष जाँच होनी चाहिए,
हमे धमकियाँ मिल रही है की सरकार नहीं चलने दी जाएगी।लेकिन जनता के पैसे से घर चलाने वाले लोग दिल्ली की जनता के बारे में क्यों नहीं सोचते है? - @AashishKhetan

— AAP (@AamAadmiParty) February 20, 2018

16:28 (IST)

Ashish Khetan slams Rajnath Singh for tweeting in support of chief secretary

देश के गृह मंत्री ने अपने ट्वीट में ही फैसला कर लिया की कौन दोषी है, पहले उन्हें निस्पक्ष जाँच करनी चाहिए थी,
उन्होंने सिर्फ एक पक्ष सुनकर फैसला सुना दिया है - @AashishKhetan pic.twitter.com/T5zOtU08UD

— AAP (@AamAadmiParty) February 20, 2018

16:24 (IST)

Ashish Khetan says riot-like situation in Delhi Secretariat

It was a riot like situation, a crowd had gathered who became violent and even raised slogans, we don't know who they were. Everything is on CCTV,will be clear from it. Police were mute spectators: Ashish Khetan,AAP on alleged assault of Delhi Chief Secy Anshu Prakash pic.twitter.com/YouuzJusVK

— ANI (@ANI) February 20, 2018

16:15 (IST)

AAP MLA says complaint lodged against Anshu Prakash over remarks against Dalits

We have lodged a complaint with SC/ST Commission against the casteist comments made by the Delhi Chief Secretary: Prakash Jarwal,AAP MLA pic.twitter.com/ujNy1LMya4

— ANI (@ANI) February 20, 2018

16:07 (IST)

Watch: IAS Association chief says Rajnath Singh gave delegation 'sympathetic hearing'

Speaking to CNN-News18, Manisha Saxena said that Delhi chief secretary Anshu Prakash narrated the incident to Home Minister Rajnath Singh during the meeting. "We have decided to stage a candle march at 6.30 pm at Rajghat on Tuesday. The officers will not strike work," she said.

HM Rajnath Singh gave us a very sympathetic hearing and has assured that action will be taken: Manisha Saxena, IAS Association Chief on #AAPvsBabus @AamAadmiParty. CNN-News18's @Arunima24 with more details. pic.twitter.com/dKAo6489OV

— News18 (@CNNnews18) February 20, 2018

15:59 (IST)

AAP hits out at Rajnath Singh over tweet condemning AAP-chief secretary row

Were u pained when Sr IAS officer's daughter was molested by ur own BJP Haryana Chief's son ?
U never tweeted ur pain though. https://t.co/r6Cy4W0b5x

— Saurabh Bharadwaj (@Saurabh_MLAgk) February 20, 2018

15:53 (IST)

Delhi Subordinate Services president says won't resume work until govt acts

Till action is not taken we are not going to resume work. Today we will take out a candle march at Rajghat in protest. HM has said he has asked for a report: DN Singh, Delhi Administrative Subordinate Services President on alleged assault of Delhi Chief Secy Anshu Prakash pic.twitter.com/VJ63U65Xw1

— ANI (@ANI) February 20, 2018

15:43 (IST)

Rajnath Singh 'deeply pained' by AAP-chief secretary row

The MHA has sought a report on the incident from the Lieutenant Governor of Delhi. Justice will be done. A delegation of IAS DANICS & Subordinate Services of Delhi Government met me today and apprised me of the prevailing situation.

— Rajnath Singh (@rajnathsingh) February 20, 2018

15:41 (IST)

AAP leader Ashish Khetan asks how mob of 200 people gathered inside Delhi Secretariat

Following reports of a mob gathering in the Delhi Secretariat, AAP leader Ashish Khetan told CNN-News18 that he managed to escape the crowd which was shouting, "Maaro Maaro". "How did a mob of 200 gather inside Delhi Secretariat," he asked.

15:36 (IST)

Watch: Mob gathers inside Delhi Secretariat

VIDEO: Mayhem inside Delhi Secretariat.. Mob cab be heard shouting 'Maro Maro'..The extreme left elevator is where @AashishKhetan & @ImranHussaain were allegedly assaulted. Big Question is how did so many people enter Secretariat which is guarded by Delhi Police pic.twitter.com/4HsjJJ8Ph6

— Ankit Tyagi (@Ankit_Tyagi01) February 20, 2018

15:25 (IST)

Chief Secretary Anshu Prakash lodges complaint to Delhi DCP, reports CNN-News18

15:23 (IST)

MoS Ram Kripal Yadav condemns 'reprehensible act'

I strongly condemn the physical assault on Delhi Chief Secretary by AAP MLA's in presence of CM #Kejriwal. I ve personally known Sh Anshu Prakash for a while now. He is one of the finest officer wid impeccable integrity & high sense of dedication to work. It's a reprehensible act

— Ram Kripal Yadav (@ramkripalmp) February 20, 2018
Latest updates: After Chief Minister Arvind Kejriwal and his council of ministers met Lieutenant-Governor Anil Baijal over the alleged assault of Delhi chief secretary, Baijal tweeted that he has advised them to "remove mistrust" among government employees. Meanwhile, a Delhi court has rejected the bail applications of Amanatullah Khan and Prakash Jarwal.
A Delhi Police team was on Friday sent to Chief Minister Arvind Kejriwal's residence in the Civil Lines area for collecting evidence related to an alleged assault on Chief Secretary Anshu Prakash by AAP MLAs, an official said.
"A police team has been sent to the chief minister's residence for collecting all evidence, including CCTV footage, in connection with the alleged assault on the Delhi chief secretary," Additional DCP, North Delhi, Harinder Singh said.
Reacting to it, Kejriwal said, "A huge posse of policemen was sent to my residence. The entire chief minister's residence is being searched over allegations of two slaps."
"But when will Amit Shah be questioned in connection with Judge Loya's death," he asked on Twitter.
Kejriwal said his council of ministers had sought an appointment with Lieutenant Governor Anil Baijal on the matter.
"As the services come under the L-G in Delhi, the council of ministers will request him to direct all bureaucrats to work with the AAP government even as the probe into the alleged assault on the chief secretary continues," an official said.
According to Delhi government spokesperson Arunodya Prakash, 60-70 policemen entered the chief minister's office "without any intimation".
"There is minimum courtesy in democracy. Every citizen has rights under constitution. Is it an attempt to humiliate a chief minister who is working tirelessly for the poor and the last man of the society?" he tweeted.
AAP legislators Prakash Jarwal and Okhla MLA Amantullah Khan were arrested by the police on Wednesday in connection with the alleged assault on the Delhi chief secretary during a meeting at Kejriwal's residence on Monday night.
Firstpost is now on WhatsApp. For the latest analysis, commentary and news updates, sign up for our WhatsApp services. Just go to Firstpost.com/Whatsapp and hit the Subscribe button.
Updated Date: Feb 23, 2018 20:02:22 IST