AAP accuses environment minister Harsh Vardhan of 'misguiding' people over mass cutting of trees in Delhi
Asserting that the documents accessed through ministry's website showed that the environmental impact assessment for the project was merely theoretical, the AAP leader said, 'It is theory only and no assessment. It pays no attention to groundwater level and pollution level in areas covered under the project.'
New Delhi: The Aam Aadmi Party on Wednesday accused union environment minister Harsh Vardhan of "misguiding" people over the plan to cut down over 16,500 trees in the national capital for the redevelopment of seven colonies, claiming that his ministry had given environment clearance to the project.
AAP spokesperson Saurabh Bhardwaj claimed that the environmental impact assessment report for the project was approved by the Ministry of Environment Forest and Climate Change and no public hearing was held on it. "Harsh Vardhan has misguided the people of Delhi as he said that the Central government has nothing to do with the cutting of trees. It was his ministry that approved the environmental impact assessment and notified environment clearance to the project," he said.
Asserting that the documents accessed through ministry's website showed that the environmental impact assessment for the project was merely theoretical, the AAP leader said, "It is theory only and no assessment. It pays no attention to groundwater level and pollution level in areas covered under the project." The people of the affected colonies were caught unaware about the large number of the felling of trees as there was no public hearing before the project, he claimed, adding, "According to papers the public hearing was held on 1 January, 1900 which is impossible. It seems ghosts attended it 118 years ago."
Bhardwaj further alleged that the project was aimed at developing "commercial properties" instead of providing residential accommodation. "The brochure of the project details how it will be a commercial property. It states that there will be a World Trade Centre, conference facilities and prime marketing spaces under it," he said.
The redevelopment project, involving seven colonies in south Delhi, is embroiled in blame game involving the AAP and BJP, while locals, activists and environmentalists hugging trees, launching their own "Chipko Movement", a forest conservation movement where people embraced trees to prevent them from being cut in Uttarakhand (then Uttar Pradesh) in the 1970s.
The Delhi High Court on 25 June questioned the move of felling over 16,500 trees for the project. Taking note of the views expressed by the court which appeared inclined to order an interim stay of the tree chopping process, the National Buildings Construction Corporation (NBCC), tasked with redeveloping half a dozen south Delhi colonies, agreed not to cut any tree till 4 July when the case will come up again for hearing by the court.
Politics
The idea of Nehru is in crisis today while the idea of Swami Prabhu Dutt Brahmachari, who lost the 1952 polls, has gradually expanded and emerged powerful after 1970s
Politics
The event is part of Congress' 'Pratigya Sammelan-Lakshya 2022' campaign aimed at invigorating party cadre to carry Congress legacy and poll promises to the people of poll-bound Uttar Pradesh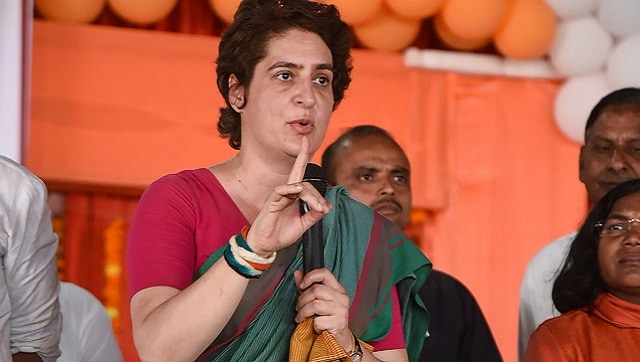 India
The Congress leader said if her party comes to power in Uttar Pradesh, then the entire loan of farmers will be waived and women will be given three gas cylinders free of cost in a year