A whistleblower and a social worker: Meet Magsaysay awardees Sanjiv Chaturvedi and Anshu Gupta
Here's an all you need to know about the awardees.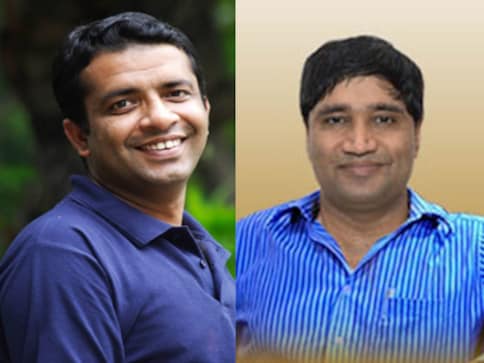 Harsh Pareek and Neerad Pandharipande
Whistleblower Indian forest officer Sanjiv Chaturvedi, who was removed from the post of Chief Vigilance officer at AIIMS, and founder of NGO Goonj Anshu Gupta are the two Indians selected for this year's Ramon Magsaysay Award.
If you are unfamiliar with their work, here's all you need to know about the awardees.
Sanjiv Chaturvedi
On Wednesday, Sanjiv Chaturvedi, the former Chief Vigilance Officer (CVO) at AIIMS was named for the Ramon Magsaysay Award for 2015.
In its release, RMAF said,"Sanjeev Chaturvedi is being recognised for his exemplary integrity, courage and tenacity in uncompromisingly exposing and painstakingly investigating corruption in public office, and his resolute crafting of program and system improvements to ensure that government honourably serves the people of India."
An officer of the Indian Forest Service (IFS), Chaturvedi unearthed scams in every place of posting. According to a profile by the Hindu, today he is one of the most sought after speaker on 'Anti-corruption Strategies' for probationers at the IAS, IPS and IFS training academies.
In 2005, while posted in Kurukshetra, Chaturvedi halted work on a canal being built illegally in Saraswati Wildlife Sanctuary. He demanded action against MLA Prahlad Singh Gillakhera whose relatives were buying rare trees for their gardens with crores from the state exchequer, reports Tehelka. The result: he was given a severe warning and transferred.
In August 2007, he was suspended for insubordination and also served a charge sheet for dismissal from service. This was reversed five months later, by a Presidential order that termed the grounds for his suspension as "unjustified."
In 2009, Chaturvedi went on to expose large-scale bungling in plantation projects funded by the Centre and international agencies in Jhajjar and Hissar divisions.
Around 40 field staff were chargesheeted based on the evidence, and since the scandal broke in the midst of the 2009 Lok Sabha election campaign, Chief Minister Bhupinder Singh Hooda's son, Deepender Singh Hooda, in whose constituency Jhajjar falls, was hugely embarrassed, reports the Hindu.
Five months later Chaturvedi suspended the foresters, Sanjiv Tomar, a range officer, was found dead at his home in Jhajjar. The police lodged a case against Chaturvedi for abetting suicide. An internal police inquiry found no evidence to implicate Chaturvedi but the inquiry report was not filed before the trial court.
In 2012, Ram Pal Tomar, father of Shanjiv Tomar stated before the IG of Police, Rohtak that his son had committed suicide because he had been suspended by Chaturvedi. The case was reopened.
He was relieved by the Central government against the wishes of the Haryana government, and in June took over as the Chief Vigilance Officer of the All India Institute of Medical Sciences at Delhi.
He was also given the additional charge of Chief Vigilance Officer (CVO) at AIIMS.
In 2014, Chaturvedi again stirred up a storm. He was relieved from the additional charge of CVO, although he continued to retain the Deputy Director post at AIIMS.
"On the one hand, the prime minister has declared, 'Na khaoonga, na khaane doonga' and on the other hand, in the most prestigious medical institute in the country, right here in Delhi, certain corrupt elements succeed in achieving what they could not in the past two years," wrote Chaturvedi in a letter to the new health minister Harsh Vardhan of Bharatiya Janata Party (BJP), alleging that his removal from the CVO post was a result of campaign by corrupt officials.
AIIMS staff expressed support for him in public; the Aam Aadmi Party held protests backing him; the AIIMS students union demanded his reinstatement; the media too pleaded his case. As a forest service officer, Chaturvedi comes under the Union environment ministry. It has given him a clean chit in a letter to the health ministry, where he is on deputation, reports the Outlook.
On 2015, after taking office in Delhi, Arvind Kejriwal wrote to the Center seeking the services Chaturvedi for his measures against corruption, as his officer on special duty (OSD). The decision is still pending with the Center.
Anshu Gupta
An unusual visit to Purani Delhi on a cold December night changed life for Anshu Gupta, founder of Goonj, whose name has been announced on Wednesday as a Ramon Magasaysay award winner. In an interview with Business Standard in May last year, he described the experience of accompanying an "unclaimed body collector" to collect the dead body of an old man.
The man, who was wearing only a thin cotton shirt and seemed to have died of the cold. That is when Anshu decided to work on humanitarian aid and clothing for underprivileged people, described by his NGO's website as "a basic but unaddressed need".
The NGO, Goonj, works on humanitarian aid and community development in 21 states of India. It seeks to bridge the gap between extreme poverty and affluence, by making discarded material from well-off people a resource for those living in poverty. The organization has now been working for 16 years. It is now said to deal with more than 1000 tonnes of material every year-not just clothes, but also school material, furniture and electronic items.
According to a DNA report, Gupta has been honoured with the Magasaysay award for his "creative vision in transforming the culture of giving in India, his enterprising leadership in treating cloth as a sustainable development resource for the poor, and in reminding the world that true giving always respects and preserves human dignity."
Possibly one of the best-recognized initiatives which Goonj is associated with is the Joy of Giving week, which is organized around Gandhi Jayanti. The initiative encourages people to give under-utilized material for the benefit of underprivileged sections.
According to Gupta's profile on Goonj's website, he founded the organization after leaving a corporate job in 1998. Earlier, he had studied mass communication and economics.
His profile on the website of Ashoka India, which awarded him a fellowship in 2004 speaks about his early humanitarian work after an earthquake in Uttarkashi in 1991. The organization points out that over the years, he "established a culture of sustained donations in India" through his deceptively simple idea of "sharing the surplus of wealth".
also read
India
The Supreme Court announced a six-week interim bail to former Delhi minister Satyendar Jain on medical grounds. The AAP leader, who has been in prison since last May, was admitted to the ICU of LNJP Hospital after he collapsed inside Tihar jail
Politics
Congress leaders have also said if the ordinance does not go through, Kejriwal would get a unique privilege that had been earlier denied to Delhi Chief Ministers like Sheila Dikshit, Madan Lal Khurana, Sahib Singh Verma, and Sushma Swaraj
India
A senior Punjab Police official informed that the cop has been sent to the Police Lines and a departmental inquiry was ordered against him