8 years after Swami Laxmanananda Saraswati's killing, Kandhamal is still a ticking time bomb
On the night of 7 June this year, suspected Christian fanatics broke into a small Hindu temple in Daringbadi in Odisha's Kandhamal district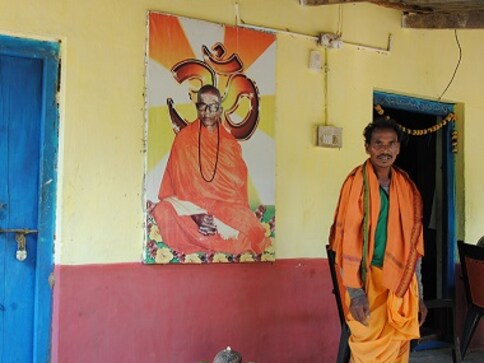 Kandhamal: On the night of 7 June this year, suspected Christian fanatics broke into a small Hindu temple in Daringbadi in Odisha's Kandhamal district. The 'Ma Bana Durga' temple, which the locals say was at least 50 years old, was just a shrine under a tree till two months earlier when a proper brick-and-mortar structure was created around it.
On 22 June, the Vishva Hindu Parishad (VHP) organised a public meeting at the site of the broken shrine. A priest performed the puja, as people from the neighbouring villages began to pour into the site. They examined the damage, particularly standing for long in front of a portrait of the Goddess Durga, painted on the wall of the temple, now broken into pieces.
"There is no doubt that the Christian missionaries did this," said Minaketan Sahu, who had come to the site from a neighbouring area. "They are the ones who killed Swamiji, and now they have done this," he pointed at the rubble.
This was the second time the shrine/temple had suffered damage; earlier also, in 2007, when clashes erupted between two main ethnic groups of Kandhamal – the Panos (a Scheduled Caste community, a majority of them converted to Christianity) and the Kandha tribals (most of them converted to Hinduism), the shrine was vandalised.
Blood spills on Janmashtami
On the evening of 23 August, 2008, Swami Laxmanananda Saraswati, a much-revered Hindu leader of Kandhamal, entered his quarters in his ashram in Jalespata. It was the day of the Hindu festival of Janmashtami, and the evening celebrations were about to begin for which a pandal had been erected on the ashram grounds. The 82-year-old Saraswati wanted to take a little rest before he would attend the festivities.
Saraswati had come to Kandhamal 40 years ago in 1968. At the age of 25, after eight years of marriage and after working as a cook in places like Jamshedpur, he had decided to become a sanyaasi. He began to travel and finally settled in Rishikesh, where he learnt the Hindu scriptures.
In 1966, when Hindu organisations launched a major campaign to demand a ban on the slaughter of cows in India, Saraswati also took part in the agitation in Delhi. He was arrested along with many others and spent 18 days in Tihar Jail.
After he returned to Rishikesh, Kuldeep Maharaj, a sadhu, told him how Christian missionaries were active in Odisha, attracting 'lower-caste' Hindus to their fold. It was also the time when the VHP was becoming active — it had been formed two years earlier. After consultations with the VHP and the leaders of the Rashtriya Swayamsevak Sangh (RSS), Saraswati left for Odisha.
Saraswati went to the Kandhamal area, and within a year (1969), established his first ashram (with a boy's residential school) in Chakapad. Twenty years later, in 1989, a separate residential school for girls was opened in Jalespata.
There was blood all over and it smelled; it was as if I had entered an abattoir
As Saraswati retired to his room one August evening eight years ago, at 7.45 pm, Simachal Patra, one of the ten constables deployed by the Odisha Police for Saraswati's security, heard the sound of footsteps outside their tent in front of the ashram. The two other constables present in the tent at that time had eaten their dinner, and Patra was about to eat. One constable had ventured out after borrowing Patra's cellphone, to speak to his family. None of the policemen carried any firearms.
As Patra stuck his head out, he saw two men standing outside. One of them was carrying a gun, and it was pointed at Patra. When he looked to the side, Patra saw a group of armed men entering the ashram.
Around 20 masked men, wearing black uniforms, kicked the gate open and headed straight towards Saraswati's quarters, opening fire. As he heard the gunshots, Saraswati locked himself in the bathroom adjacent to his room and started shouting in Odia: "Save me, save me!" The gunmen broke into his room and killed two of his associates: Ma Bhaktimayi and Kishore Babu. Then they tore through the bathroom door and fired at Saraswati.
Another associate of Saraswati, Baba Amritananda, was shot dead in the adjacent room. One of the guardians of a girl student who happened to be in the guest room, Puranjan Gaunta, was killed as well.
Outside, the gun was still pointed at Patra's head. Then he saw a group of men running towards the main road shouting in Odia, "It is done, it is done!" At this moment the man holding Patra hostage threw a letter towards him, asking him to give it to reporters. And then he also ran into the street.
A local reporter who reached Jalespata soon afterwards says he can never forget what he witnessed inside Saraswati's quarters. "There was blood all over and it smelled; it was as if I had entered an abattoir," he recalled...
World
Many provisions of Indonesia's new criminal code are dangerously vague and wide in their scope, which empowers the State at the expense of citizens. The provisions that impose conservative moral values about sexuality and those that limit freedom of expression have received the most criticism
India
Citing an example of China on the issues, he said that the neighbouring country implemented 'one child policy' in 1979 and has developed itself
Politics
After the BJD tasted its first bypoll defeat since 2009 earlier this month, the 5 December by-election to the Padampur Assembly seat in Odisha has become a prestige issue for the ruling party which is going all out to retain the constituency