Five-year-old dies after being hit by Uttar Pradesh minister's convoy, Yogi Adityanath orders probe
The convoy of a senior Uttar Pradesh minister ran over a five-year-old boy near Colonelganj in the state's Gonda district on Saturday night
The convoy of a senior Uttar Pradesh minister ran over a five-year-old boy near Colonelganj in the state's Gonda district on Saturday night, according to media reports.
A boy died allegedly after he was hit by UP minister Om Prakash Rajbhar's convoy on Colonelganj-Paraspur route in Gonda district yesterday pic.twitter.com/9EtwgdV615

— ANI UP (@ANINewsUP) October 29, 2017
The minor, who was playing on the footpath late Saturday, was hit by one of the vehicles in Om Prakash Rajbhar's motorcade, Deccan Chronicle reported. He died on the spot, the report said. An FIR has been registered in the case.
The victim's father alleged that the minister's convoy sped away after the incident. "The child fell after he was hit by the car. The minister sped away. The guards put a break to their vehicle but they went away," he told NDTV.
Chief Minister Yogi Adityanath has asked the state's top police officer for a report, and has announced Rs 5 lakh compensation for the victim's family, according to the NDTV report. However, Rajbhar claimed that he was around 25 kilometres away, in a different car, when the accident occurred, the report added.
"I was informed about the incident after my cavalcade covered over 50 kilometres from the spot. I wanted to return to the spot to call on kin of the child killed in the accident. A probe has been ordered into the incident. The vehicle which hit the boy was not part of my cavalcade. Another vehicle running behind the cavalcade hit the boy. It will be clear in probe. I am extremely sad over the death of the child," an official quoting the minister said, according to Hindustan Times.
All vehicles of UP Minister OP Rajbhar's convoy asked to be brought for technical examination: District Magistrate Gonda pic.twitter.com/zY7lJsu9g6 — ANI UP (@ANINewsUP) October 29, 2017
Rajbhar is from the Suheldev Bharatiya Samaj Party, an ally of the BJP in the state, the Hindustan Times report said. He was on his way to attend a function in the Paraspur locality of Gonda when the vehicle reportedly hit the minor.
Locals from the village, who alleged that the police did not reach the spot on time, placed the boy's body on the road and blocked the route for about an hour on Saturday, NDTV reported. They said the police tried to force the victim's body away from the road. Angry locals also set fire at several places in the region, the report said.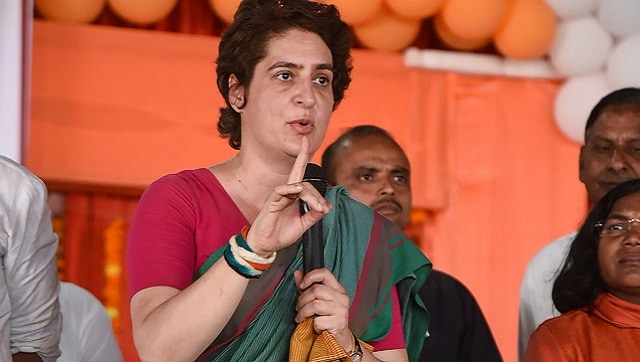 India
During the yatra, Congress leaders will assure people that they would fulfil promises made by the party in the run up to the polls.
India
Prime Minister Narendra Modi on Tuesday laid the foundation stone of Raja Mahendra Pratap Singh State University in Aligarh
India
Ajay Kumar Lallu also said that governments led by BJP, BSP and SP that ruled Uttar Pradesh for the past 32 years failed to live up to the expectations of people