39 Indians killed in Mosul: Full text of Sushma Swaraj's speech in Parliament
Thirty-nine Indians abducted by the Islamic State in Mosul three years ago have died, Foreign Minister Sushma Swaraj said in Parliament on Tuesday. Here's the full text of her speech in Parliament.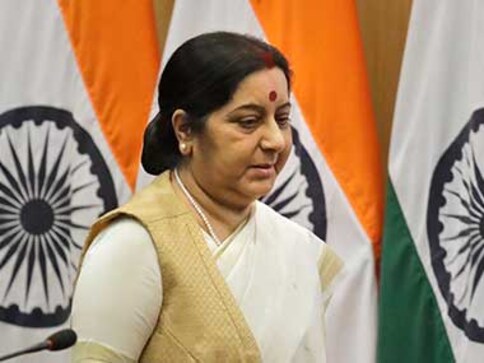 Thirty-nine Indians abducted by the Islamic State in Mosul three years ago have died, Foreign Minister Sushma Swaraj said in Parliament on Tuesday. Here's the full text of her speech in Parliament. 
"Thank you for your permission. I want to relay an important piece of information to the House. We all know that in June 2015, 39 Indians were held hostage in Iraq by the Islamic State. This topic was discussed many times in the House. The last discussion was held in the Rajya Sabha on 27 July, 2017. Shri Bajwa had raised this issue in the House during Zero Hour and on the next day, I had come to the House to present the answers. I would like to read out what I had said then.
I had said I will not declare them dead until I have any proof of their death. Professor Kurien was in the Chair at the time. Deputy Chairman, declaring someone dead without proof is a sin and irresponsible on the part of the government, which is why I will neither commit the sin nor make an irresponsible announcement. But the day we receive any proof, and any concrete proof, then without delay, we will inform the House if Parliament is in session, and if it is not, we will inform the country through Twitter within 10 minutes. Today, I have come to fulfil my promise.
Today, I have proof of both. First, Harjeet Masih's story is incorrect, and second—I am saying with a heavy heart—that those people have been killed. I wish to present the proof of both before the House today. Harjeet Masih was not speaking the truth. The proof for this is as follows: Last time when General VK Singh went to Iraq to search for them, I had asked him to meet the owner of the company first to find crucial clues. Singh started his journey from Mosul, and when he met the company's owner, he learnt the full story. The owner said that around 40 Indians and a few Bangladeshis used to work for him, and the workers were asked to leave the area when the Islamic State started capturing the region.
First of all, the Iraqis left then people of other nationalities left the place. The Bangladeshis and Indians did not leave and soon called a caterer to prepare food for them. The caterer said that one day members of Islamic State arrived and asked who these people were. As soon as the Bangladeshis had introduced themselves and the Indians, the Islamic State militants said that they cannot stay here and they were taken to a garment factory. The Bangladeshis and Indians were kept separately until one day the militants asked the caterer to escort the Bangladeshis to Erbil. The caterer said that he was given the responsibility of ferrying the Bangladeshis and he started preparing for it. That night what arrangements Harjit made he only knows but I will inform you my assumption. That night the caterer told the company owner that he should give Harjit Masih the Muslim name of Ali so that he can be ferried out with the Bangladeshis. Very soon, the company owner got a call from someone who identified himself as Ali and when the owner said he had no Ali working for him, the caller said that he is Ali who has to leave with the Bangladeshis. The company owner then agreed to this.
The caterer himself said that he had dropped Harjet Masih to Erbil and that's when I got a call from him. As he started speaking in Punjabi, I asked him how he had reached there and he said he did not know. I asked him how is it possible that you don't know how you reached Erbil. He just kept requesting me to get him out of there, when I asked him repeatedly how he does not know, he kept repeating he just wants to get out. Then he invented the story that he was captured by militants, made to stand in a queue along with 39 other Indians abducted and shot and that's how he sustained an injury in his leg. He said he escaped but the rest were killed. This is a cock and bull story by Harjit Masih since he had escaped as Ali right in the beginning so he cannot be sure of when these 39 Indians were killed.
Now, the Islamic State militants, who were keeping a count of the Indians every night, realised there were 39 and not 40 Indians. That's when they decided that the Indians should not be kept there anymore and they need to be taken to Badoush and an Islamic State Commander was asked to escort them. The company owner told us that after this he has no idea what happened since Badoush also has prisons so whether the 39 people were imprisoned there or killed immediately, no one knows. Then General VK Singh, our Ambassador and an authority from the Iraq government.
When I had raised the issue in the House, the foreign minister from Iraq was there and I had requested him to ensure that when General Singh returns, he should come with an Iraqi official so that it is easy to continue the search. So, General Singh, the ambassador Pradeep Raj Purohit and Iraqi official set out for Badoush where they were informed that there is a mound where many people have been buried so they should try and find out there. That's when these people requested the Iraqi government for a deep penetration radar. Deep penetration radar revealed that there were many bodies under the mound so General Singh requested the Iraqi government to excavate the mound and exhume the bodies. The mound was excavated and several bodies were found along with elements like long hair, kadha and a few identity cards. None of the bodies had Iraqi shoes so all the mortal remains were sent to Baghdad.
When the Indians in Mosul had not contacted us for over 20-25 days, the hopes of them being alive started to diminish. So, we had contacted the martyr's grave centre for information where they told us that if we can send them DNA samples from the missing Indians' kin then they can identify and confirm us. We collected DNA samples from four states of Punjab, Himachal Pradesh, Bihar and West Bengal after contacting the respective state governments and sent them requesting them to look into the matter on priority basis. They accepted the request and started the DNA testing of all the 39 bodies (this was another sign for us) exhumed from the Badoush mound. The first identification was that of a boy named Sandip and slowly we got to know nine bodies' identities have matched, nine bodies have matched until yesterday (on Monday) when we were told that 38 of the bodies had their DNA matched. The 39th person's DNA matching was of 70 percent because he was an orphan. They said the process is underway because the DNA is being matched from the bones since the closest relative's sample is being used, the process is quite complicated. Today (Tuesday), the Martyrs' Foundation head will conduct a press conference where they will elaborate on the procedure of DNA testing and on handing over of the bodies to the Indian government.
We have proof of two things: Harjit Masih escaping as Ali because the company owner confirmed this and that the 39 Indians have been killed. There can be no bigger evidence that DNA testing. Deputy Chairman, this was a very complicated process replete with many obstacles since Iraq is a big country with deserts and rough terrain and finding the mortal remains of our own people amidst many is free Mosul was not easy. I would especially like to thank General Singh, my praises would fall short for him. He has borne all kinds of troubles and overcome obstacles and slept in a tiny room in a village in Badoush to get to the truth. I had said I would not declare them dead until I get proof and he went to all extent to find that proof. I would also like to thank the Iraq government to have accepted all requests right from the excavation of the mound at Badoush to the authorities at Martyrs' Foundation. I am also grateful to the prime minister who allowed this search to continue for three years and never let me lose faith.
I would also like to say that we will not wait for the Iraqi government's announcement. Soon, General Singh will go to Iraq and bring back all the 39 bodies in coffins with certificates of DNA testing from Martyrs' Foundation and not just their identity cards. The plane will first deboard 30 bodies in Amritsar before heading to Patna and then Kolkata where the bodies of the victims in West Bengal will be handed over. If the 39 people would have been continued to be missing, their family members would not have ever got closure but with the proof now they can get closure.Deputy Chairman, I would like the members of the House to observe two-minutes' silence in memory of those who were killed.Thank you."
The speech, originally delivered in Hindi in Parliament, has been translated into English by Firstpost.
also read
India
In December 2020, when Prime Minister Narendra Modi did the groundbreaking ceremony for the new Parliament building, the event was boycotted by Congress
World
Geert Wilders, the leader of the Freedom Party, an anti-Islamic party in the Netherlands, has received many death threats on Twitter for more than ten years
India
Senior historian Kapil Kumar pointed out that opposition leaders such as former Congress chief Rahul Gandhi make an extra show of religiousness by visiting temples and even claim to be 'janeu dhari brahmins' ahead of elections while disowning cultural and religious values as voting is over