36-feet-long whale carcass washes up on Mandarmani beach in West Bengal's East Midnapore district
A mammoth whale measuring 36 feet was washed up on the beach of Mandarmani in East Midnapore district of West Bengal.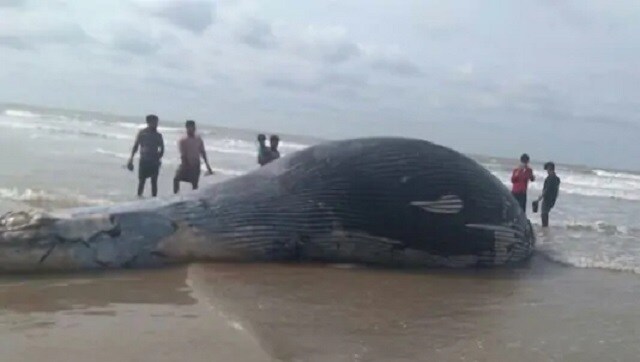 A mammoth whale measuring 36 feet washed up on the beach of Mandarmani in East Midnapore district of West Bengal.
According to a report by NDTV, the mammal's giant head lay in a pool of blood as locals congregated on the beach to see the first such incident ever reported in the area.
Officials rushed to the spot and were trying to ascertain how the whale got injury marks on its tail.
A report by the Times of India mentions that the whale seemed to be of Sei species and was found floating on the water. The report adds that Sei whales belong to the group of baleen whales, which are the third-largest type of baleen whales after the blue whale and the fin whale.
The whale avoids polar and tropical waters and is mostly found in the North Pacific. The report added that experts are unsure how did this particular species of whale end up in the region.
Whales are endangered schedule-I species under the Wildlife (Protection) Act, 1972 in India.
Senior Congress leader and former Union minister Jairam Ramesh shared a report with a picture of the whale with a news report and wrote, "How very sad".
Last month, a 40-feet-long carcass of a whale washed ashore in Gahirmatha marine sanctuary in Odisha's Kendrapara district.
As per a Hindustan Times report, Rajnagar Mangrove (wildlife) Forest Division DFO Bikash Ranjan Dash said that since the mammal's body bore injury marks, there is a possibility that it might have died after being hit by either a ship or trawler propellers.
India
Cow vigilante groups in Asansol have alleged that the police and the ruling Trinamool Congress (TMC) are active participants in the cattle smuggling racket in West Bengal.
India
In Murshidabad district at least, the Congress has been handed a ray of hope thanks to veteran 'bahubali' leader Adhir Chowdhury
India
The delegation comprised MPs Sudip Bandyopadhyay, Derek O' Brien, Saugata Roy and Sukhendu Sekhar Roy, and discussions were held on better air connectivity to West Bengal