26/11 Mumbai terror attacks: Justice delayed could well be justice denied if Pakistan continues to drag its feet on trial
It will be no surprise to hear that one day all of the accused in the ongoing 26/11 case in Pakistan are acquitted, while we continue to debate whether Kasab 'was Indian or not'.
The 10th anniversary of the 26/11 Mumbai terror attacks has passed, with many events commemorating one of the most brazen and deadly  attacks on Indian soil. Ajmal Kasab, the only one of the 10 terrorists to survive the attack, was tried and executed. His testimony in court that he was from Pakistan was key to establishing the link of elements in our neighbouring country with the attack. Yet in Pakistan, the trial of the accused in the case is meandering since 2009. One of the main accused, Lashkar-e-Taiba founder Hafiz Saeed, was not arrested in this case and the other — the LeT's commander Zakir ur Rehman Lakhvi — was released on bail in 2015.
A little before the 10th anniversary, a report from Uttar Pradesh (on 18 November) stating that Kasab was issued a domicile certificate in Bidhoona  tehsil in Auraiya district, India, went viral in both countries. Clearly someone had played a prank,  and it only exposed the ease with which once could get a certificate, no doubt for a small consideration. The sub-divisional magistrate of Bidhoona confirmed that it was based on fake documents submitted by an unidentified person. Later, the National Informatics Centre cancelled the certificate but the news made sensational headlines. It didn't matter that Kasab was secretly hanged on 21 November 2012 and  evidence was produced in the trial to confirm his origins.
Some websites took the trouble to expose the facts and denounce the viral posts, but one place where the "news item" found resonance was in the weekly briefing of the Foreign Office in Islamabad on 22 November. Some reporters asked for comments based on this news. One of them construed this as new evidence that was gathered. Among the questions asked were, "Considering the surfacing of this new evidence, will Pakistan take this as proof that the Mumbai attacks were a pre-planned drama orchestrated by India?" and another: "In the matter related to Ajmal Kasab, India harmed Pakistan's cause in the international community. Now that this new evidence has surfaced, will Pakistan counter the narrative built by India?"
The spokesperson's answer was couched in careful diplomatese but indicated the lay of the land. "Happenings such as these lend further credence to the concerns already raised by several quarters in this context." Of course the fact that Pakistan Prime Minister Imran Khan had proposed a meeting of both Foreign Ministers at the sidelines of the UN General Assembly (which India cancelled), formed part of his official reply — as also concerns of terrorism "emanating" from India "as is evident by the confession of Commander Jadhav and other information".
The news that Kasab was given a posthumous domicile certificate from Uttar Pradesh sounds ridiculous, yet it was exactly what some in Pakistan has been propagating — that this operation was planned in India. Lahore-based 92 News aired a story with the headline, 'Ajmal Kasab is our citizen, admits India' on 20 November, with the anchor claiming in Hindi, "India, which blames Pakistan for terrorism, has been caught in its own lies. According to Indian media reports, proof has been found that Ajmal Kasab was in fact Indian. He is a resident of  Bidhoona tehsil in Uttar Pradesh and has been issued a domicile from there too."
Indian media outlets too claimed Kasab was an Indian as he had a domicile certificate. The certificate had been cancelled a few days after it was issued. however, the story fed into a popular narrative in Pakistan that he was indeed Indian, and that India is the one which constantly creates "false flag" operations which it blames on Pakistan. Former Prime Minister Nawaz Sharif is facing proceedings of treason in court for giving an interview to Dawn newspaper  on 14 May 2018, that the 26/11 trial should be completed (among other things): "Militant organisations are active. Call them non-state actors, should we allow them to cross the border and kill 150 people in Mumbai? Explain it to me. Why can't we complete the trial?"
That is a question many people are asking, including the Indian government. Every time, there is a barrage of counter questions as was evident during the 10th anniversary of 26/11 too. The issue of examining some 20-odd witnesses who have to be sent to Pakistan for further evidence has been pending for a while and suggestions of doing this through video conferencing have not been taken forward. Chaudhary Muhammed Azhar , the prosecutor of the case in Islamabad, at one time was pretty confident of establishing the guilt of the seven accused, including Lakhvi, and he had some crucial witnesses to examine. He was very forthcoming during my posting in Islamabad in 2013 (for The Hindu) and helped me with information on the trial at great length, but later asked me not to call him as he was getting into trouble because of my reports.
There is an unconscionable delay in the trial either by blaming India's lack of cooperation or submission of evidence, when by all accounts the Pakistani Federal Investigation Agency has gathered evidence to show the role of terrorist groups and training camps in this attack. At the bottom of it all, there is little will to conclude it in a fair and transparent manner. In Mumbai, the trial was held in a high security jail with biometric identification to enter, and journalists were issued special passes and  they could report on it.
In 2013 in Islamabad, the trial was held in the district and sessions court and no journalist was allowed. The trial is now being held in the guarded precincts of Adiala jail in Rawalpindi but the dates just keep getting extended. And it will be no surprise to hear that one day all of the accused are acquitted! And we can continue to debate whether Kasab was Indian or not.
Find latest and upcoming tech gadgets online on Tech2 Gadgets. Get technology news, gadgets reviews & ratings. Popular gadgets including laptop, tablet and mobile specifications, features, prices, comparison.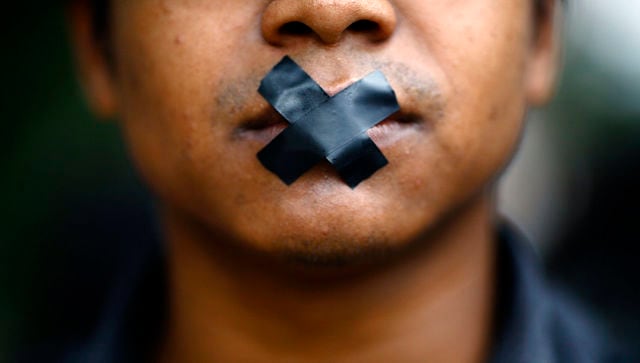 India
Why are specifically non-BJP regimes getting so tyrannical and desperate to gag the media and social media critical of them?
Business
While teachers are busy completing the syllabus, most students don't learn much; meanwhile, they keep getting promoted and soon they are totally lost on what is happening in the class
India
The 26/11 attacks taught us that terror is not some faraway notion, happening to other people, the wolf who may or may not be at the door. It was among us, its cruelty and evil ravaging everything