21 Dalit activists arrested from Lucknow press club for planning to march towards Yogi Adityanath's residence
Uttar Pradesh police arrested 21 Dalit activists from a press club in Lucknow on Monday, media reports said.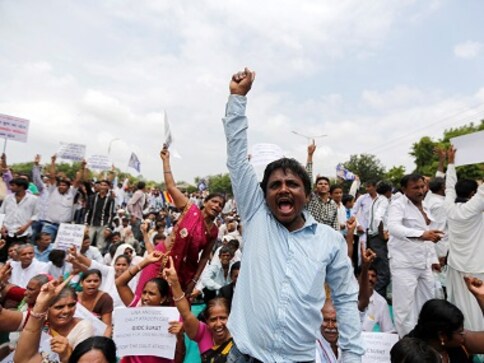 The Uttar Pradesh Police on Monday arrested 21 Dalit activists from a press club in Lucknow, media reports said. According to NDTV, police said the arrests happened because the activists had planned to march towards Chief Minister Yogi Adityanath's residence without getting the required permission.
"Retired IPS officer SR Darapuri and seven others were arrested as they attempted to take out a rally at a public place without permission. They were arrested from the chowk area," Additional Superintendent of Police (Lucknow West) Vikas Chandra Tripathi said, adding that the protesters were released subsequently.
Well-known Dalit activists Ram Kumar and SR Darapuri were among those arrested. The activists were planning to meet the chief minister to discuss atrocities against Dalits after Sunday's incident, the report added.
A report by Hindustan Times on Sunday, many of the activists were travelling on the Sabarmati Express and had brought with them a 125-kilogramme soap with an image of Gautam Buddha carved on it. They wanted to gift the giant soap in a symbolic protest to the chief minister to "cleanse his mentality towards Dalits". The activists who had brought the soap bar were sent back forcibly from Jhansi.
The protest was in response to an incident in May when people belonging to the Scheduled Caste in Uttar Pradesh's Kushinagar district had alleged that they were given shampoo and soap by the local administration ahead of Adityanath's visit. Musahar Dalit families received two soaps and a sachet of shampoo, and instructions to "clean themselves" before attending the public meeting.
"We were assembling at the UP press club to participate in a seminar on Dalit atrocities. Participants from other states, including Gujarat, were scheduled to take part in it. We were not on the streets protesting, but were still stopped from holding the event, which had to be cancelled eventually," Darapuri told PTI after his release.
He alleged that the fundamental right to freedom of speech and expression of the protesters had been infringed upon.
"Apart from the eight persons, including me, arrested from outside the press club, 23 protesters were detained from the Nehru Yuva Kendra, near the Roomi Gate in Old Lucknow," he said.
After retiring from the police service, Darapuri had joined the All India People's Front (radical), a political outfit. He had also contested the 2014 Lok Sabha election from Robertsganj.
Those arrested were also protesting against the recent violence in Saharanpur between Dalits and upper-caste Thakurs.
According to the NDTV report, the activists were taken to a local guesthouse and later sent back to Ahmedabad by train.
Retired professor of Lucknow University Ramkumar told News 18 that arrests from Jhansi to Lucknow not only expose the undemocratic character of BJP government, but also speaks volumes about BJP's real attitude towards Dalits.
With inputs from PTI
India
The bypolls to the Azamgarh seat were necessitated by the resignation of Samajwadi Party (SP) chief Akhilesh Yadav, who was elected to the Uttar Pradesh Legislative Assembly as an MLA in the elections earlier this year
India
These new terms are being dropped like birthday toffees by columnists, social media influencers and assorted jihad sympathisers and the anti-India cabal
Politics
Uttar Pradesh's chief minister attended a public meeting in Akbelpur and Baghila villages for the by-elections of Azamgarh parliamentary seat on Sunday